Let us help you find the best epoxy flooring solution for your home and budget. From your basement and garage to your patio and pool decks, our team is committed to the highest quality custom finish.

We offer high-performance and high-quality, durable commercial flooring for an array of industries. Our flooring solutions stand up to your high traffic and heavy machinery areas and is chemical and impact resistant.
GARAGE EPOXY FLOORING NEWARK, NJ
CHOOSE EPOXY COATING FOR YOUR COMMERCIAL SPACE
American Poly is an industry leader in the professional installation of garage epoxy flooring in Newark, NJ. We have a wide variety of high-quality epoxy options, including epoxy paint, epoxy coatings, water-based epoxy, hi-build epoxy flooring, self-leveling epoxy coat flooring, epoxy linings, anti-static epoxy coating, epoxy flakes, power troweled epoxy flooring, and epoxy screeds. The city of Newark, New Jersey is home to our main office, and we are very proud to be part of such a technologically advanced welcoming community. If you need assistance with your custom epoxy floor, our knowledgeable sales staff and licensed, bonded, and insured epoxy installers are here to help. All of our Newark-based patrons may count on us to complete their projects or meet their epoxy product needs. If you're looking for a superior solution partner for your epoxy flooring requirements, go no further than American Poly's expert team. Our comprehensive services cover every step of the process, from initial consultation to final inspection and application, giving you peace of mind that the highest quality product and service standards were maintained throughout the whole project. We take great satisfaction in serving as your comprehensive experts.
TRANSFORM YOUR GARAGE OR BASEMENT FLOOR WITH EPOXY CONCRETE COATING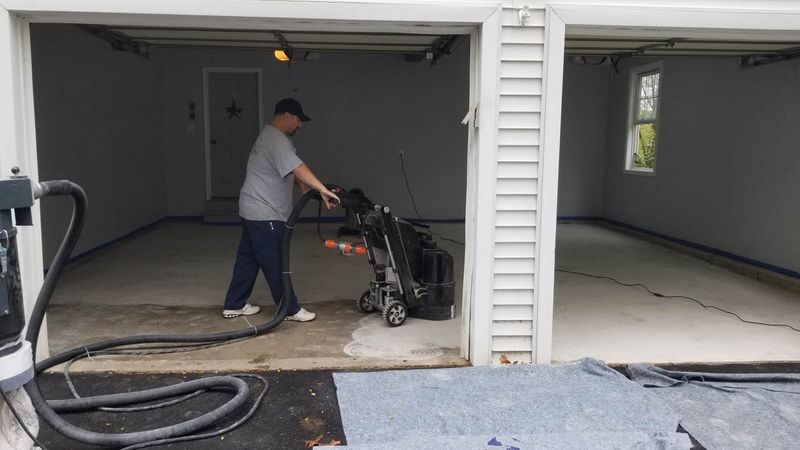 Epoxy resin flooring, to put it succinctly, is a rigid polyurethane floor system typically installed over concrete foundations for the purposes of preservation and beauty. Several coats of thermosetting resin are typically layered, trowelled, or placed onto a concrete foundation to create various schemes. During full curing of the resin layers, the floor system forms an effective and durable relationship, serving as an impenetrable and elegant layer to preserve the foundation. Because of its high durability and chemical protection, epoxy has become one of the most popular resin floor solutions all over the world. Resinous flooring also offers a great deal of design flexibility, since it may be made in almost any shade, design, impression, or decoration conceivable. Epoxy resinous flooring solutions, nevertheless, can be broken down into several distinct types to suit a wide range of needs. The frequent misuse of flooring jargon might lead to misunderstandings about what epoxy really is.
WHY OUR SEAMLESS FLOORING IS A POPULAR CHOICE FOR KITCHENS?
Due to their durability and low maintenance, epoxy floors are a popular choice among businesses and homes. When you need a floor that won't peel or corrode even after years of exposure to high heat, heavy foot and machine traffic, chemicals, oil, and other fluids, epoxy is your best option. Epoxy floor Coating is the optimal choice for a huge variety of applications across a variety of different sectors. Epoxy floors, unlike tile or other forms of flooring, have no seams, joints, or ridges since they are poured. As a result, epoxy is a more hygienic flooring solution since there are fewer places for dirt and germs to hide between routine maintenance. If you want to take cleanliness to the next level, we recommend speaking with us about our anti-microbial solution. Because of its smooth surface, it is also simpler for forklifts and many other types of equipment that are utilized in commercial and residential garages to roll over without jarring or resistance from floor seam bumps. Rubber cement flooring solutions are thus one of the most smooth and effortlessly cleanable surfaces that are now easily available from our team at American Poly. Epoxy floors are very resistant to water as well as a plethora of different kinds of stains. Epoxy resin flooring is not affected by moisture the way that wood, linoleum, or other kinds of flooring are. In the event of a spill, which is likely, it can be easily cleaned, and permanent stains are uncommon if at all. As far as flooring goes, epoxy has a well-deserved reputation for being among the most long-lasting options available. The chemical ingredients provide a floor that is resistant to stress, heat, heavy machines, and more, without cracking or wearing away. The flooring can also resist chemical spills, so you won't have to worry about those unpleasant but sometimes inevitable accidents in your garage.
WANT AN AESTHETIC SPACE? TRY OUR DECORATIVE CONCRETE COATINGS!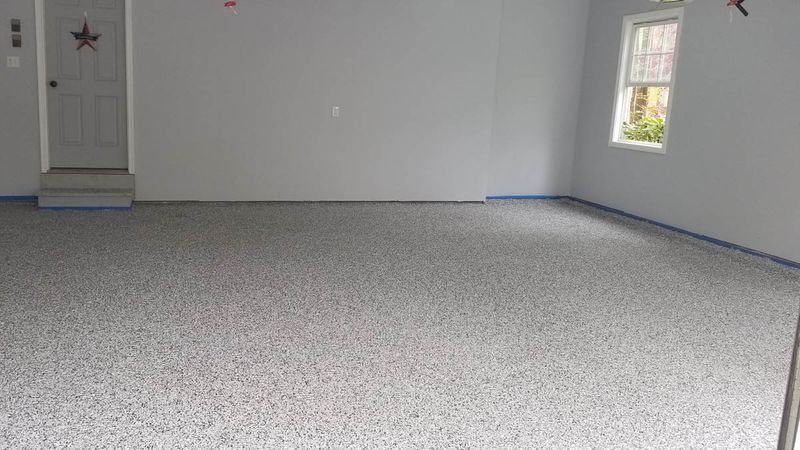 Installing epoxy on damaged and broken garage floors is often debated among homeowners. Almost any damage to concrete that can be seen from the outside can be fixed by us. The concrete is strengthened using epoxy patching material, and the cracks are ground down to a smooth finish with the use of a grinder. Having heard the urban legend that partial flake is a product used to cover up imperfections on garage floors, we believe it is important to let our clients know that this is not the case. The truth is that this system is not as powerful or flexible as a full-fledged flake since it is missing a whole layer. In a nutshell, a partial flake broadcast is when the flakes are distributed in a nonsensical fashion over the floor for purely aesthetic reasons. Light broadcast to heavy partial flaking may be used to create a more visually appealing look than covering any defects. Whole flake systems, when placed correctly, are far more long-lasting and robust than random flake systems. An additional primer, basecoat, flake coat, and topcoat are applied when you use a complete broadcast on your floor.
The Best Garage Floor Epoxy Company In Newark, NJ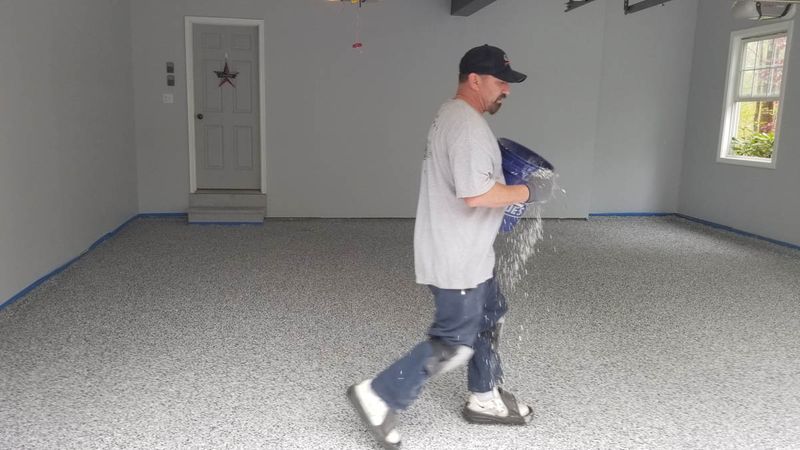 At American Poly, we're known far and wide for our unrivaled epoxy products and installation services. For many years, we have served as New Jersey's go-to source for epoxy flooring solutions and installation professionals, bringing innovative flooring solutions to commercial and residential clients alike. Because of this, we have invested heavily in training and education over the years to be able to provide cutting-edge epoxy concrete flooring solutions for a wide range of commercial and residential applications. Our company is dedicated to providing exceptional service to each and every one of our customers and stands behind the quality of both our work and our products 100%. Our experienced team has been offering high-quality floor coverings, professional installations, and effective solutions for a wide range of clientele and timeframes for many years. As a consequence, tried-and-true flooring solutions have been established, providing a stable base upon which to build a secure and fruitful workplace. Schedule an appointment for an evaluation of your project or just get in touch with us for additional information at your convenience.