Epoxy Flooring Bristol CT
Welcome to American Poly Concrete Floor Refinishing, your premier destination for top-quality epoxy flooring solutions in Bristol, CT. As the industry leaders, we specialize in transforming spaces with innovative epoxy coatings that merge durability, style, and practicality. Whether you envision a retail haven, a restaurant oasis, or a functional office, our epoxy floors will exceed your expectations.
Elevate Your Space with Lasting Beauty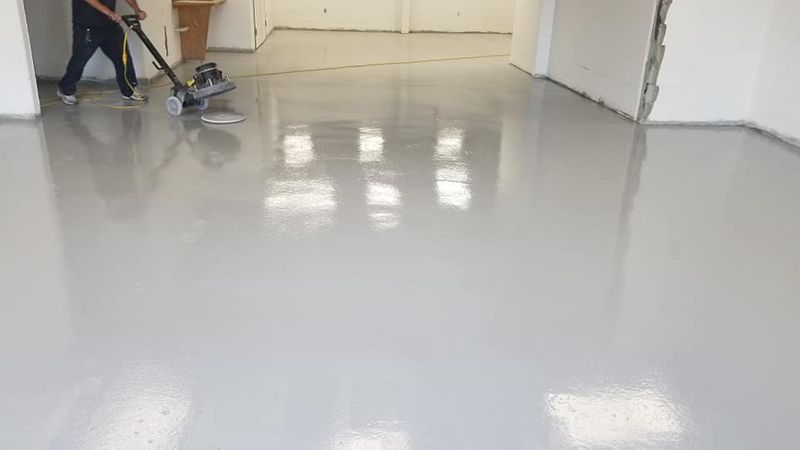 Revamp Your Retail Space with Epoxy Flooring
Set the stage for success in your retail establishment with our exceptional epoxy flooring solutions. Our epoxy coatings merge striking aesthetics with impressive durability, creating an inviting atmosphere that leaves an unforgettable impression on customers.
Elevate Your Restaurant or Bar Experience
Restaurants and bars demand flooring that withstand the bustling energy and occasional spills. Our epoxy flooring options not only offer seamless elegance but also ensure easy maintenance and long-lasting beauty.
Showroom Excellence with Epoxy Floors
In showrooms, your flooring must mirror the quality of your offerings. Our epoxy flooring solutions provide a polished backdrop that accentuates your products and adds a touch of sophistication to your space.
Epoxy Flooring for the Automotive Industry
Automotive spaces require flooring as sturdy as the vehicles they house. Our epoxy floors can bear the weight of cars, resist chemicals, and maintain their brilliance, making them the ultimate choice for automotive showrooms and service centers.
Elevate Office Comfort and Functionality
Offices deserve more than just functional flooring. Our epoxy flooring offers noise reduction, ergonomic support, and customizable designs, contributing to a workspace that promotes productivity and creativity.

Let us help you find the best epoxy flooring solution for your home and budget. From your basement and garage to your patio and pool decks, our team is committed to the highest quality custom finish.

We offer high-performance and high-quality, durable commercial flooring for an array of industries. Our flooring solutions stand up to your high traffic and heavy machinery areas and is chemical and impact resistant.
The Unmatched Advantages of Epoxy Flooring
Epoxy flooring is not just about aesthetics; it's about enduring value. Let's delve into the array of benefits that come with selecting epoxy for your Bristol space.
Durability that Endures
Our epoxy coatings are engineered to withstand heavy foot traffic, impacts, and daily wear and tear. With the proper care, they can serve as a long-lasting investment, saving you both time and money.
Versatility in Design
Epoxy flooring offers an extensive palette of design options. From vibrant colors to intricate patterns, our experts can help you craft a floor that aligns with your brand's identity and your space's unique character.
Easy Maintenance, Long-Lasting Appeal
Maintaining epoxy floors is a breeze. Their seamless surface resists stains, spills, and chemicals, making them a practical choice for high-traffic areas while retaining their alluring appearance.
A Safer Space
For areas prone to wetness or spills, we can incorporate anti-slip additives into our epoxy coatings. Prioritize safety without compromising on style.
Our Approach to Epoxy Flooring Excellence
Tailored Consultation
When you partner with us, we begin by understanding your specific requirements and the unique attributes of your space. Your insights guide our strategy.
Surface Preparation for Optimal Results
For a successful epoxy floor installation, proper surface preparation is essential. We assess and prepare the substrate meticulously to ensure long-term performance and impeccable adhesion.
Impeccable Application Techniques
Our skilled technicians apply epoxy coatings using advanced methods to achieve a seamless, strong, and visually appealing floor. Every detail matters in creating a flawless result.
Rigorous Inspection for Perfection
After application, meticulous curing and thorough inspections ensure that your epoxy flooring reaches its full potential in strength and aesthetic appeal.
Epoxy Flooring Maintenance for Longevity
Simple Cleaning Routine
Epoxy flooring is easy to clean with a non-porous surface. Regular sweeping and occasional mopping will maintain its pristine appearance.
Proactive Protection
While epoxy floors are robust, using furniture pads and avoiding dragging heavy objects can prevent scratches and maintain the floor's integrity.
Professional Maintenance Solutions
Occasional professional maintenance can address minor imperfections and extend the brilliance of your epoxy flooring. Our experts are here to support you.
Discover the Transformation
Ready to elevate your space with stunning epoxy flooring? Contact American Poly Concrete Floor Refinishing today for a free consultation and discuss how we can bring your vision to life.
Experience Excellence
Our commitment to excellence and innovation sets us apart. Discover the transformative power of epoxy flooring with American Poly Concrete Floor Refinishing.
Connect with Us
Unveil the potential of epoxy flooring for your Bristol space. Contact us for a free consultation and explore how we can redefine your environment.
Unleash the Potential of Epoxy
Epoxy flooring isn't just a surface; it's a fusion of style and strength. At American Poly Concrete Floor Refinishing, we're dedicated to creating inspiring spaces. Contact us now to embark on a journey of reimagination with epoxy flooring!
Elevate Your Space with Epoxy Flooring Excellence
Unveil the Beauty of Epoxy Flooring
Epoxy flooring is more than a practical choice; it's an opportunity to showcase the beauty of innovation. The sleek and seamless finish of epoxy floors reflects light, creating an inviting and spacious ambiance that enhances any environment.
Enduring Strength
Our epoxy flooring solutions are built to withstand the challenges of daily life. Whether it's foot traffic, heavy loads, or occasional spills, our floors maintain their integrity, ensuring longevity and value.
Creative Freedom
Epoxy flooring offers endless possibilities for design. From subtle shades to bold patterns, we can tailor the appearance of your floor to align perfectly with your aesthetic preferences and the unique identity of your space.
Your Vision, Our Mission
Our team works closely with you to understand your unique vision and translate it into stunning reality using our epoxy flooring solutions.
Crafted with Precision
Our technicians are skilled artisans who take immense pride in their craftsmanship. From preparation to application, every step is executed with precision and dedication.
Trusted Industry Leaders
With years of experience and a record of excellence, American Poly Concrete Floor Refinishing is the trusted choice for epoxy flooring in Bristol, CT. Our expertise and innovation set us apart from the rest.
Reach Out for a Free Consultation
Ready to explore the world of epoxy flooring? Contact us today for a free consultation and discover how we can enhance your space with the remarkable attributes of epoxy flooring.
Redefine Your Space with Epoxy Excellence
Ready to Transform?
The journey to a transformed space begins with a single step. Contact us now and unlock the potential of epoxy flooring to revolutionize your Bristol environment.
Your Dream Space Awaits
Elevate your surroundings with the power of epoxy flooring. Contact American Poly Concrete Floor Refinishing and let's embark on a journey to redefine your Bristol space in a way that's enduring, stylish, and unparalleled.
The Unrivaled Elegance of Epoxy Flooring
An Artful Fusion of Form and Function
Epoxy flooring is a masterpiece that seamlessly blends aesthetics and utility. The glossy finish not only enhances the visual appeal of your space but also reflects light, creating an illusion of expansiveness.
Enduring Brilliance
Unlike traditional flooring materials that can fade and wear over time, epoxy maintains its brilliance for years. Say goodbye to dull and worn-out floors – with epoxy, your Bristol space will continue to shine.
Your Canvas, Your Design
Epoxy flooring isn't limited to a single style. Whether you envision a minimalist backdrop or a vibrant artistic statement, our epoxy coatings can be tailored to your unique vision.
Beyond Flooring: Epoxy as a Solution
Strengthened Surfaces
Epoxy flooring doesn't just enhance the visual appeal; it strengthens your existing surfaces. By creating a seamless, durable layer, our epoxy coatings protect and extend the life of your floors.
Environmental Friendliness
Choosing epoxy flooring also aligns with environmental responsibility. Epoxy's longevity reduces the need for frequent replacements, minimizing the impact on resources and waste generation.
Economic Efficiency
Epoxy's durability translates to long-term cost savings. Reduced maintenance and replacement expenses make it a prudent investment that continues to pay off over the years.
The Craftsmanship That Sets Us Apart
Where Excellence Meets Artistry
At American Poly Concrete Floor Refinishing, we don't just install floors; we create works of art. Our technicians are passionate about their craft, ensuring that each installation is a testament to our commitment to quality.
Meticulous Attention to Detail
Every inch of your epoxy flooring is carefully attended to. From surface preparation to the final inspection, our meticulous process guarantees a flawless finish that's both beautiful and enduring.
A Legacy of Satisfaction
Our reputation for excellence is built on the satisfaction of our clients. Join the ranks of our delighted customers and experience the transformational power of epoxy flooring.
Contact Us Today
Your Bristol space deserves the best. Contact us now to schedule your free consultation and explore the limitless possibilities of epoxy flooring. Your dream space is just a call away!