Restaurant Kitchen Epoxy Flooring Hartford, CT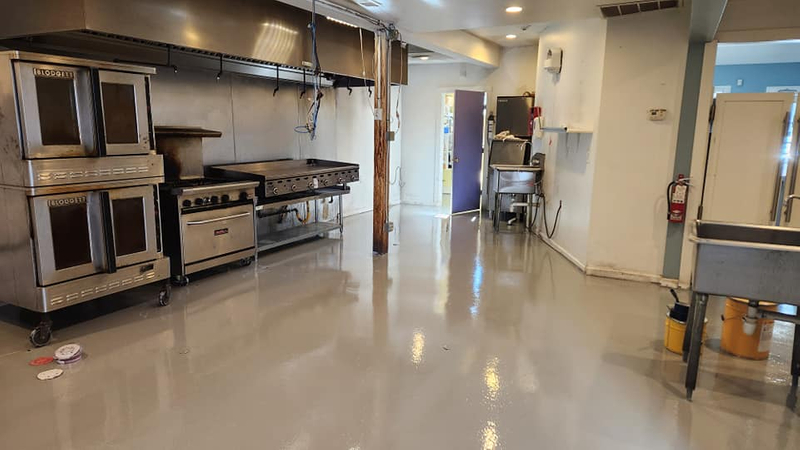 Transforming Your Restaurant Kitchen with Durable and Aesthetic Epoxy Flooring
At American Poly, we understand the pivotal role that your restaurant's kitchen plays in the success of your business. It's not just a place where delicious meals are prepared; it's the heart of your culinary artistry. The flooring beneath your feet should be more than just functional to ensure your kitchen operates smoothly and efficiently. It should be durable, easy to clean, and visually appealing. This is where our expertise in restaurant kitchen epoxy flooring comes into play.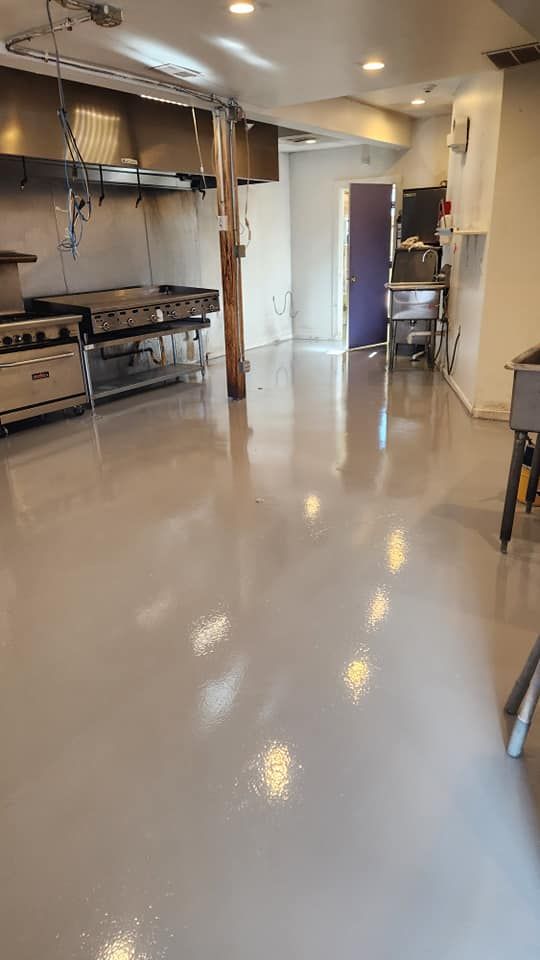 Unveiling the Benefits of Epoxy Flooring
1. Unmatched Durability
Epoxy flooring is renowned for its exceptional durability. It can withstand the daily rigors of a bustling restaurant kitchen, where heavy equipment, foot traffic, and spills are a routine affair. The resilient nature of epoxy ensures your kitchen floor remains intact and looking pristine for years to come.
2. Hygienic and Easy to Clean
Maintaining a sanitary kitchen environment is paramount in the restaurant industry. Epoxy flooring is non-porous, making it impervious to liquids and food particles. This feature simplifies the cleaning process, ensuring a germ-free and presentable kitchen at all times.
3. Aesthetic Versatility
If you're looking for a durable and customizable flooring option for your restaurant kitchen, consider epoxy flooring. It can be customized in a variety of colors and finishes to meet your design preferences. Whether you prefer a modern and sleek style or a classic and timeless atmosphere, our epoxy flooring can be customized to meet your exact needs.
4. Budget-Friendly
Running a restaurant is undoubtedly a costly endeavor, but when it comes to your kitchen flooring, epoxy is a cost-effective choice. Its long-lasting nature means you'll save on frequent replacements and repairs, making it a wise investment in the long run.
Epoxy Flooring Services in Hartford, CT
Now that you understand the benefits of epoxy flooring, let's delve into the comprehensive services American Poly provides for restaurant kitchens in Hartford, CT.
1. Consultation and Assessment
Our journey begins with a thorough consultation and assessment of your restaurant kitchen. We take the time to understand your unique needs and requirements. We'll discuss your design preferences, traffic patterns, and the specific challenges your kitchen faces. This initial step is crucial to ensuring a tailored solution that fits your business perfectly.
2. Surface Preparation
Epoxy flooring's longevity and performance are greatly influenced by proper surface preparation. At American Poly, we pay meticulous attention to detail when preparing your restaurant kitchen floor. We take care of any existing issues, such as cracks or uneven surfaces, to create a flawless foundation for the epoxy application.
3. Epoxy Application
Our expert technicians apply the epoxy coating with precision and expertise, ensuring a seamless and uniform finish. We adhere to industry best practices and use only high-quality materials. This not only enhances the durability of the flooring but also adds to its aesthetic appeal.
4. Customization and Design
We believe in the power of customization. Your restaurant kitchen should reflect your unique brand and style. Our epoxy flooring solutions offer a plethora of design options, including colors, patterns, and finishes. This means you can have a kitchen floor that not only serves its functional purpose but also makes a statement.
5. Durability and Maintenance
Once the epoxy flooring is in place, you can expect long-lasting durability. It's resistant to abrasion, chemicals, and impact, ensuring that your restaurant kitchen flooring stays in top-notch condition. To maintain its pristine appearance, simple cleaning and occasional resealing are all that's required.
Why Choose American Poly for Your Restaurant Kitchen Epoxy Flooring?
Expertise You Can Trust
American Poly is a well-known name in the industry of epoxy flooring solutions, with years of experience to back it up. Our team of skilled professionals specializes in catering to the unique requirements of restaurant kitchens, and we are committed to providing a solution tailored to your specific needs.
Superior Materials and Technology
We only use premium epoxy materials and state-of-the-art application techniques to ensure the quality of our work. Our commitment to excellence is evident in every project we undertake.
Local Service, Global Standards
American Poly is your local partner, serving the vibrant restaurant scene in Hartford, CT. We understand the unique needs of the local market while adhering to global standards of quality and safety.
Customer Satisfaction
Our success is built on satisfied customers. We are proud of our track record of delivering exceptional epoxy flooring solutions and ensuring that our clients are delighted with the results. Your satisfaction is our top priority.
Transform Your Restaurant Kitchen Today
Don't let outdated, unsightly, or high-maintenance flooring hinder the performance and appearance of your restaurant kitchen. American Poly is here to transform your culinary workspace with our premium epoxy flooring solutions.
Request a Free Consultation
Take the first step toward enhancing your restaurant kitchen with American Poly. Contact us today for a free consultation. We'll discuss your needs, assess your kitchen's requirements, and provide you with a customized plan that fits your budget.
Customizing Your Restaurant Kitchen
Your restaurant is unique, and your kitchen should reflect that uniqueness. American Poly understands the importance of customization when it comes to epoxy flooring. We provide various design options to help you create a functional and branded kitchen.
Color Choices
Epoxy flooring comes in a range of colors to match your restaurant's theme, from classic neutrals to vibrant hues.
Pattern and Texture
Create a visually engaging kitchen floor by selecting different patterns and textures. Whether you want a simple, elegant design or a more intricate pattern, epoxy flooring can accommodate your vision.
Finishes
The finish of your epoxy flooring can vary, from high-gloss to matte. Each finish option provides a distinct look and feel, allowing you to align the flooring with your restaurant's style.
Logos and Branding
For a personalized touch, consider incorporating your restaurant's logo or branding elements into the epoxy flooring. This not only adds a unique touch but also reinforces your brand identity.
Request a Free Epoxy Flooring Consultation
We believe in the power of visual representation. Take a look at our portfolio to see how American Poly has transformed restaurant kitchens in Hartford, CT, and beyond. Our completed projects showcase our commitment to excellence, innovative design, and attention to detail. By browsing our portfolio, you'll gain a better understanding of the possibilities for your restaurant kitchen's epoxy flooring.
Seamless Installation Process
When you choose American Poly for your restaurant kitchen epoxy flooring, you're opting for a seamless and hassle-free installation process. Our goal is to make this transformation as convenient and efficient as possible for you, so you can get back to running your restaurant without undue interruption.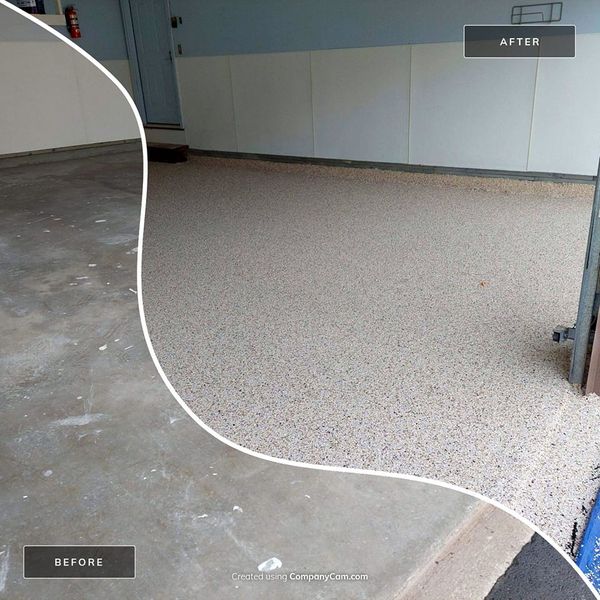 Initial Consultation
Our process begins with a thorough consultation. We'll meet with you to understand your kitchen's specific requirements, assess the existing condition of your floor, and discuss your design preferences. This crucial step sets the foundation for a tailored solution that meets your exact needs.
Surface Preparation
Proper surface preparation is key to the longevity of your epoxy flooring. Our skilled team will meticulously prepare the surface, addressing any imperfections, cracks, or uneven areas. This ensures that your epoxy coating adheres securely and creates a flawless, smooth finish.
Epoxy Application
The application of epoxy is a skilled process, and our team is well-versed in using high-quality materials and the latest industry techniques. We ensure an even and seamless application that not only enhances durability but also contributes to the visual appeal of your kitchen.
Customization
At American Poly, we believe that your restaurant kitchen's flooring should reflect your brand and style. With a wide range of colors, patterns, and finishes to choose from, we'll work with you to create a customized look that aligns perfectly with your vision.
Durability and Longevity
Epoxy flooring is renowned for its durability. It's resistant to abrasion, impact, and chemicals, ensuring that it withstands the rigors of a busy kitchen. With proper care and maintenance, your epoxy flooring will maintain its pristine appearance for many years, offering a great return on investment.
Get Started with American Poly
American Poly is your dedicated partner for all your restaurant kitchen epoxy flooring needs in Hartford, CT. We offer unmatched durability, hygiene, and design options that can transform your kitchen into a work of art.
Now is the time to make the change your restaurant deserves. Contact us for a free consultation, request a quote, or explore our portfolio to see our work in action. We're ready to work with you to create a restaurant kitchen that is not only functional and safe but also stunning in its design. American Poly - your partner in excellence for restaurant kitchen epoxy flooring in Hartford, CT.
ASK US ABOUT 0% FINANCING FOR UP TO 18 MONTHS!