Retail Store Backroom Epoxy Flooring Hartford, CT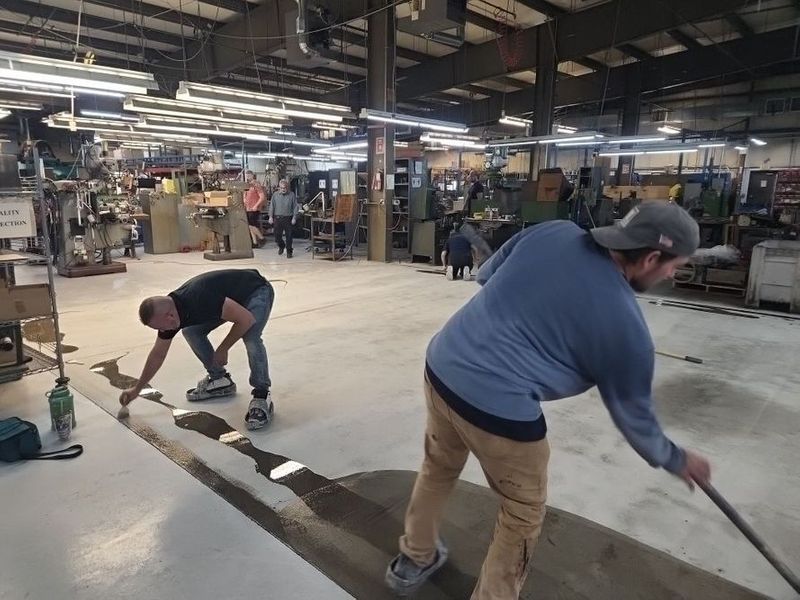 Maintaining a retail store's backroom is often overlooked, but it is crucial for your operation's overall efficiency and safety. At American Poly Concrete Floor Refinishing, we understand the importance of having a well-organized and clean backroom that is both functional and visually appealing. As the leading experts in Hartford, CT, we offer high-quality epoxy flooring solutions that can enhance your backroom's functionality and aesthetics. With our durable and easy-to-maintain flooring options, we can transform your backroom into a space that is not only visually appealing but also well-organized and practical.
Why Choose Epoxy Flooring for Your Retail Store Backroom
Epoxy flooring is a versatile, cost-effective solution offering numerous benefits for your retail store backroom. It provides a sleek and professional appearance and ensures long-lasting performance. Here are some compelling reasons to consider epoxy flooring for your backroom:
1. Durability: Epoxy flooring is highly durable, withstanding foot traffic and equipment movement in busy retail environments.
2. Safety: Slip-resistant epoxy coatings enhance the safety of your backroom, reducing the risk of accidents and injuries among your staff.
3. Easy Maintenance: Epoxy flooring is a breeze to maintain. It's resistant to stain chemicals and can be easily cleaned, saving time and effort.
4. Improved Aesthetics: An epoxy floor can transform your backroom into an attractive and organized space, creating a positive work environment.
5. Cost-Effective: Epoxy flooring is a cost-effective option with a long lifespan and minimal maintenance, saving you money in the long run.
Comprehensive Epoxy Flooring Services in Hartford, CT
American Poly provides a comprehensive range of epoxy flooring services in Hartford, CT, delivered by our experienced team.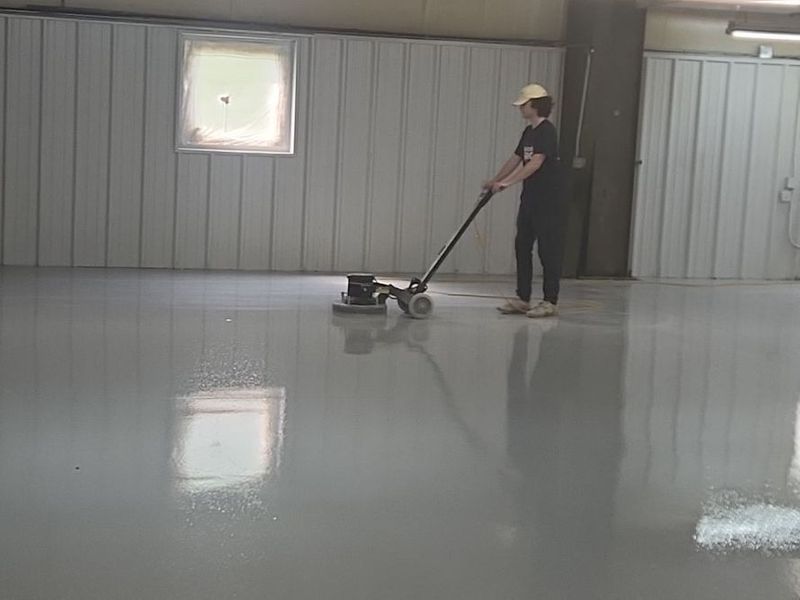 1. Epoxy Floor Installation: We use high-quality epoxy coatings to create a seamless, durable floor that enhances the functionality of your retail store backroom.
2. Floor Repair and Restoration: If your existing epoxy floor has wear and tear, we offer repair and restoration services to restore it to its original condition.
3. Custom Designs: We can customize your epoxy flooring to match your branding or create a unique design that suits your backroom's needs.
4. Quick Turnaround: We understand the importance of minimal disruption to your daily operations. Our efficient installation and repair process ensures a quick turnaround.
5. Free Consultation: We offer a free consultation to assess your backroom's requirements and provide a tailored solution that fits your budget.
The American Poly Advantage
When you choose American Poly for your retail store backroom epoxy flooring in Hartford, CT, you benefit from: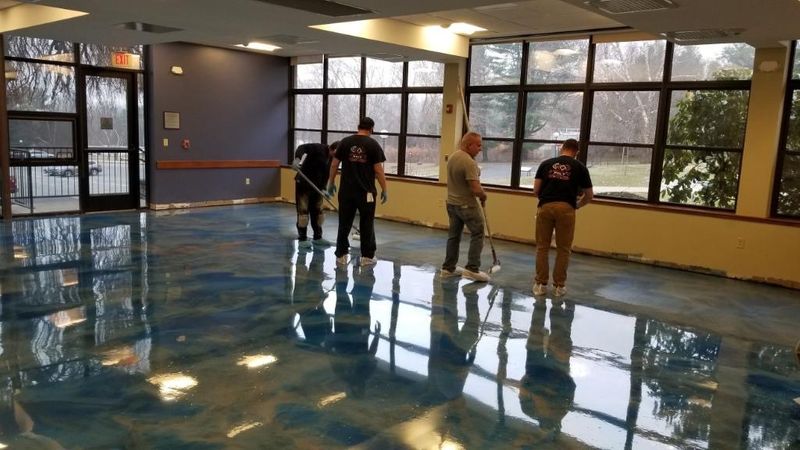 Our team of epoxy flooring experts has years of experience and a deep understanding of the unique challenges retail environments face.
We source and use only the highest-quality epoxy coatings, ensuring the longevity and performance of your backroom floor.
We offer competitive pricing without compromising on the quality of our work, making epoxy flooring an affordable investment for your business.
We are a locally owned and operated company committed to serving the Hartford, CT, community with the best epoxy flooring solutions. Your satisfaction is our top priority. We take pride in delivering outstanding customer service and top-notch workmanship.
Maintenance Benefits of Epoxy Flooring
Epoxy flooring is not only durable but also remarkably easy to maintain. In a busy retail store backroom, where cleanliness and efficiency are essential, epoxy flooring offers several maintenance benefits:
1. Stain Resistance: Epoxy flooring is highly resistant to stains from chemicals, oils, and spills. This means accidental spills of products or liquids in your backroom won't leave lasting marks.
2. Quick and Easy Cleaning: The smooth, seamless epoxy flooring surface allows for effortless cleaning. A simple sweep and mop are usually all needed to keep your backroom floor pristine.
3. Reduced Dust and Allergens: Epoxy flooring can help reduce dust and allergens, creating a healthier environment for your staff. It's a sealed surface that doesn't harbor dust, making it a superior choice for allergy-sensitive individuals.
4. Longevity: With minimal maintenance requirements, epoxy flooring can last for many years, saving you time and money on repairs and replacements in the long run.
5. Enhanced Safety: The slip-resistant properties of epoxy flooring reduce the risk of accidents and make it easier to maintain a safe and clean working environment.
Aesthetics and Branding
Your retail store's backroom may not be a space directly visible to customers, but it should be addressed. A well-organized backroom with custom epoxy flooring enhances store image and efficiency.
1. Branding Integration: Incorporate your company's colors and logo into the epoxy floor to create a cohesive look throughout your store, even in the backroom.
2. Color Options: Choose from a wide range of colors to match your brand's color scheme or create a specific aesthetic for your backroom.
3. Custom Designs: Beyond solid colors, epoxy flooring can be designed with patterns, borders, and other decorative elements that align with your vision.
4. Enhanced Visibility: A clean, well-lit, and organized backroom makes it easier for your staff to locate items quickly and efficiently, improving overall store operations.
5. Positive Work Environment: A well-designed and visually appealing backroom can contribute to a positive work environment, boosting employee morale and productivity.
Cost-Effective Flooring Solution
In the retail industry, cost-effectiveness is always a key consideration. Epoxy flooring is a wise investment because it offers several financial benefits:
1. Longevity: Epoxy flooring has a long lifespan and requires minimal maintenance. It can last for years without needing frequent replacements or repairs.
2. Minimal Maintenance Costs: As mentioned earlier, epoxy flooring is easy to clean and maintain. This translates to lower cleaning and maintenance costs, saving you money.
3. Reduced Replacement Expenses: The durability of epoxy flooring means you won't have to budget for frequent floor replacements, reducing long-term flooring maintenance costs.
4. Improved Efficiency: A clean and organized backroom contributes to more efficient operations. Time saved searching for items and performing cleaning tasks can lead to higher productivity among your staff.
5. Safety Cost Savings: Preventing accidents using slip-resistant epoxy flooring can save you significant worker compensation and liability claims costs.
Local Expertise and Community Commitment
American Poly is your trusted local partner in Hartford, CT, for all your epoxy flooring needs. We take pride in serving the community and are committed to providing top-notch service to local businesses. Here's why choosing a local expert like American Poly is beneficial: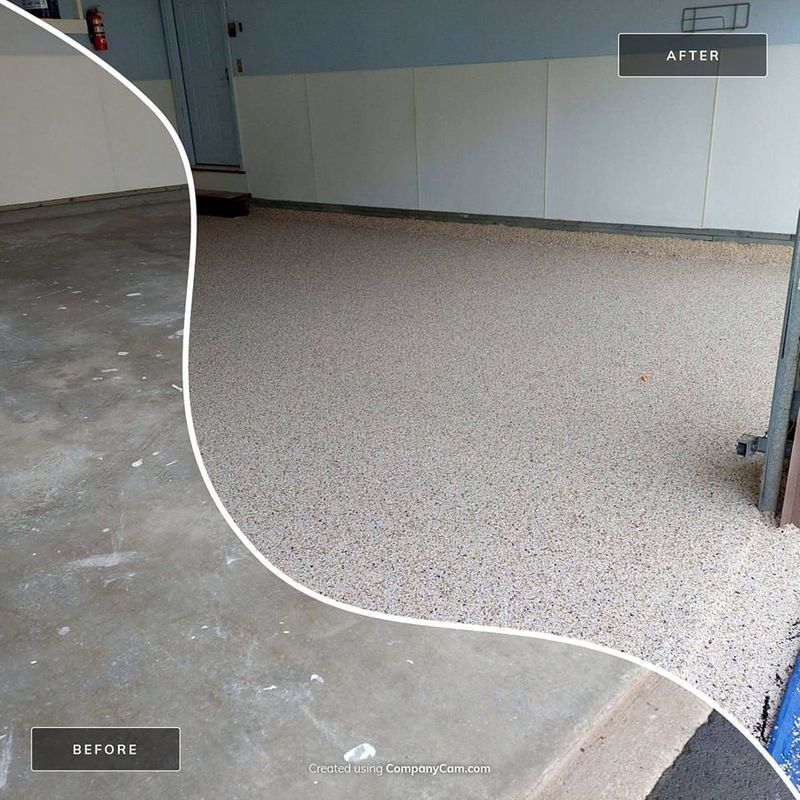 1. Timely Service: As a local company, we can respond quickly to your needs, providing timely installations, repairs, and support for your backroom flooring.
2. Knowledge of Local Regulations: We understand Hartford's local regulations and industry standards, ensuring that your epoxy flooring complies with all necessary requirements.
3. Personalized Approach: Being part of the community means we value each of our clients and treat them with the care and attention they deserve.
4. Accessibility: If you have questions or need assistance, you can contact us promptly.
5. Community Support: We believe in giving back to the community that supports us. By choosing American Poly, you are contributing to the growth and well-being of Hartford, CT.
Customer Satisfaction Guarantee
At American Poly, we prioritize customer satisfaction and strive to exceed expectations from consultation to project completion. When you choose us for your retail store backroom epoxy flooring in Hartford, CT, you can expect: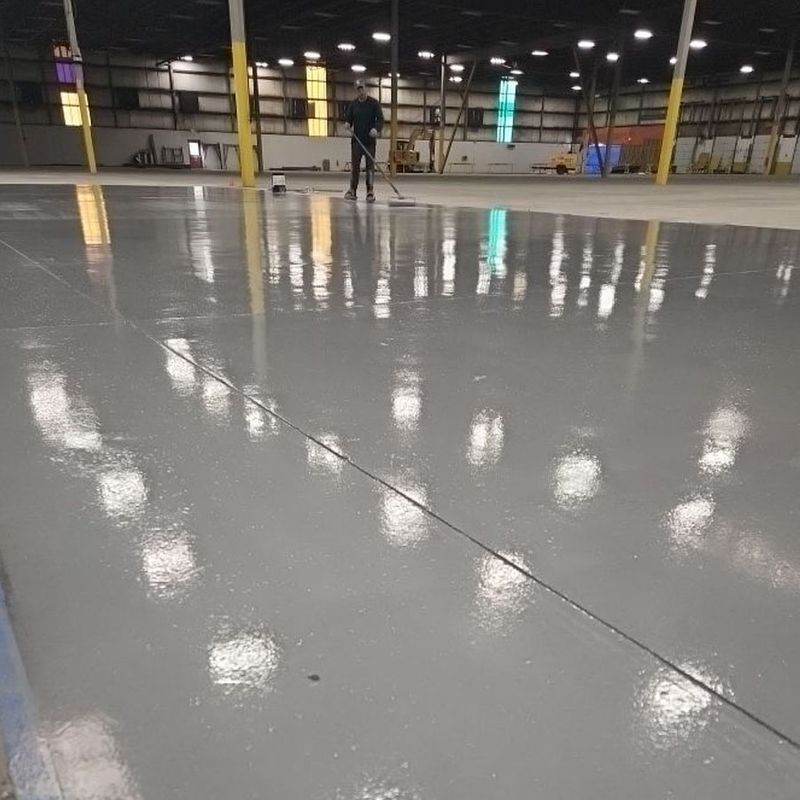 1. Professionalism: Our team of experts conducts themselves professionally, ensuring that your project is handled with care and attention to detail.
2. Outstanding Customer Service: We always strive to provide exceptional customer service, and our friendly staff is always ready to assist with any questions or concerns.
3. Quality Workmanship: Our experienced installers are trained to provide high-quality work, guaranteeing that your epoxy flooring will meet the highest standards.
4. Competitive Pricing: American Poly offers competitive pricing without compromising on the quality of our work, making epoxy flooring an affordable investment for your business.
5. Satisfaction Guarantee: We stand behind our work. If you're unsatisfied with the results, we will work with you to ensure your complete satisfaction.
Enhance Your Retail Backroom Today!
Elevate the functionality and aesthetics of your Hartford, CT retail store's backroom with our top-quality epoxy flooring. Create a safer, more organized workspace that boosts efficiency. Contact American Poly for a free consultation and get started on your transformation!
Transform Your Retail Store Backroom Today
Are you ready to enhance the functionality and aesthetics of your retail store backroom in Hartford, CT? American Poly is here to help. With our top-quality epoxy flooring solutions and a commitment to exceeding your expectations, we're the premier choice for businesses in the area.
Be sure to contact us for a free consultation, and let us transform your retail store backroom into a clean, durable, and attractive space. Your retail store's efficiency and safety are our priority, and we're dedicated to helping you achieve it.
To start your journey to a better backroom with epoxy flooring, contact American Poly. Get in touch with us today, and our team of friendly and knowledgeable experts will be more than happy to provide you with any assistance you may need.
ASK US ABOUT 0% FINANCING FOR UP TO 18 MONTHS!