Custom Epoxy Floors Hartford, CT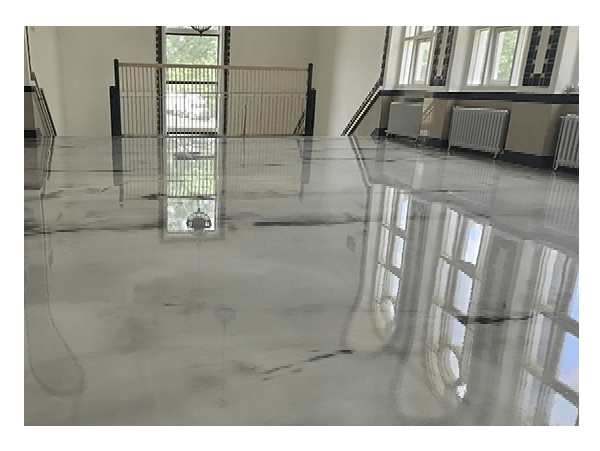 Welcome to American Poly, your trusted source for exquisite custom epoxy floors in Hartford, CT. We take immense pride in transforming dull, ordinary surfaces into stunning works of art that captivate the eye and the imagination. Our high-quality epoxy floor solutions are designed to enhance your space's aesthetics and provide long-lasting durability. When you choose American Poly, you're selecting the best in the business for your epoxy flooring needs.
Elevate Your Space with Custom Epoxy Floors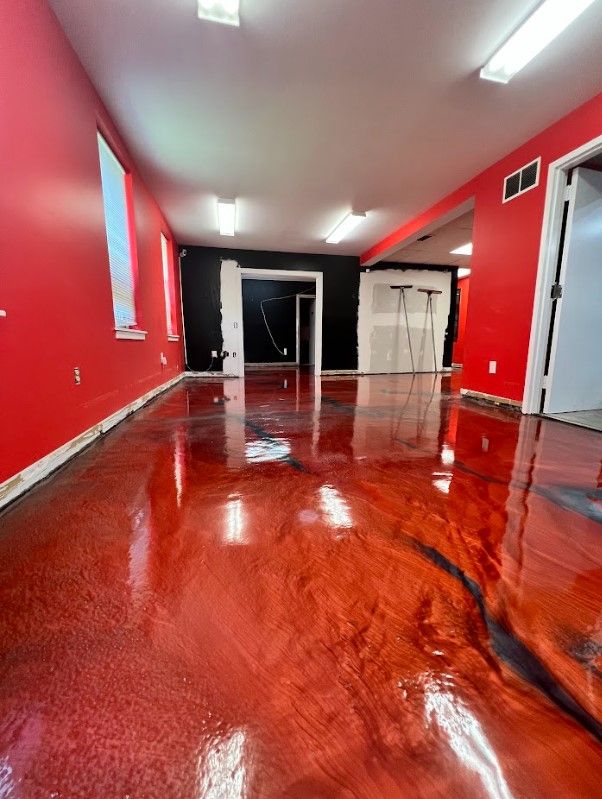 Unleash the Beauty of Epoxy Flooring
At American Poly, we understand the importance of creating visually appealing spaces. Our custom epoxy floors are a perfect marriage of form and function. Our state-of-the-art epoxy flooring solutions are designed to enhance the beauty of your space while ensuring it remains resilient and easy to maintain.
Benefits of Epoxy Flooring:
Durability: Epoxy floors are an ideal choice for high-traffic areas because of their outstanding durability and resistance to wear and tear.

Versatility: Customizing epoxy flooring to match any desired design or color scheme is easy.

Easy Maintenance: Epoxy floors are a breeze to clean, ensuring your space looks its best.

Longevity: With proper care, epoxy floors can last many years, providing a cost-effective flooring solution.
Our Custom Epoxy Flooring Services
At American Poly, we offer a wide range of custom epoxy flooring services to meet your specific needs:
1. Residential Epoxy Flooring
Transform your home with the elegance and resilience of epoxy flooring. Whether it's your garage, basement, kitchen, or any other area in your home, our epoxy flooring options are the perfect choice to elevate your living space.
2. Commercial Epoxy Flooring
Create a lasting impression with our custom commercial epoxy flooring solutions. Ideal for retail, restaurant, and office spaces.
3. Industrial Epoxy Flooring
In demanding industrial environments, durability is paramount. Our industrial epoxy flooring can withstand the heaviest of machinery and harshest chemicals, ensuring a safe and efficient workspace.
4. Decorative Epoxy Flooring
If you're looking for a unique and artistic touch, our decorative epoxy flooring can be tailored to your preferences. Let your imagination run wild, and we'll bring your vision to life.
5. Epoxy Floor Repairs and Maintenance
Even the most durable floors may require maintenance over time. We offer expert epoxy floor repair and maintenance services to keep your floors looking and performing their best.
The American Poly Advantage
When you choose American Poly for your custom epoxy floors in Hartford, CT, you're investing in excellence. Here's why our customers trust us:
Expertise and Experience
Our team of professionals in the epoxy flooring industry has perfected our skills, utilizing the latest techniques and technologies to ensure top-notch results every time.
Premium Quality Materials
We only use the highest-quality epoxy materials, which are renowned for their strength and durability. Our commitment to quality ensures your floors will withstand the test of time.
Customization Options
At American Poly, we understand that every project is unique. We provide a variety of options for customization, such as colors, patterns, and textures, to bring your vision to life.
Efficient Project Management
We value your time. Our efficient project management ensures that your custom epoxy floors are installed or restored promptly, minimizing any disruption to your daily life or business operations.
Epoxy Floor Maintenance
Maintaining your custom epoxy floors is crucial to keeping them stunning after installation. Epoxy floors are known for their easy maintenance, but there are a few key practices to keep them looking their best:
1. Regular Cleaning
One of the key advantages of epoxy floors is their smooth, non-porous surface. This makes cleaning a breeze. Regularly sweep or dust mop to remove loose debris. For a more thorough cleaning, use a gentle cleanser and a mop. Harsh chemicals can damage the epoxy's finish.
2. Preventing Scratches
While epoxy floors are durable, they can still be scratched by sharp or abrasive objects. Prevent scratches on floors by using felt pads under furniture legs and avoiding dragging heavy objects.
3. Spill Cleanup
Epoxy floors are resistant to most spills, but prompt cleanup is essential. Whether it's oil, chemicals, or other substances, wipe them up as soon as possible to prevent staining or damage. The smooth surface of epoxy makes spill cleanup relatively straightforward.
4. Re-sealing
Over time, epoxy floors may show signs of wear, such as minor scratches or a dulling of the finish. In such cases, re-sealing the epoxy can restore its appearance. This task is best left to professionals, as they can assess the condition of your floor and apply the appropriate maintenance treatment.
Customization Options
Epoxy floors offer a plethora of customization options to suit your unique aesthetic preferences and functional requirements. Here are some ways you can customize your epoxy floors:
1. Color Selection
Epoxy floors are available in a wide range of colors, allowing you to choose the perfect shade to match your space's style. From bold and vibrant to subtle and understated, the color possibilities are virtually endless.
2. Patterns and Designs
Epoxy flooring can be customized with intricate patterns and designs, such as marbling, geometric shapes, or company logos. These decorative options can turn your floors into a true work of art.
3. Texture
Custom epoxy floors can be tailored to have different levels of texture, which can impact both aesthetics and slip resistance. This is particularly important for commercial and industrial settings where safety is a concern.
4. Gloss Level
Epoxy flooring offers various gloss levels, from high-gloss to satin or matte finishes. The level of shine can influence the overall look of your space, so you can choose the one that suits your style.
Schedule a Free Consultation for Your Dream Epoxy Floors
Are you ready to bring your vision of custom epoxy floors to life? We're here to help you every step of the way. Schedule a free consultation with our expert team to discuss your unique project, explore design possibilities, and get a detailed estimate. Let's transform your space together.
Epoxy Floors for Different Settings
Custom epoxy floors are highly versatile and can be tailored to various settings: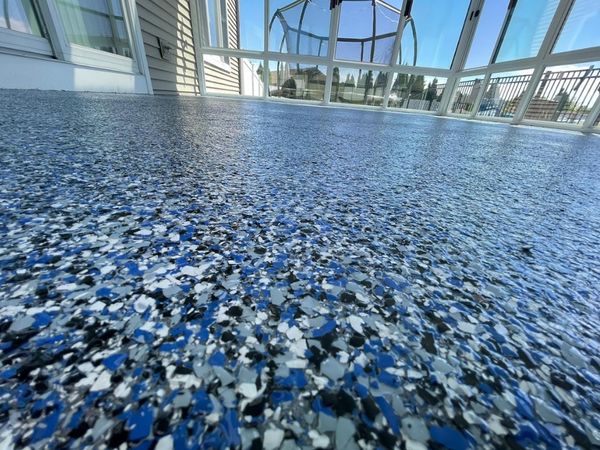 Epoxy floors are perfect for garages, basements, kitchens, and even living areas in residential settings. They provide a sleek, modern appearance, highly durable, and easy to clean.
Commercial spaces like retail stores, restaurants, and offices benefit from epoxy floors' durability and aesthetic appeal. They can handle heavy foot traffic and are resistant to stains, making them ideal for these environments.
Industrial settings, including manufacturing facilities and warehouses, require flooring that can withstand heavy machinery and chemical exposure. Epoxy floors excel in these conditions, providing both safety and durability.
For those looking to make a unique statement, decorative epoxy floors are the way to go. These floors can be customized with intricate designs, logos, and colors, creating a one-of-a-kind look.
Why Choose American Poly
American Poly is your top choice for custom epoxy floors in Hartford, CT, for several compelling reasons: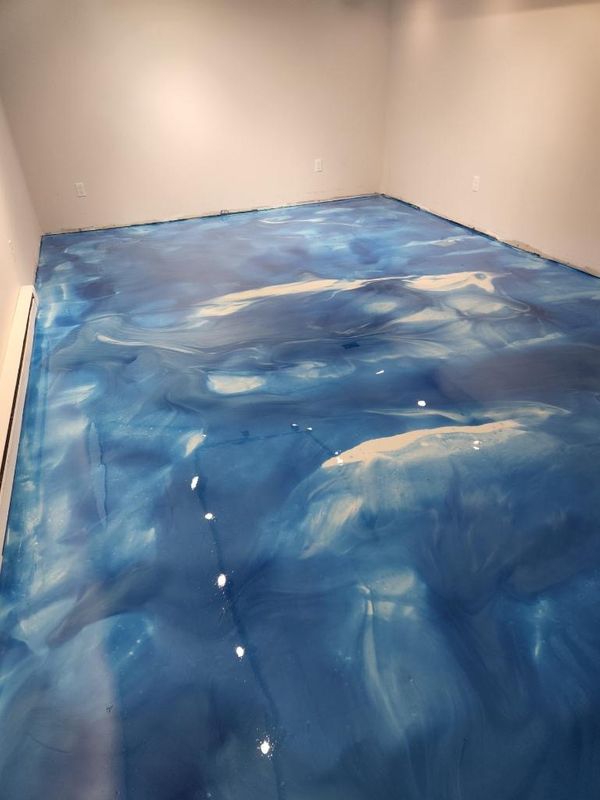 1. Proven Expertise
Our team boasts years of experience in epoxy floor installation and maintenance. We have successfully completed numerous projects, demonstrating our expertise in this field.
2. Quality Materials
We only use premium-grade epoxy materials, ensuring your floors are not only beautiful but also long-lasting and resilient.
3. Customization
We understand that no two projects are the same. Our commitment to customization ensures that your epoxy floors match your vision perfectly.
4. Efficiency and Timeliness
We respect your time and aim for efficient project management to minimize any disruption to your daily life or business operations.
5. Customer Satisfaction
Our dedication to providing top-notch customer service and satisfaction is unwavering. We're not satisfied until you are.
Epoxy Flooring as a Sustainable Choice
In today's world, sustainability is a growing concern. Epoxy flooring offers several eco-friendly advantages: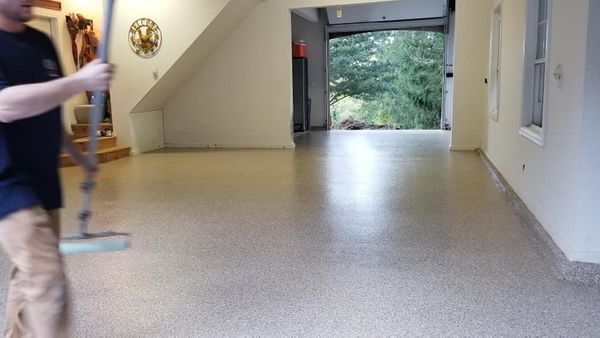 1. Reduced Material Waste
Epoxy floors are applied directly over existing surfaces, such as concrete. This reduces the need for extensive demolition and removal of old flooring materials, minimizing material waste.
2. Energy Efficiency
The reflective properties of epoxy flooring can help improve lighting in your space. This can lead to energy savings by reducing the need for additional lighting.
3. Minimal Maintenance and Cleaning
Epoxy floors require fewer cleaning products and water due to their easy-to-clean surface. This can contribute to a reduction in the use of cleaning chemicals and water consumption.
Epoxy Flooring for Safety
Safety is a top priority in many settings, and epoxy floors offer several features that promote a safer environment: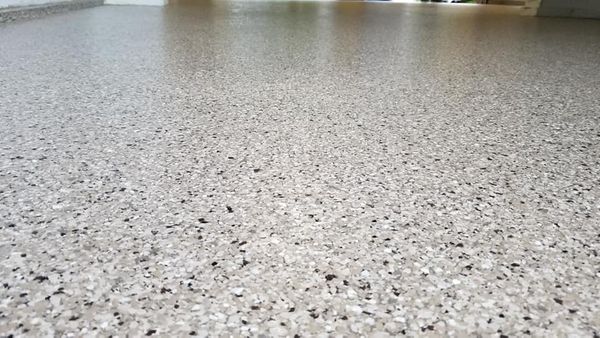 1. Slip-Resistance
Epoxy floors can be customized with additives to increase their slip resistance. This is crucial in areas where the risk of slipping and falling is a concern, such as commercial kitchens, public restrooms, and industrial facilities.
2. Hygiene
The seamless and non-porous surface of epoxy floors discourages the growth of bacteria, molds, and fungi. This makes them an excellent choice for settings that prioritize hygiene, like healthcare facilities and food preparation areas.
3. Easy Line Marking
Epoxy floors can be easily marked with lines and safety symbols, aiding in traffic management and ensuring clear pathways and safe zones in industrial and commercial spaces.
Transform Your Space Today
Are you ready to experience the unmatched beauty and resilience of custom epoxy floors by American Poly? Contact us today for a consultation. Our experts will work closely with you to understand your needs and provide a customized solution that meets your expectations.
Looking for an estimate for your custom epoxy flooring project? We offer free estimates to help you plan your budget. Don't miss out on the opportunity to enhance your space with American Poly's premium epoxy floors.
The American Poly Commitment
At American Poly, we're committed to delivering the best custom epoxy floors in Hartford, CT. Our dedication to quality, craftsmanship, and customer satisfaction is unmatched. Experience the American Poly difference today and transform your space into a masterpiece of elegance and durability. Your dream floors are just a phone call away.
When it comes to custom epoxy floors in Hartford, CT, American Poly stands out as the premier choice. Whether you're a homeowner, business owner, or industrial manager, we have the expertise and experience to meet your specific flooring needs. Choose us, and let your space reflect the beauty and durability of custom epoxy floors.
ASK US ABOUT 0% FINANCING FOR UP TO 18 MONTHS!