Residential Epoxy Flooring Hartford, CT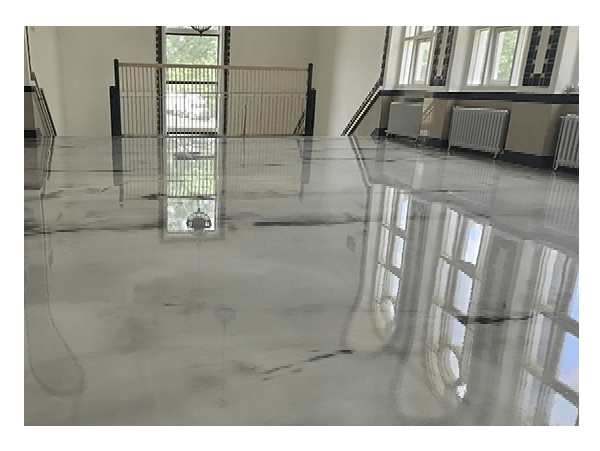 Your Leading Choice for Residential Epoxy Flooring Solutions
EXPERIENCE EXCELLENCE WITH AMERICAN POLY
American Poly – your premier destination for high-quality residential epoxy flooring solutions. Our commitment to excellence and expertise in epoxy flooring make us the top choice for enhancing the beauty, durability, and functionality of your living spaces. Choose from various designs and benefit from unmatched durability with our residential epoxy flooring.

Let us help you find the best epoxy flooring solution for your home and budget. From your basement and garage to your patio and pool decks, our team is committed to the highest quality custom finish.

We offer high-performance and high-quality, durable commercial flooring for an array of industries. Our flooring solutions stand up to your high traffic and heavy machinery areas and is chemical and impact resistant.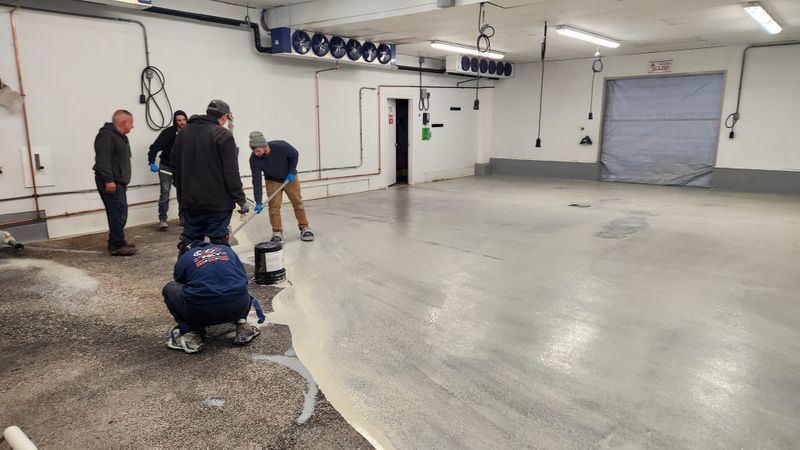 What Makes Epoxy Flooring Unique?
Epoxy flooring is a seamless blend of resins and hardeners that, when applied to a surface, forms a durable, glossy finish. This unique composition results in a surface that's not only visually appealing but also highly functional. Whether you're considering epoxy flooring for your residential or commercial space, it's crucial to understand its suitability for various environments.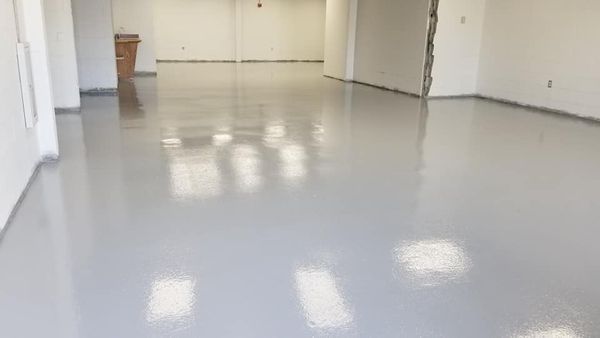 Elevate Your Space with Epoxy Flooring
Epoxy floors offer homeowners an array of design possibilities that can transform their living spaces into stunning showcases. From replicating the look of luxurious materials like marble and granite to creating custom patterns and colors, epoxy allows homeowners to infuse their style into every corner of their homes.
FAMILY-FRIENDLY DURABILITY - For households with children or pets, epoxy flooring is an excellent choice due to its remarkable durability. Resistant to scratches, stains, and impacts, epoxy can withstand the demands of daily life while still maintaining its beauty and charm.
EASY MAINTENANCE FOR BUSY LIFESTYLES - Epoxy flooring's seamless surface makes cleaning a breeze, reducing the time and effort required to keep your home looking its best. The lack of grout lines or seams means no crevices for dirt and dust to hide, making it an ideal choice for families with busy schedules.
Why Choose Epoxy Flooring for Your Hartford Home?
Exceptional Durability and Longevity
Epoxy flooring is well-known for its durability and resistance to scratches, stains, and impacts. It is a perfect choice for high-traffic areas like kitchens, hallways, and living rooms, ensuring long-lasting beauty and functionality for your investment.
Unmatched Design Versatility
One of the most compelling reasons homeowners are turning to epoxy flooring is its versatility in design. From elegant marble-like finishes to sleek, modern metallic designs, epoxy flooring offers many aesthetic possibilities. At American Poly, we offer an extensive selection of colors, patterns, and finishes to ensure that your flooring perfectly complements your home's style.
Seamless and Hygienic Surface
Epoxy flooring creates a seamless and visually appealing surface that is incredibly hygienic. The lack of grout lines or seams means that cleaning is a breeze, and dust, dirt, and allergens have nowhere to hide. Families with allergies or young children will benefit from less time on dirty floors.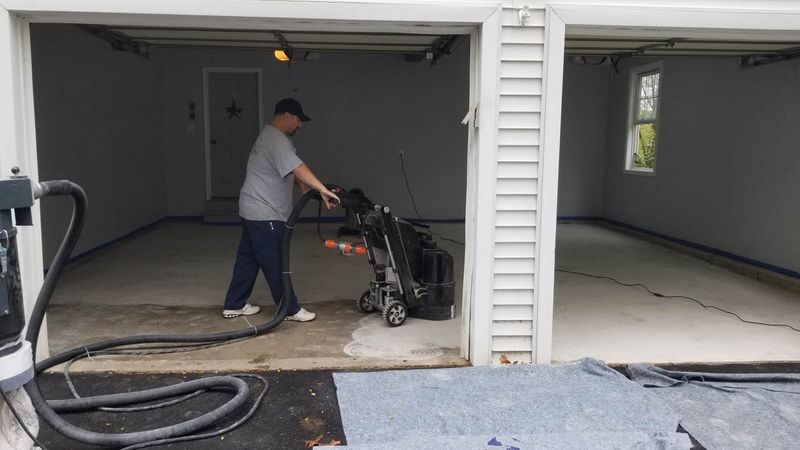 The American Poly Advantage: Unparalleled Expertise and Quality
Expert Installation by Skilled Professionals
Our team of skilled professionals at American Poly are experts in installing flawless epoxy flooring. With years of experience, our technicians ensure precise and careful installation for optimal longevity and performance.
High-Quality Materials for Lasting Results
Using top-quality materials is the key to achieving outstanding results. That's why we source our epoxy products from trusted manufacturers known for their durability and performance. We guarantee that your epoxy flooring will remain beautiful and functional for years to come, using only the best materials.
Customized Solutions for Every Home
At American Poly, we understand that every home is different, and so are our clients' preferences. We work closely with you to understand your design goals and personal lifestyle needs. Whether you're aiming for a glossy, contemporary look or a more subtle matte finish, we tailor our solutions to your requirements and preferences.
Unveiling the Process: From Consultation to Completion
Comprehensive Consultation
Our journey together begins with a comprehensive consultation. We listen attentively to your ideas, needs, and concerns. Our experts offer professional advice and insights, helping you make informed decisions about the design, color, and finish of your epoxy flooring.
Surface Preparation
Preparation is the key to a flawless epoxy flooring installation. Our team meticulously prepares the existing surface, ensuring it is clean, smooth, and ready to receive the epoxy coating. It is essential to prepare the surface properly to ensure a durable bond and a finish that lasts for a long time.
Epoxy Application
Using advanced techniques and equipment, we apply the epoxy coating evenly and precisely. Our technicians are highly trained to handle the application process carefully, ensuring a consistent and beautiful finish that enhances your home.
Finishing Touches
Once the epoxy is applied, we add the finishing touches to ensure a polished look. This may include adding decorative elements, textures, or patterns according to your design preferences.
EXPERIENCE THE TRANSFORMATION: WHY CHOOSE AMERICAN POLY FOR RESIDENTIAL EPOXY FLOORING IN HARTFORD, CT
Proven Track Record of Excellence
With a proven track record of delivering exceptional results, American Poly has become the go-to choice for homeowners seeking top-tier epoxy flooring solutions in Hartford, CT. Our satisfied clients stand as a testament to our commitment to excellence.
Passion for Innovation
We are passionate about staying ahead of industry trends and innovations. Our team continually explores new techniques, materials, and design possibilities to offer you the latest and greatest in epoxy flooring.
Customer-Centric Approach
At American Poly, you are at the center of everything we do. We believe in open communication, transparency, and collaboration. From the initial consultation to the final reveal, we prioritize your needs and preferences every step of the way.
ADVANTAGES OF RESIDENTIAL EPOXY FLOORING – CHOOSE AMERICAN POLY FOR LASTING VALUE
When considering flooring options for your Hartford, CT, home, it's essential to weigh the benefits that different materials can bring to your space. American Poly is your trusted partner in experiencing the numerous advantages of residential epoxy flooring. With a dedication to quality, durability, and innovative design, our epoxy flooring solutions are the ideal choice for homeowners seeking beauty and functionality.
Why Opt for Residential Epoxy Flooring from American Poly?
Stunning Aesthetics:

Epoxy flooring offers a wide range of design options, from glossy finishes that reflect light to more muted matte textures. This versatility lets you achieve the desired look that perfectly matches your home's style.

Durability and Longevity:

Epoxy flooring is built to withstand heavy use, making it ideal for high-traffic areas in your home.

Resistant to stains, impacts, and scratches, epoxy flooring maintains its beauty even in the face of daily wear and tear.

Seamless and Hygienic:

The seamless nature of epoxy flooring eliminates gaps and crevices where dirt and allergens can accumulate.

Cleaning becomes a breeze, enhancing the overall cleanliness of your home environment.

Versatile Design Options:

Achieve the look of luxurious materials like marble, granite, or terrazzo without the high costs associated with those materials.

Play with colors, patterns, and textures to create a unique flooring design that complements your interior decor.

Resistance to Moisture and Chemicals:

Epoxy flooring is inherently resistant to moisture, making it an excellent choice for areas prone to spills, such as kitchens and bathrooms.

Its resistance to chemicals ensures that your flooring won't deteriorate when exposed to common household cleaning agents.

Enhanced Safety:

Epoxy flooring can be customized with non-slip additives, providing an extra layer of safety, especially in areas prone to wet conditions.

Energy Efficiency:

Epoxy flooring's high gloss finish can help reflect light, potentially contributing to improved lighting and reduced energy costs.

Environmental Friendliness:

Epoxy flooring can often be installed directly over existing concrete surfaces, reducing the need for extensive demolition and disposal of old flooring materials.

Quick Installation:

Epoxy flooring installation is typically faster than other flooring options, minimizing disruption to your daily routine.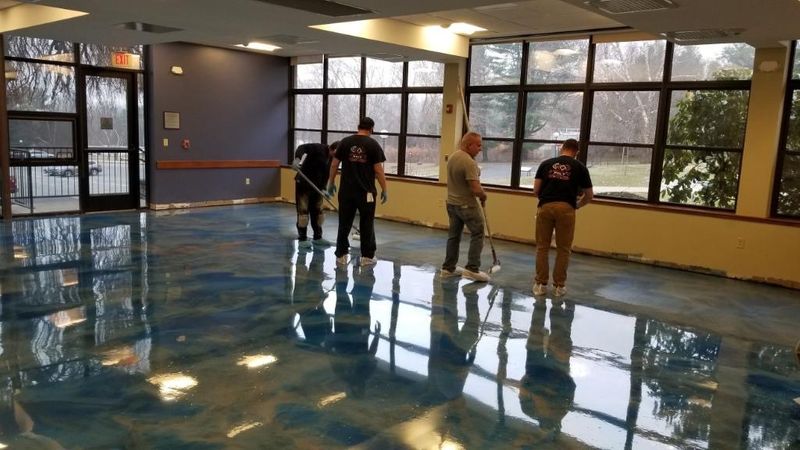 Diverse Finishes for Residential Epoxy Flooring – Your Hartford Home, Elevated by American Poly
At American Poly, we understand that every homeowner has unique preferences regarding the appearance of their flooring. That's why we offer a diverse range of finishes for our residential epoxy flooring solutions. With our dedication to innovation and design, we provide you with the opportunity to customize your Hartford, CT, home's flooring to match your style while enjoying the lasting benefits of epoxy flooring.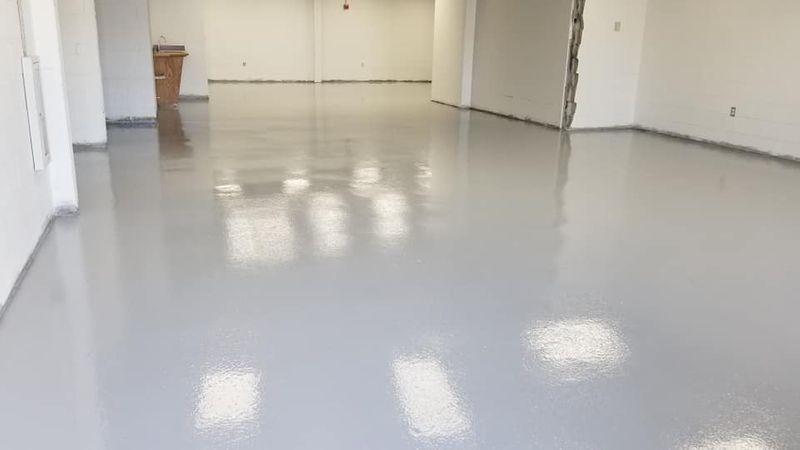 Explore the Range of Epoxy Flooring Finishes with American Poly
Glossy Elegance: Achieve a high-gloss finish that not only enhances the beauty of your space but also reflects light, creating a sense of spaciousness.
Matte Sophistication: For a more understated look, opt for a matte finish that adds a touch of sophistication while maintaining a subtle appearance.
Metallic Brilliance: Add a contemporary edge to your home with metallic epoxy finishes that create the illusion of depth and movement.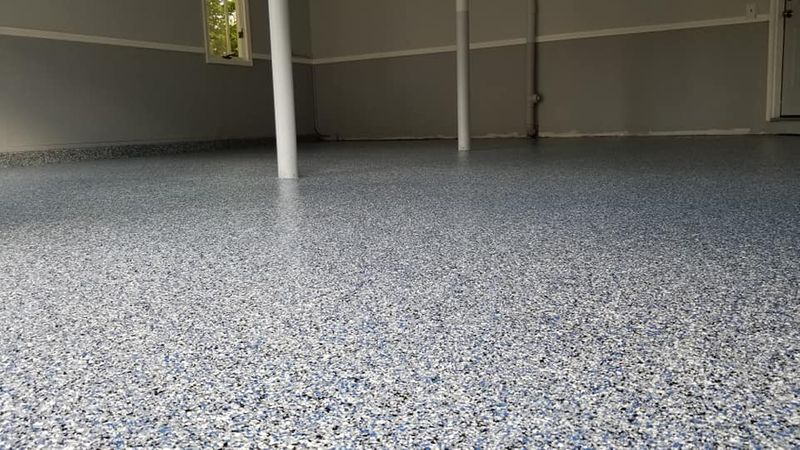 Granite-Like Texture: Capture the essence of natural stone with epoxy flooring that mimics the texture and patterns of granite, bringing a touch of luxury to your interiors.
Marble-Inspired Elegance: Enjoy the timeless beauty of marble without the associated costs. Our marble-inspired epoxy finishes offer a range of colors and patterns to suit your taste.
Terrazzo-Inspired Patterns: Embrace the intricate designs of terrazzo flooring with epoxy solutions that blend multiple colors and aggregates for a unique and captivating appearance.
Customized Color Blends: American Poly allows you to create a genuinely one-of-a-kind flooring design by blending epoxy in custom colors that align with your home's color palette.
Why Choose American Poly for Your Hartford Home's Epoxy Flooring Needs?
Unparalleled Expertise
With years of experience in epoxy flooring installation, American Poly's technicians are experts in their craft, ensuring flawless results every time.
Tailored Solutions
We understand that every home is unique. Our team works closely with you to tailor our solutions to your design preferences, lifestyle, and budget.
Top-Quality Materials
American Poly sources epoxy products from reputable manufacturers known for their durability and performance. This commitment to quality guarantees lasting results.
Dedication to Customer Satisfaction
A customer-centric approach drives us. Your satisfaction is our top priority, and we strive to exceed your expectations at every process step.
Is Epoxy Flooring Right for You?
At American Poly, we specialize in providing tailored epoxy flooring solutions that match your unique needs. Whether you're a homeowner looking to elevate your living spaces or a business owner seeking a durable and attractive flooring option, our experts guide you.
We believe that one size does not fit all. Our team works closely with you to understand your requirements, design preferences, and budget constraints, allowing us to create a flooring solution that perfectly aligns with your goals.
With years of experience in epoxy flooring installation, our skilled professionals ensure every project is executed flawlessly. From surface preparation to final application, we take pride in delivering exceptional results.
ASK US ABOUT 0% FINANCING FOR UP TO 18 MONTHS!