Industrial Epoxy Flooring Hartford CT
Welcome to American Poly Concrete Floor Refinishing, your ultimate destination for top-tier industrial epoxy flooring solutions in Hartford, CT. Our commitment to excellence and unmatched craftsmanship makes us the premier choice for transforming your industrial spaces into stunning showcases of durability and style.
Elevate Your Business with Stunning Epoxy Flooring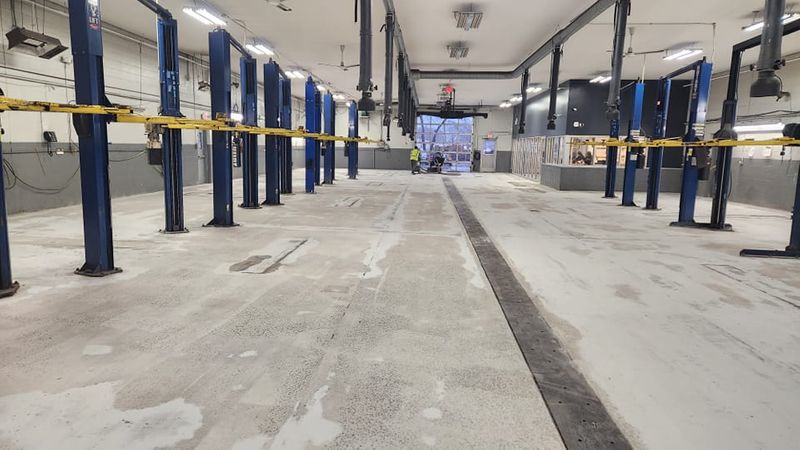 Unveil the true potential of your business environment with our cutting-edge epoxy flooring solutions. Our services encompass a variety of sectors, each tailored to meet your unique needs and aspirations. From sleek retail store epoxy flooring to robust industrial facility epoxy installations, we combine artistic finesse with unrivaled durability, creating a flooring experience that leaves a lasting impression.
Elevate Your Industrial Space with Remarkable Epoxy Flooring
Discover the extraordinary potential of industrial epoxy flooring across diverse sectors, from retail and restaurants to automotive shops and offices. At American Poly, we specialize in delivering tailored solutions that enhance the functionality and aesthetics of your workspace.
Transforming Retail and Commercial Environments
Elevate your retail or commercial space with our exceptional industrial epoxy flooring solutions:
Retail Brilliance: Showcase your products on a high-gloss epoxy floor that reflects elegance and elevates your brand image.
Restaurant Resilience: Experience the durability and easy maintenance of epoxy flooring, perfect for high-traffic restaurant environments.
Bar Sophistication: Impress patrons with a seamless epoxy surface that adds a touch of sophistication to your bar area.
Revitalizing Automotive Workshops and Offices
Optimize your automotive shop or office with our expert industrial epoxy flooring applications:
Automotive Excellence: Our heavy-duty epoxy floors withstand the rigors of automotive environments, enhancing safety and efficiency.
Office Elegance: Create a professional and appealing workspace with sleek epoxy flooring that makes a lasting impression.
Unveil the Benefits of Industrial Epoxy Flooring
Choose American Poly for your industrial epoxy flooring needs and unlock a myriad of features and benefits that set us apart:
Seamless Application Mastery
Our team of experienced installers provides a flawless application of industrial epoxy flooring that boasts aesthetic appeal and lasting durability.
Durability Redefined
Experience industrial epoxy coatings that withstand heavy machinery, foot traffic, and chemical exposure, ensuring your workspace remains impeccable.
Safety and Slip Resistance
Our epoxy flooring includes non-slip finishes, promoting safety even in high-risk areas prone to spills.
The American Poly Advantage: Your Trusted Partner
As the proud owner of American Poly Concrete Floor Refinishing, I'm dedicated to bringing a touch of humor to our services. Why did the industrial space choose epoxy flooring? Because it wanted a floor that could "work" as hard as its occupants!
Experience the Artistry of Industrial Epoxy Flooring
At American Poly, we view industrial epoxy flooring as an art form, combining innovative techniques with meticulous craftsmanship:
Customized Industrial Solutions
We offer tailored epoxy solutions that meet the specific demands of your industrial space, whether it's a factory, warehouse, or manufacturing facility.
High-Gloss Finishes
Enhance the aesthetics of your industrial environment with high-gloss epoxy finishes that reflect professionalism and sophistication.
Concrete Resurfacing and Repair
Experience the transformation of worn-out concrete into a flawless, rejuvenated surface with our concrete resurfacing and repair expertise.
Epoxy Floor Maintenance Tips
Learn how to extend the life of your industrial epoxy flooring with our maintenance tips, ensuring long-lasting beauty and functionality.
Elevate Your Industrial Space with American Poly Concrete Floor Refinishing
At American Poly, we don't just provide industrial epoxy flooring – we create environments that inspire productivity, enhance safety, and leave a lasting impression. Contact us today and let's turn your industrial space into a masterpiece of epoxy elegance!
Request a Free Consultation
Ready to elevate your industrial space with premium epoxy flooring? Contact us today to schedule a free consultation and discuss your unique requirements.

Let us help you find the best epoxy flooring solution for your home and budget. From your basement and garage to your patio and pool decks, our team is committed to the highest quality custom finish.

We offer high-performance and high-quality, durable commercial flooring for an array of industries. Our flooring solutions stand up to your high traffic and heavy machinery areas and is chemical and impact resistant.
Browse through our portfolio to witness the transformative power of epoxy. See how we've elevated industrial spaces with our exceptional craftsmanship.
Unmatched Expertise in Industrial Epoxy Flooring
With years of experience and a deep understanding of industrial flooring needs, American Poly is a beacon of expertise in epoxy solutions. Our dedicated team of epoxy floor installers near you is well-versed in the nuances of industrial environments, ensuring a flawless application every time.
Sealing Excellence with Chemical Resistant Epoxy Flooring
When it comes to industrial settings, chemical spills, and exposure are common challenges. Our chemical-resistant epoxy flooring is a testament to our commitment to creating durable, resilient surfaces that withstand the harshest conditions. Keep your workspace and employees safe with chemical-resistant flooring that is durable.
Industrial Concrete Resurfacing: A Transformational Process
Is your industrial concrete floor showing signs of wear and tear? Our industrial concrete resurfacing services can breathe new life into your space. Through our meticulous process, we restore the integrity of your concrete while providing a sleek epoxy finish that enhances both appearance and function.
Epoxy Flooring Maintenance: Preserving Longevity
We believe the journey doesn't end once your epoxy floor is installed. Our commitment extends to providing you with comprehensive epoxy floor maintenance tips that help preserve the longevity and vibrancy of your flooring investment. Proper care and maintenance ensure that your epoxy floor remains a source of pride for years.
Seamless Integration for Warehouse and Factory Floors
Warehouse Epoxy Flooring: A Foundation of Efficiency
Warehouses are the backbone of industrial operations, and our warehouse epoxy flooring solutions are designed to optimize efficiency and durability. Create a clean, well-organized space that enhances productivity and supports heavy machinery traffic with our industrial epoxy coatings.
Factory Floor Coatings: Protecting Your Manufacturing Hub
Factories demand robust solutions, and our factory floor coatings offer the protection and resilience required for high-impact industrial activities. Safeguard your manufacturing operations with epoxy flooring that delivers unmatched performance and safeguards your investment.
Exceptional Service Across Industries
Tailored Solutions for Varied Sectors
From automotive shops to office spaces, American Poly's expertise transcends industries. We pride ourselves on delivering tailored solutions that cater to the unique demands of each sector. Experience the versatility of industrial epoxy flooring that enhances functionality and aesthetics.
Customer-Centric Approach
At the heart of our service lies a commitment to our customers. We go beyond being just epoxy floor installers near you – we become your partners in enhancing your industrial space. Our customer-centric approach ensures your needs are met, your questions are answered, and your vision is realized.
Your Vision, Our Masterpiece
The Art of Industrial Epoxy Flooring
Industrial spaces are not just utilitarian; they are a canvas waiting to be transformed. Our expert artisans take pride in turning your vision into reality. With a meticulous eye for detail and a dedication to perfection, we create industrial epoxy flooring that harmonizes functionality with aesthetic appeal.
Elevate Your Industrial Environment Today
Whether you're seeking to revamp your warehouse, rejuvenate your factory, or enhance your automotive shop, American Poly is your partner in industrial epoxy flooring excellence. Contact us now to embark on a journey of transformation, durability, and elegance that will redefine your industrial space.
Contact Us for Expert Advice
Have questions about our industrial epoxy flooring services? Contact our knowledgeable team today for expert advice and guidance tailored to your needs.
Request a Free Quote
Ready to experience the power of industrial epoxy flooring? Request a free quote and let us create a masterpiece that adds value to your industrial space.