Epoxy Flooring Hartford CT
Elevate Your Spaces with Expert Epoxy Flooring Solutions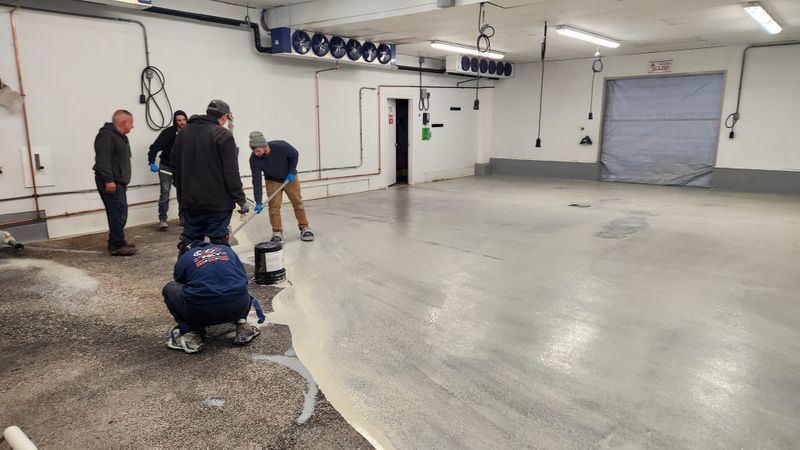 Welcome to American Poly Concrete Floor Refinishing, your premier destination for top-tier epoxy flooring solutions in Hartford, CT. With a commitment to excellence and an unwavering dedication to quality craftsmanship, we specialize in providing superior epoxy floor installations for residential, commercial, and industrial settings. Our wide range of epoxy flooring options, combined with our expertise and innovation, ensures that your spaces will be transformed into stunning, durable, and visually captivating environments.
Seamless Epoxy Floor Installations for Every Setting
Whether you're looking to enhance the elegance of your residence, elevate the professionalism of your commercial establishment, or fortify the durability of your industrial facility, our epoxy flooring services cater to a diverse range of needs.
Residential Epoxy Flooring: Elevate Your Home
Enhance Your Home with Residential Epoxy Flooring
Enhance the beauty and durability of your home with our exquisite residential epoxy flooring solutions. Our expert technicians are adept at installing seamless epoxy floors that not only elevate the aesthetic appeal of your interiors but also offer remarkable durability and easy maintenance. Choose from an array of epoxy floor finishes that match your personal style, from chic and modern to classic and timeless. Our residential epoxy floor installations are perfect for the following:
Tailored Solutions for Every Room
Living Areas: Create a warm and inviting atmosphere in your living room, dining area, and bedrooms with our diverse epoxy floor coatings.
Kitchens: Experience the seamless elegance of epoxy kitchen floors, complete with various colors and finishes that effortlessly complement your design.
Basements: Transform your basement into a stylish and functional space with cost-effective epoxy basement floor solutions that resist moisture and add value to your home.
Commercial Epoxy Flooring: Setting the Stage for Success
Elevate Your Business with Commercial Epoxy Flooring
Elevate your business premises with our innovative commercial epoxy flooring solutions. Our high-performance epoxy coatings are designed to withstand heavy foot traffic, spills, and wear, making them ideal for various commercial spaces. From retail establishments and offices to restaurants and showrooms, our epoxy flooring enhances functionality and aesthetics. Key benefits of our commercial epoxy flooring include:
Tailored Solutions for Diverse Commercial Needs
Durability: Our epoxy coatings are exceptionally durable, ensuring your floors maintain their lustrous appearance even in high-traffic areas.
Customization: Choose from various colors, patterns, and finishes to create a customized look that resonates with your brand and design vision.
Low Maintenance: Enjoy easy maintenance and cleaning, as our epoxy floors are resistant to stains, chemicals, and abrasions.
Industrial Epoxy Flooring: The Power of Performance
Enhance Industrial Efficiency with Epoxy Flooring
In demanding industrial environments, our industrial epoxy flooring solutions rise to the occasion. Our epoxy coatings offer unmatched strength, chemical resistance, and durability, making them an ideal choice for factories, warehouses, and manufacturing facilities. Our industrial epoxy floors provide:
Unyielding Performance for Industrial Spaces
Heavy-Duty Performance: Withstand the harshest conditions, including heavy machinery, chemical spills, and constant foot traffic, while maintaining structural integrity.
Safety Enhancement: Our epoxy floor coatings can be customized to include slip-resistant additives, enhancing workplace safety for your employees.
Longevity: Invest in industrial epoxy flooring built to last, reducing the need for frequent repairs and replacements.

Let us help you find the best epoxy flooring solution for your home and budget. From your basement and garage to your patio and pool decks, our team is committed to the highest quality custom finish.

We offer high-performance and high-quality, durable commercial flooring for an array of industries. Our flooring solutions stand up to your high traffic and heavy machinery areas and is chemical and impact resistant.
Unrivaled Expertise in Epoxy Flooring Installations
The Epitome of Excellence in Epoxy Flooring
At American Poly Concrete Floor Refinishing, we pride ourselves on being the best epoxy floor company in Hartford, CT. Our team of skilled technicians possesses extensive experience in epoxy floor installation and is committed to delivering flawless results that exceed your expectations. When you choose us, you benefit from:
Craftsmanship Beyond Compare
Durability: Precise Application: Our epoxy floor installation process is meticulous and precise, ensuring a seamless, bubble-free, and visually stunning finish.
Attention to Detail: We focus on every detail, from surface preparation to final coating, to guarantee a long-lasting and impeccable epoxy floor.
Premium Materials: We utilize high-quality epoxy resins and coatings renowned for their durability, beauty, and performance.
Epoxy Garage Flooring: Where Functionality Meets Style
Elevate Your Garage with Epoxy Garage Flooring
Turn your garage into a showcase of style and functionality with our epoxy garage floor solutions. Our epoxy coatings not only enhance the visual appeal of your garage but also provide exceptional resistance to chemicals, oil spills, and abrasions. Transform your garage into a space that stands out with:
Your Garage, Transformed
Aesthetic Versatility: Choose from a wide range of epoxy garage coating options, including metallic epoxy floor colors, to create a personalized and stunning look.
Easy Maintenance: Say goodbye to unsightly stains and difficult cleaning. Our epoxy garage floors are easy to clean and maintain, keeping your space looking pristine.
Epoxy Floor Repair and Maintenance: Prolonging Longevity
Preserving the Splendor of Your Epoxy Floor
Even the most durable floors require occasional maintenance and repair. Our epoxy floor repair services ensure that your epoxy floors remain in optimal condition throughout their lifespan. From minor repairs to comprehensive restorations, our experts are equipped to address:
Expert Care for Lasting Beauty
Cracks and Chips: Our technicians skillfully repair cracks, chips, and imperfections in your epoxy floors, restoring their integrity and aesthetics.
Wear and Tear: Over time, epoxy floors may show signs of wear. We rejuvenate the appearance of your floors with thorough cleaning, re-coating, and sealing.
DIY Epoxy Flooring Installation: Pros and Cons
Weighing the Pros and Cons of DIY Epoxy Flooring
While we pride ourselves on our professional epoxy flooring installations, we also understand the allure of DIY projects. Before embarking on a DIY epoxy flooring installation, it's essential to consider the pros and cons:
Empowering Your Creativity
Pros:
Cost Savings: DIY epoxy flooring can be more budget-friendly by eliminating labor costs.
Personal Satisfaction: Completing a DIY project provides a sense of accomplishment and ownership.
Customization: You have control over the design, colors, and patterns of your epoxy floor.
Navigating Challenges with DIY Epoxy Flooring
Cons:
Complexity: Epoxy floor installation requires technical expertise and specialized equipment for proper application.
Quality Control: DIY installations may lead to uneven coatings, bubbles, or imperfections.
Time and Effort: Epoxy flooring projects can be time-consuming and physically demanding, especially for larger spaces.
Contact Us Today for Epoxy Flooring Excellence
Are you ready to elevate your space with the unmatched beauty and durability of epoxy flooring? Look no further than American Poly Concrete Floor Refinishing. Our team is dedicated to providing top-tier epoxy flooring solutions that exceed your expectations. From residential to commercial and industrial settings, we have the expertise to transform your vision into reality. Contact us today to schedule a consultation and experience the difference of epoxy flooring in Hartford CT.
Your Vision, Our Expertise
At American Poly Concrete Floor Refinishing, we don't just install epoxy flooring – we create masterpieces. Our team of skilled artisans is committed to bringing your vision to life with meticulous attention to detail, precision, and craftsmanship. Whether you're seeking to enhance the elegance of your home, elevate the functionality of your business, or fortify the durability of your industrial space, we have the expertise and passion to make it happen. Contact us today to embark on a transformation journey with epoxy flooring in Hartford CT. Your floors deserve nothing less than perfection, and that's what we deliver.