Epoxy Flooring New Haven, CT
Welcome to American Poly Concrete Floor Refinishing – your gateway to exceptional epoxy flooring solutions in the vibrant city of New Haven, CT. Our expertise and dedication to craftsmanship make us the preferred choice for transforming spaces with seamless, durable, and visually stunning epoxy floors.
Elevate Your Environment with Epoxy Mastery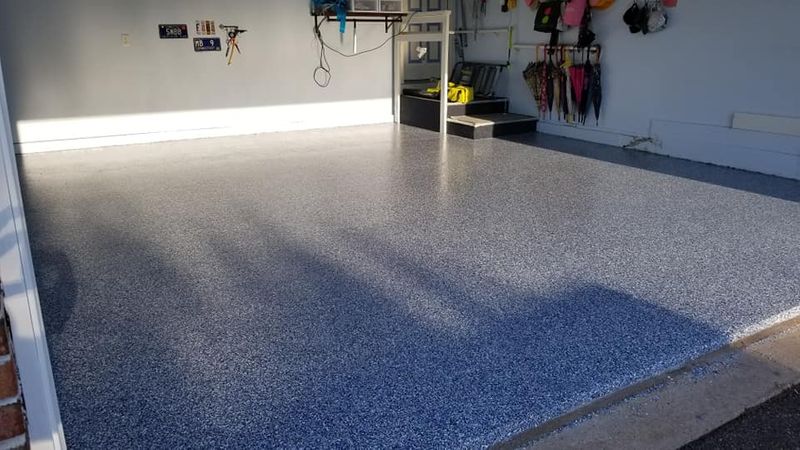 Unlock the true potential of your surroundings with our versatile epoxy flooring services, catering to various sectors and needs. Whether you're seeking to enhance the aesthetics of your home, elevate the functionality of your commercial space, or fortify the durability of an industrial facility, our array of specialized epoxy solutions has got you covered.
Seamless Residences: A Symphony of Elegance
Step into elegance and beauty with our residential epoxy flooring services. Your home deserves flooring that not only complements your style but also withstands the tests of time and daily life. Our epoxy floor installation near me service ensures a hassle-free experience, transforming your living spaces into personalized works of art.
Transform your garage with an exquisite epoxy garage floor in New Haven, CT.
Unveil your basement's potential with an attractive and functional epoxy basement floor.
Discover limitless design possibilities with custom epoxy designs for homes.
Elevate the heart of your home with an epoxy kitchen floor in New Haven, CT.
Embrace modernity with a touch of luxury through high-gloss epoxy floors.
Commercial Brilliance: Setting a New Standard
In the dynamic world of business, image, and functionality are paramount. Our commercial epoxy flooring services in New Haven, CT, are tailored to meet the demands of diverse industries, making us the best epoxy contractors in town. From slip-resistant epoxy floors for safety-conscious environments to captivating outdoor epoxy patios that leave a lasting impression, we redefine commercial spaces with innovative designs and unwavering durability.
Showcase your products in style with seamless epoxy installations for showrooms.
Elevate your establishment's charm with an enchanting outdoor epoxy patio.
Transform eateries with durable epoxy kitchen floors in New Haven, CT.
Create a workspace that inspires with modern epoxy designs for commercial offices.
Forge an industrial environment of resilience with industrial epoxy flooring solutions.
Safeguard against accidents with slip-resistant epoxy floors in New Haven.
Industrial Powerhouse: Performance Meets Endurance
Industries demand flooring that can withstand rigorous demands. Our industrial epoxy flooring solutions in New Haven, CT, deliver unwavering performance, ensuring your facility operates at peak efficiency while maintaining a sleek appearance. From pharmaceutical facilities to manufacturing plants, our epoxy coatings provide durability, chemical resistance, and a seamless finish that empowers your operations.
Fortify your workspace with seamless epoxy installations for industrial facilities.
Embrace sustainability with eco-friendly epoxy flooring options.
Preserve safety and aesthetics with slip-resistant epoxy floors for industrial settings.
Transform hangars with metallic epoxy floor contractors in New Haven.
Elevate hygiene standards with food-grade epoxy coatings for processing plants.
The American Poly Promise: Excellence Redefined
Durability Beyond Measure
Our epoxy flooring New Haven CT services are synonymous with durability. Whether in residential, commercial, or industrial settings, our epoxy floors are engineered to endure the rigors of daily life and high-traffic environments.
Unleash Your Creativity
Customization knows no bounds with our epoxy designs. Let your imagination run wild as we bring your vision to life, crafting bespoke flooring that embodies your unique style and brand identity.
Seamless Safety
Safety is paramount. Our slip-resistant epoxy floors provide peace of mind, ensuring traction and preventing accidents, making them ideal for high-traffic areas and spaces prone to moisture.
Eco-Conscious Commitment
We're committed to a greener future. Our eco-friendly epoxy options combine sustainability with beauty, allowing you to enhance your space while making an environmentally responsible choice.
Your Transformation Awaits
Are you ready to elevate your space with the transformative power of epoxy flooring? Contact us today for a consultation and discover how American Poly Concrete Floor Refinishing can redefine your surroundings.

Let us help you find the best epoxy flooring solution for your home and budget. From your basement and garage to your patio and pool decks, our team is committed to the highest quality custom finish.

We offer high-performance and high-quality, durable commercial flooring for an array of industries. Our flooring solutions stand up to your high traffic and heavy machinery areas and is chemical and impact resistant.
The Epoxy Advantage: Beauty and Beyond
Unveiling Unparalleled Aesthetics
Epoxy flooring is not just functional – it's a masterpiece of design. Our epoxy floor installation near me service allows you to choose from various colors, patterns, and finishes, enabling you to customize your space according to your preferences. Whether aiming for a sleek and modern look or a rustic charm, our epoxy designs capture your vision.
Enduring Excellence
Durability is the hallmark of our epoxy flooring New Haven CT services. With the ability to withstand heavy foot traffic, impact, and even chemical spills, our epoxy floors are an investment that pays off for years to come. Say goodbye to the worries of wear and tear as our floors maintain their integrity and appearance, preserving the charm of your space.
The Eco-Friendly Epoxy Choice
Our commitment to sustainability extends beyond aesthetics. Our eco-friendly epoxy flooring options enhance your space while minimizing your environmental footprint. By choosing our environmentally-conscious solutions, you're making a statement about your commitment to a greener future.
Elevate Your Expectations: The American Poly Experience
Craftsmanship in Every Detail
At American Poly Concrete Floor Refinishing, we are dedicated artisans. Every epoxy floor installation near me is a testament to our meticulous craftsmanship and attention to detail. From substrate preparation to the final finish, our experts ensure that every process step exudes excellence.
Collaborative Vision
Your vision is our inspiration. We work closely with you to understand your goals, preferences, and aspirations. Our collaborative approach ensures that the final result meets and exceeds your expectations, creating a space that reflects your personality and style.
The Seamless Journey
We believe that your experience should be as flawless as our epoxy floors. From the initial consultation to the final walkthrough, our team is dedicated to providing you with a seamless journey. Our transparent communication, timely execution, and top-notch customer service make the process enjoyable and stress-free.
The Art of Epoxy Flooring
Epoxy flooring is more than a surface – it's a canvas for creativity and a testament to ingenuity. Whether seeking to revamp your home, elevate your business, or fortify your industrial facility, epoxy flooring offers a unique blend of aesthetics, durability, and sustainability. Contact us today and let us be your partner in creating a space that tells your story through the artistry of epoxy. Your transformation awaits.
Unmatched Epoxy Solutions for Every Need
Elevate Your Retail Space with Epoxy Brilliance
Retail environments thrive on aesthetics and durability. Our epoxy flooring New Haven CT services redefine retail spaces, offering a captivating blend of design and performance. Whether you're running a boutique, a flagship store, or a shopping center, our epoxy floors create an inviting atmosphere that leaves a lasting impression on customers.
Culinary Excellence Meets Epoxy Durability
In the bustling world of restaurants and bars, flooring must withstand spills, heavy foot traffic, and constant movement. Our epoxy kitchen floor in New Haven, CT, provides a seamless and durable solution, allowing you to focus on delivering culinary excellence while enjoying easy maintenance and a stunning appearance.
Industrial Fortitude: Epoxy for Manufacturing
Manufacturing facilities demand floors that can withstand the harshest conditions. Our industrial epoxy flooring solutions ensure that your facility operates precisely and safely. From heavy machinery to chemical exposure, our epoxy floors provide the resilience and strength required to maintain optimal productivity.
Tailored Epoxy Perfection
Customization Unleashed
Your space is unique, and your flooring should reflect that. Our custom epoxy designs for home New Haven service enable you to infuse your personality and creativity into your environment. Whether it's a vibrant playroom, a cozy living room, or a luxurious bedroom, our epoxy floors adapt to your vision.
Showroom Showcase: The Epoxy Elegance
Showrooms are not just about products – they create an immersive experience. Our epoxy designs for showrooms transform these spaces into captivating galleries, allowing you to present your offerings with flair and elegance. Elevate the impact of your products with floors that resonate with your brand identity.
Industrial Evolution: The Future of Flooring
Industrial spaces demand a floor that can evolve with the ever-changing landscape. Our epoxy garage floor in New Haven, CT, provides the durability, versatility, and resilience required in automotive shops and garages. From heavy vehicles to oil spills, our epoxy floors ensure a clean and safe environment.
The Epoxy Revolution: Modern Design
Modern Aesthetics, Enduring Value
Modern spaces call for modern solutions. Our modern epoxy design in New Haven, CT, transcends traditional flooring, offering sleek, minimalist aesthetics that align with contemporary sensibilities. Enhance your space with a touch of modern elegance that stands the test of time.
The Metallurgic Marvel: Metallic Epoxy
For those who crave an artistic touch, our metallic epoxy floor contractors in New Haven bring your imagination to life. These floors combine beauty with industrial strength, creating a mesmerizing visual effect that adds a dynamic flair to any space.
Elevate Outdoors: Epoxy Patios
Extend your living spaces outdoors with our epoxy patio in New Haven, CT. These durable and weather-resistant surfaces redefine outdoor entertaining, offering a stunning backdrop for gatherings, barbecues, and relaxation.
Choose Excellence: Epoxy Flooring New Haven, CT
Unleash the Potential
Your space has untapped potential waiting to be unleashed. With our epoxy flooring New Haven CT services, you can transform ordinary floors into extraordinary canvases of beauty and durability. Contact us today to schedule a consultation and let us redefine your environment with the power of epoxy.
Discover the Epoxy Difference
Epoxy flooring is not just a surface – it's a statement. It's a choice to embrace innovation, durability, and creativity. Join the epoxy revolution and experience the difference firsthand. Contact us today to embark on a transformation journey and elevate your space with the magic of epoxy.