Epoxy Flooring Norwalk CT
Transforming Environments with Innovative Epoxy Solutions
Welcome to American Poly Concrete Floor Refinishing, the premier destination for top-tier epoxy flooring services in Norwalk, CT. Our commitment to excellence and passion for enhancing spaces is reflected in our services, which include epoxy floor installation, coatings, resurfacing, and maintenance. Whether you need to revamp your home, business, or commercial establishment, our skilled professionals are dedicated to exceeding your expectations.
Elevating Spaces with Epoxy Flooring in Norwalk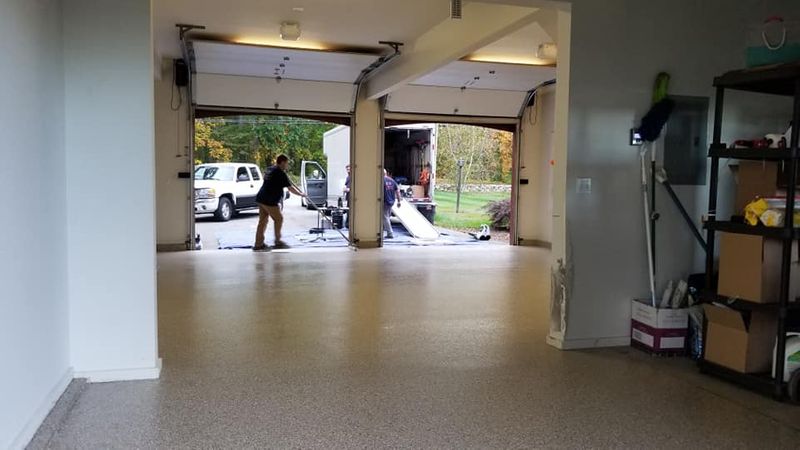 At American Poly, we understand that each space is unique, and deserving of a flooring solution that matches its distinct personality. Our epoxy floor options cater to various settings, from retail and restaurants to bars and showrooms. With various color choices, patterns, and finishes, we bring creativity and customization to your floors.
Unveiling the Beauty of Epoxy Coatings Norwalk CT
Creating Show-Stopping Aesthetics
In the world of commercial establishments, aesthetics play a pivotal role. Our epoxy coatings in Norwalk, CT, are designed to be more than just functional – they're eye-catching statements that draw attention and admiration. Whether you're transforming a showroom or breathing new life into a restaurant, our epoxy coatings blend beauty with resilience.
Industrial Epoxy Floors for Commercial Excellence
Strength and Durability for Your Business
For businesses seeking unmatched strength and durability, our industrial epoxy floors stand as a testament to quality craftsmanship. From automotive shops to office spaces, our epoxy solutions are tailored to withstand heavy foot traffic, machinery, and the rigors of daily operations, ensuring that your floors remain impressive and functional.
Elevating Commercial Spaces with Epoxy Coating Services
Efficiency Meets Aesthetics
Our epoxy coating services go beyond protection – they enhance the aesthetics of your commercial space. Whether it's an office or an automotive showroom, our coatings seamlessly integrate durability with style. Showcase your commitment to excellence with floors that are easy to maintain and effortlessly elegant.

Let us help you find the best epoxy flooring solution for your home and budget. From your basement and garage to your patio and pool decks, our team is committed to the highest quality custom finish.

We offer high-performance and high-quality, durable commercial flooring for an array of industries. Our flooring solutions stand up to your high traffic and heavy machinery areas and is chemical and impact resistant.
Expert Norwalk Epoxy Contractors
Trust in Skill and Experience
Our team of Norwalk epoxy specialists has the expertise to bring your vision to life, whether it's a residential or commercial project. Expect quality results.
Resilient Residential Epoxy Flooring
Turning Houses into Homes
Your home deserves flooring that can withstand the demands of daily life while remaining inviting and beautiful. Our residential epoxy flooring options provide the best of both worlds, offering durability without compromising aesthetics. Whether it's your garage, basement, or living room, we have the perfect solution.
Unveiling Commercial Epoxy Solutions
Empowering Businesses with Excellence
From bars to showrooms, our commercial epoxy solutions are designed to elevate your business. With our expertise in garage epoxy flooring and basement epoxy coatings, we ensure that your spaces are functional, stylish, and built to leave a lasting impression on clients and customers.
Garage Epoxy Flooring That Lasts
Revamping Your Space with Quality
Your garage deserves more than a plain concrete floor. Our garage epoxy flooring options not only enhance the visual appeal of your space but also provide a resilient surface that can handle the demands of vehicles, tools, and activities—looking to turn your garage into a practical and visually appealing space? Our solutions are designed to help you achieve your goals.
Basement Epoxy Coatings for Versatile Spaces
Turning Basements into Functional Extensions
Unleash the potential of your basement with our basement epoxy coatings. Whether you want to create a playroom, home gym, or entertainment area, our coatings provide a seamless and durable surface that can accommodate various activities. Say goodbye to dull basements and welcome versatile spaces.
Your Epoxy Flooring Partner in Norwalk
Elevating Environments with Expertise
At American Poly Concrete Floor Refinishing, we are committed to enhancing spaces with high-quality, aesthetically pleasing, and functional epoxy flooring solutions for residential and commercial projects in Norwalk, CT.
Let's Elevate Your Space
Your Journey to Enhanced Flooring Begins Here

Consultation: Contact us for a consultation tailored to your specific requirements.
Customization: Collaborate with our experts to choose the ideal epoxy solution for your space.
Transformation:Witness the transformation of your floors into stunning works of art
Elevate Your Norwalk Spaces Today
Experience the Power of Epoxy Flooring
Ready to transform your Norwalk spaces into showcases of beauty and durability? Contact American Poly Concrete Floor Refinishing today at [phone number] or [email address] to schedule your consultation and embark on a journey toward epoxy-enhanced environments.
Contact Us for Epoxy Excellence
Unlock the potential of your residential or commercial spaces with our epoxy flooring solutions. Contact us to get started on a transformative flooring journey that marries aesthetics and functionality.
Seamless Epoxy Floor Installation in Norwalk
Craftsmanship That Speaks for Itself
Our commitment to excellence begins with our seamless epoxy floor installation process. As the top choice among epoxy contractors in Norwalk, we prioritize precision, quality, and customer satisfaction. Our experienced team ensures that every inch of your flooring receives the attention it deserves, resulting in a flawless and durable epoxy floor.
The Art and Science of Epoxy Coating Services
Creating Masterpieces That Last
Epoxy coatings are not just functional; they're a canvas for creativity. Our epoxy coating services in Norwalk, CT, combine artistic vision with scientific expertise to produce coatings that withstand the test of time. Whether seeking a sleek, modern look or a rustic aesthetic, our coatings offer versatility without compromise.
Elevate Your Home with Residential Epoxy Flooring
Unleash the Potential of Your Living Spaces
Your home reflects your personality, and your floors should complement that essence. Our residential epoxy flooring options cater to various design preferences, from contemporary to classic. Whether it's a garage that requires a touch of elegance or a basement that needs functional appeal, we have the solution.
Aesthetic and Practical Commercial Epoxy Solutions
Functional Flooring That Stands Out
In commercial settings, aesthetics and practicality are equally important. Our commercial epoxy solutions offer a perfect blend of visual appeal and durability. Elevate the ambiance of your bar, showroom, or office while enjoying a flooring solution that can handle heavy foot traffic and daily demands.
Garage Epoxy Flooring for Every Passion
Create a Space That Inspires
Your garage can be more than just a parking spot. It can be a sanctuary for hobbies, projects, and passions. Our garage epoxy flooring options not only provide a clean and organized appearance but also create a comfortable environment that encourages creativity and activity.
Versatile Basement Epoxy Coatings
Design the Basement of Your Dreams
Transform your basement into an extension of your living space with our versatile basement epoxy coatings. From movie nights to fitness routines, our coatings offer a seamless, durable, and aesthetically pleasing surface that adapts to your needs.
Experience the Difference with American Poly
Why Choose Us for Epoxy Flooring Norwalk CT?

Expertise: Our team comprises skilled professionals with years of experience in epoxy flooring.
Quality Materials: We use top-quality epoxy materials to ensure long-lasting results.
Customization:From color choices to design patterns, we tailor solutions to your preferences.
Customer Satisfaction:We prioritize your satisfaction and work diligently to meet your expectations.
Elevating Norwalk Through Epoxy Flooring
Your Vision, Our Expertise
With American Poly Concrete Floor Refinishing, you're not just getting epoxy flooring – you're getting a partnership that values your vision and brings it to life. Whether you're a homeowner seeking residential epoxy flooring or a business owner interested in commercial solutions, our dedication to quality and innovation remains unwavering.
Contact Us Today to Get Started
Ready to transform your Norwalk spaces with the transformative power of epoxy flooring? Contact us at (860) 241-2887 or Sales@americanpolyfloor.com to schedule a consultation. Let's work together to enhance the aesthetics, durability, and functionality of your floors.
Elevate Norwalk with Epoxy Excellence
Your Flooring Journey Starts Here
As the proud owner of American Poly Concrete Floor Refinishing, I invite you to discover the remarkable potential of epoxy flooring in Norwalk, CT. Our commitment to quality, aesthetics, and customer satisfaction sets us apart. Let's embark on a journey together to elevate your spaces through the artistry of epoxy solutions.
Experience the Epoxy Difference
Elevate Your Spaces Today
Your search for the perfect epoxy flooring partner ends here. American Poly Concrete Floor Refinishing will elevate your Norwalk spaces with expertise, innovation, and artistry. Contact us today and witness the transformation of your floors into works of epoxy excellence.