Automotive Showroom Flooring Hartford CT
Welcome to American Poly Concrete Floor Refinishing – Your Ultimate Destination for Exceptional Automotive Showroom Flooring in Hartford, CT!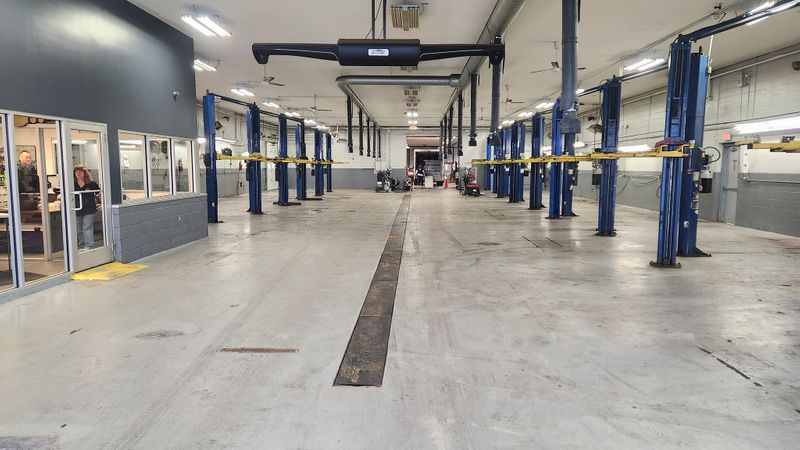 At American Poly Concrete Floor Refinishing, we understand that a captivating automotive showroom requires more than just exceptional vehicles – it demands an environment that highlights the essence of luxury, performance, and sophistication. Our unparalleled expertise in providing top-notch automotive showroom flooring solutions in Hartford, CT ensures that your showroom not only stands out but leaves an indelible impression on every visitor.
Elevate Your Automotive Display Space
Premium Epoxy Floor Coatings for Car Showrooms
Enhance your automotive showroom with our expertise in industrial epoxy flooring. Our epoxy floor coatings provide a seamless, high-gloss finish that not only presents your vehicles in the best light but also adds elegance to the entire space. The stunning visual appeal, combined with our coatings' durability and resistance, make for an impressive combination that will satisfy your customers.
Tailored Automotive Showroom Flooring Options
Every showroom is unique, and we understand the importance of a flooring solution that aligns with your brand and design vision. Our team collaborates with you to design custom automotive showroom flooring that reflects your dealership's unique personality and values. Whether you prefer a sleek and modern look or a luxurious and classic ambiance, we have the expertise to bring your ideas to life.
Why Choose Epoxy Flooring for Your Auto Showroom
Durability and Longevity
Automotive showrooms experience heavy foot traffic and the potential for heavy machinery movement. Our epoxy floor coatings are designed to ensure your showroom floor stays pristine for years. Say goodbye to unsightly cracks, stains, and wear, and welcome a floor built to last.
High-Gloss Finish
Our epoxy flooring solutions provide a high-gloss finish that not only enhances the aesthetics of your showroom but also elevates the overall atmosphere. The reflective surface creates an illusion of spaciousness and luxury, giving your vehicles the spotlight they deserve.
Resistance to Wear and Tear
Epoxy floors are renowned for their exceptional resistance to impact, chemicals, and abrasions. This means that your showroom flooring remains unscathed even in the face of heavy vehicle displays and daily activities.
Low Maintenance
Maintaining the pristine condition of your showroom flooring is a breeze with epoxy coatings. Their smooth, seamless surface prevents dust, dirt, and liquids from penetrating, making cleaning and maintenance hassle-free.

Our team is committed to providing the highest quality custom finish for your home and budget, whether it's your basement, garage, patio, or pool deck.

We provide durable commercial flooring solutions for high-traffic areas and heavy machinery, with chemical and impact resistance.
Expertise Across Various Industries
Retail, Restaurant, Bars
Our expertise goes beyond automotive showrooms. We have successfully transformed retail spaces, restaurants, and bars with our industrial epoxy flooring solutions. Experience the same level of excellence and creativity in designing captivating environments that draw customers in and keep them coming back.
Showroom, Automotive, Office
No matter the industry, we specialize in creating stunning showroom floors that make a statement. Whether it's a luxury car showroom, a technology showcase, or an elegant office space, our epoxy flooring solutions are designed to captivate and impress.
Unmatched Quality and Craftsmanship
At American Poly Concrete Floor Refinishing, we are committed to delivering high-quality automotive showroom flooring solutions through the expertise and passion of our seasoned professionals.
Seamless Application and Expert Refinishing
We utilize seamless epoxy application techniques to ensure a flawlessly smooth surface that enhances the visual appeal of your showroom. If your existing flooring needs a refresh, our industrial concrete resurfacing and epoxy floor maintenance services will breathe new life into your space, saving you time and money on costly replacements.
Turnkey Solutions for Success
Comprehensive Services
We offer end-to-end flooring services, covering every stage of your project. Our offerings include industrial epoxy coatings, epoxy floor repair, floor protection, sealing, finishing, refinishing, and waterproofing. We are your one-stop solution for all your automotive showroom flooring needs.
Dedicated Specialists
Our team specializes in creating automotive showroom environments that balance aesthetics, functionality, and durability. Let our expertise guide you in selecting the perfect flooring solution for your showroom.
Transform Your Showroom Today
Experience the American Poly Difference
Ready to elevate your automotive showroom to the next level? Contact American Poly Concrete Floor Refinishing today for a consultation. Let us show you how our expertly crafted epoxy floor coatings can transform your space and create a lasting impression on your customers.
Request a Free Quote
Curious about the cost of upgrading your showroom flooring? Reach out to us for a free, no-obligation quote. Our team will evaluate your needs and provide a customized, precise cost estimate.
Embrace Elegance and Durability with Our Automotive Showroom Flooring Solutions
Regarding automotive showroom flooring in Hartford, CT, American Poly Concrete Floor Refinishing is the name you can trust. Our seamless epoxy application, innovative designs, and unwavering commitment to quality ensure that your showroom becomes a masterpiece that speaks volumes about your brand. Contact us today to begin your journey toward transforming your showroom into a captivating space that leaves a lasting impact.
Elevate Your Showroom with Impeccable Design
Luxury Car Showroom Flooring
Your luxury vehicles deserve an equally luxurious setting. Our high-gloss showroom floors serve as the perfect backdrop to showcase the elegance and sophistication of your luxury car collection. The seamless surface reflects light mesmerizingly, enhancing the visual allure of each vehicle and capturing the attention of every visitor.
Impact-Resistant and Reliable
Automotive showrooms can be bustling, with vehicles moving in and out regularly. Our epoxy floor coatings are designed to handle the demands of a dynamic showroom environment. With their impact-resistant properties, you can rest assured that your flooring will remain pristine even under the pressures of heavy vehicle displays.
Unveil Your Vision with Customized Design
Professional Showroom Floor Design Ideas
Looking to make a statement with your automotive showroom flooring? Our team of creative experts is here to bring your vision to life. From intricate patterns and custom color blends to incorporating your logo into the floor design, we have the skills to transform your ideas into a captivating reality.
Captivating Display Spaces
Create a memorable experience for your visitors by designing showroom floors that truly resonate with your brand identity. Whether you prefer a minimalist and modern design or a bold and vibrant aesthetic, our epoxy floor coatings can be tailored to align perfectly with your desired ambiance.
Experience the American Poly Advantage
Unparalleled Expertise
With years of experience in the flooring industry, we have honed our skills to perfection. Our team possesses in-depth knowledge of epoxy resin systems, industrial epoxy coatings, and concrete resurfacing techniques, allowing us to deliver unmatched results for your automotive showroom.
Dedicated Professional Installers
Our professional installers are not only skilled but also passionate about their craft. They treat every project with the utmost care and attention to detail, ensuring that your showroom flooring installation is seamless, flawless, and stands the test of time.
Your Vision, Our Commitment
Personalized Consultation
We understand that your automotive showroom is a reflection of your business values. We offer personalized consultations to understand your unique requirements, preferences, and goals. Our experts work closely with you to develop a flooring solution that aligns perfectly with your vision.
Transparent Process
From the initial design concepts to the final installation, we maintain open communication at every process step. We provide clear timelines, keep you informed about progress, and address any queries or concerns you may have.
Your Success, Our Priority
Affordable Epoxy Flooring Solutions
Achieving a stunning automotive showroom doesn't have to break the bank. We offer affordable epoxy flooring solutions that deliver exceptional value for your investment. Our team will work within your budget to provide you with the best possible flooring solution without compromising on quality.
Transform Your Space Today
Ready to create a show-stopping automotive showroom that leaves a lasting impression? Contact American Poly Concrete Floor Refinishing today. Our team of experts is eager to discuss your ideas, provide recommendations, and guide you through transforming your showroom into a captivating destination for car enthusiasts.
Schedule Your Consultation
Don't miss the opportunity to elevate your showroom's aesthetics and functionality. Schedule a consultation with us to explore the endless possibilities of our automotive showroom flooring solutions. Let's work together to make your showroom an unforgettable space that resonates with your brand and captures the essence of luxury and excellence.