Commercial Epoxy Flooring Hartford, CT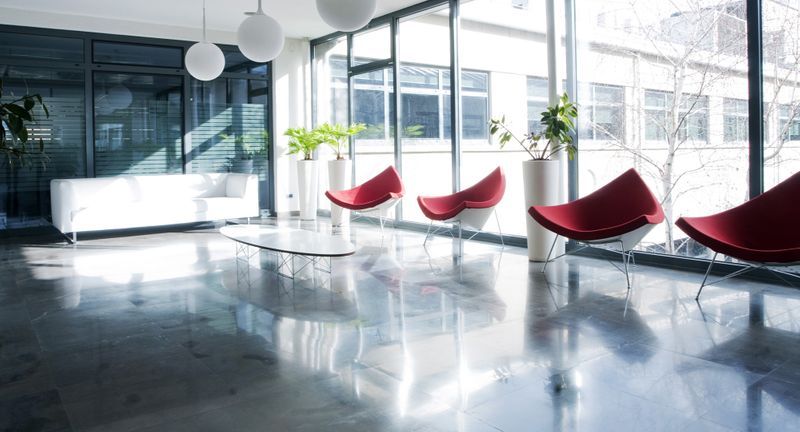 Welcome to American Poly Concrete Floor Refinishing – your premier destination for top-tier commercial epoxy flooring services in Hartford, CT. Our unwavering commitment to excellence and innovation has established us as industry leaders, offering a wide range of transformative epoxy solutions for diverse commercial spaces.
Elevate Your Business with Stunning Epoxy Flooring
Unveil the true potential of your business environment with our cutting-edge epoxy flooring solutions. Our services encompass a variety of sectors, each tailored to meet your unique needs and aspirations. From sleek retail store epoxy flooring to robust industrial facility epoxy installations, we combine artistic finesse with unrivaled durability, creating a flooring experience that leaves a lasting impression.
Retail Revamp: The Power of Epoxy
Transform your retail space into a visual masterpiece with our retail store epoxy flooring. Elevate your brand's image and provide customers with an enticing shopping environment that harmoniously blends aesthetics and resilience. Our epoxy warehouse floor solutions ensure your inventory and workspace thrive on a surface that can withstand heavy loads and high traffic.
Culinary Excellence: Restaurant and Bar Elegance
Enhance the ambiance of your restaurant, bar, or eatery with our specialized restaurant epoxy floor installation. Crafted to withstand spills, foot traffic, and the bustling energy of a busy establishment, our epoxy coatings offer visual appeal and ease of maintenance. Experience flooring that enhances the dining experience for your patrons while reflecting the essence of your establishment.
Office Elegance: Where Productivity Meets Style
Your office space speaks volumes about your business. Elevate your workspace with our office epoxy flooring services, creating an atmosphere that fuels creativity and productivity. Our seamless epoxy flooring solutions provide a sophisticated, low-maintenance environment that sets the stage for success.
Showroom Showcase: Crafted for Excellence
Capture your customers' attention with a showroom that exudes elegance and sophistication. Our showroom epoxy coatings offer a high-gloss finish highlighting your products while providing a durable surface that can withstand foot traffic and display setups. Present your offerings in an environment that is as exceptional as the items you showcase.
Automotive Artistry: Shop and Garage Transformation
Elevate your automotive business with our automotive shop's epoxy coatings. Transform your garage or showroom into a showcase of precision and craftsmanship. Our high-performance epoxy finishes create a seamless, oil-resistant surface that enhances the aesthetics of your space while providing the durability required for automotive work.
Crafting Unique Spaces: Custom Designs and Beyond
Get unique custom epoxy designs for commercial spaces with intricate patterns, vibrant colors, and captivating textures created by our expert artisans to unleash your creativity and stand out in the competitive business landscape.

Allow our expert team to assist you in discovering the optimal epoxy flooring solution tailored to your residence and financial requirements. From transforming your basement and garage spaces to enhancing your outdoor patio and pool decks, our dedicated team remains unwaveringly committed to delivering superior craftsmanship and bespoke finishes of the utmost quality.

We provide top-tier, high-performance, and exceptionally durable commercial flooring solutions tailored to meet the unique needs of various industries. Our premium flooring options are engineered to excel in high-traffic environments and withstand the rigors of heavy machinery usage, all while boasting remarkable chemical resistance and superior impact resilience.
The Epitome of Excellence: Our Epoxy Flooring Advantages
At American Poly Concrete Floor Refinishing, we take pride in delivering unmatched benefits that set us apart as leaders in the commercial epoxy flooring industry.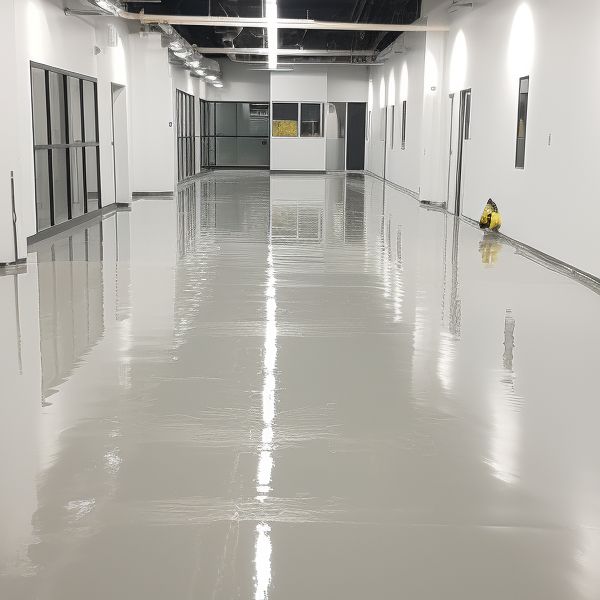 Durability Beyond Compare - Our durable epoxy coatings are engineered to withstand the rigors of commercial use. From high foot traffic to heavy machinery, our floors maintain their integrity, preserving their impeccable appearance for years.
Safety Meets Style - Safety is paramount in any commercial space. Our slip-resistant commercial epoxy coatings offer enhanced traction, reducing the risk of accidents without compromising aesthetics.
Customization at its Finest - No two businesses are alike, and neither should be their flooring. Our custom epoxy designs for commercial spaces allow you to tailor your floors to your brand's identity, creating a cohesive and visually captivating environment.
Sustainability and Eco-Friendliness - We're committed to sustainable practices. Our eco-friendly epoxy solutions for businesses enhance your space and contribute to a greener planet, aligning your business with environmental consciousness.
Low-Maintenance Brilliance - Commercial spaces demand floors that are easy to clean and maintain. Our seamless epoxy flooring for businesses requires minimal upkeep, saving you time and resources while upholding the impeccable appearance of your space.
Experience the Transformation
Are you ready to take your commercial space to new heights of elegance, durability, and innovation? Contact us today for a personalized consultation and discover how American Poly Concrete Floor Refinishing can revolutionize your business environment.
Excellence Redefined: Our Process and Expertise
Consultation and Vision
Every successful project begins with a thorough consultation. We take the time to understand your business, its unique requirements, and your design aspirations. Our experts collaborate with you to create a vision that aligns with your brand identity, ensuring that the final result surpasses your expectations.
Precision Preparation
Achieving flawless epoxy flooring starts with meticulous preparation. Our skilled team carefully preps the substrate, ensuring proper adhesion and a smooth surface. We address any imperfections, creating an ideal canvas for the epoxy application.
Artistry in Application
Epoxy flooring is as much an art form as a technical process. Our experienced professionals apply epoxy with precision, creating a seamless, high-gloss surface that embodies both elegance and durability. Intricate patterns, color combinations, and design elements are brought to life with masterful craftsmanship.
Unrivaled Durability
Our epoxy coatings are engineered to withstand the demands of your business. From heavy foot traffic to equipment movement, our floors maintain their integrity, providing a resilient foundation that supports your operations.
Safety First
We prioritize the safety of your employees and customers. Our slip-resistant commercial epoxy coatings enhance traction, reducing the risk of accidents and creating a secure environment for everyone who enters your space.
Eco-Friendly Excellence
As advocates for sustainability, we offer eco-friendly epoxy solutions that align with your business's environmental values. Experience flooring that enhances your space while contributing to a greener future.
Effortless Upkeep

Maintaining your commercial epoxy flooring is hassle-free. Our seamless surfaces are easy to clean, requiring minimal effort and resources to keep them looking pristine.

Longevity and Investment

Investing in our epoxy flooring is an investment in the long-term success of your business. Our durable coatings are built to last, providing a high return on investment and preserving the value of your property.
The American Poly Advantage
Experience and Expertise

With years of experience in the epoxy flooring industry, American Poly Concrete Floor Refinishing is a trusted name. Our expert team brings extensive knowledge and skills to each project, ensuring exceptional results.

Craftsmanship and Creativity

Craftsmanship is at the heart of everything we do. We take pride in our ability to transform ordinary spaces into extraordinary showcases of artistry. From sleek and modern designs to intricate patterns, your vision is our canvas.

Client-Centric Approach

Your satisfaction is our top priority. We work closely with you throughout the process, keeping you informed and involved at every step. Our client-centric approach ensures that your needs are met and your expectations exceeded.
Transform Your Business Today
Are you ready to elevate your commercial space to new heights? Contact us now to schedule your personalized consultation. Let American Poly Concrete Floor Refinishing redefine your business enironment with innovative, elegant, and enduring epoxy flooring solutions.
The Path to Excellence: Step into a New Era

At American Poly Concrete Floor Refinishing, we believe that your business environment should reflect the same level of excellence that you provide to your clients. Our transformative epoxy flooring solutions empower you to redefine your space, creating an atmosphere that resonates with your brand's values and aspirations.

Elevate Your Business Image

First impressions matter, and your flooring sets the tone for your business. Our commercial epoxy flooring solutions help you make a statement, showcasing professionalism, creativity, and a commitment to quality.

Tailored to Your Business Needs

We understand that each business is unique. Whether you're a bustling retail store, a vibrant restaurant, a dynamic office, or a cutting-edge showroom, our epoxy flooring services are tailored to meet your requirements.

The Future of Flooring

Epoxy is more than a flooring material – it's a revolutionary approach to design and functionality. Our epoxy solutions transcend traditional flooring, offering durability, versatility, and beauty that stand the test of time.

Embark on Your Transformation

Are you ready to embark on a journey of innovation and elegance? Contact us today to schedule your consultation and explore the endless possibilities of commercial epoxy flooring. Let American Poly Concrete Floor Refinishing be your partner in reimagining your business environment.