Event Venue Flooring Hartford, CT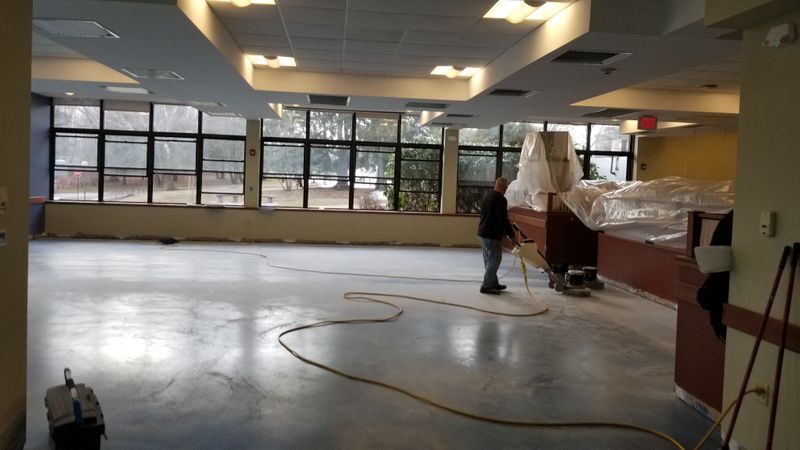 Welcome to American Poly - Your Trusted Partner for Exceptional Event Venue Epoxy Flooring
At American Poly, we take immense pride in delivering top-tier epoxy flooring solutions for event venues in Hartford, CT. Our epoxy flooring services cater to the unique needs of event venues, ensuring durability, versatility, and stunning visual appeal to transform ordinary spaces into extraordinary experiences.
Elevate Your Event Venue with Our Epoxy Flooring Solutions
Make your event venue a standout with our extensive range of epoxy flooring services. Our offerings are tailored to create unforgettable environments for any type of event. When you partner with American Poly, you can expect: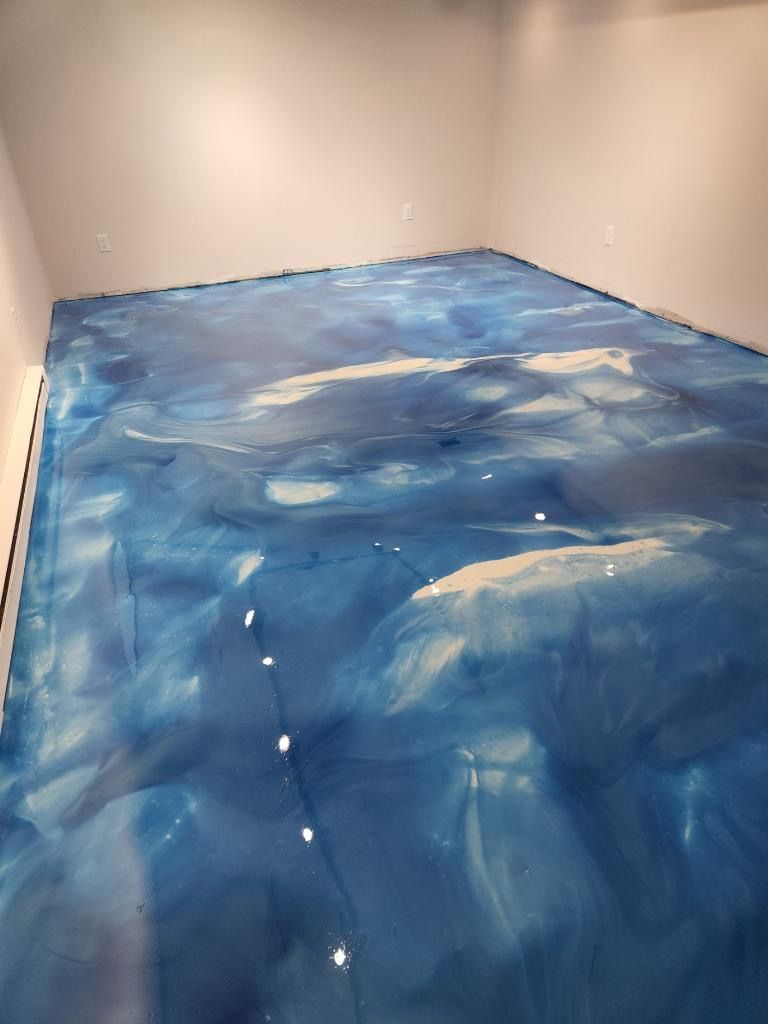 Durable and Long-Lasting Flooring: Our epoxy flooring is engineered to withstand the high foot traffic and heavy use that event venues often experience. With American Poly, you can be confident in the longevity of your investment.
Customizable Designs: We provide a variety of customizable colors, patterns, and designs to match your event venue's unique style and branding.
Easy Maintenance: Our epoxy flooring is not only visually stunning but also incredibly easy to clean and maintain. Spend more time focusing on your event, and less time worrying about your floors.
Safety and Slip Resistance: The safety of your guests is paramount. American Poly's epoxy flooring solutions come with the option of slip-resistant coatings, ensuring a secure environment for your events.
Quick Installation: We know that downtime can be costly for event venues. Our team is efficient and experienced, minimizing disruptions during the installation process.
Eco-Friendly Choices: We offer eco-friendly epoxy flooring options, minimizing our impact on the environment while still delivering outstanding results.
The American Poly Difference
When you choose American Poly for your event venue epoxy flooring needs, you're not just getting a service; you're getting a partner dedicated to your success. Here's why we stand out: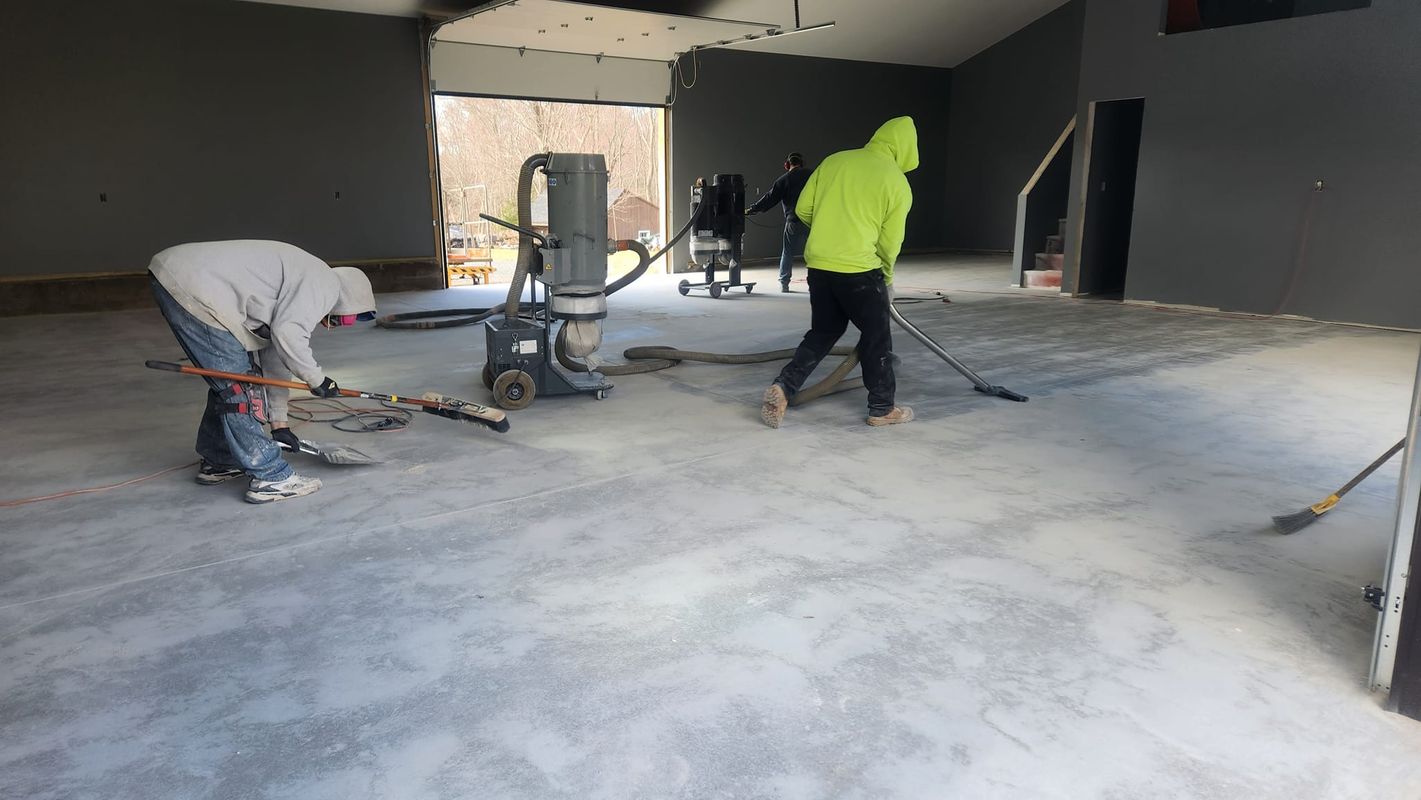 Experienced Professionals
Our team of skilled professionals has years of experience in the epoxy flooring industry. We understand the unique requirements of event venues and work closely with you to create a customized solution that exceeds your expectations.
Quality Materials
We only use premium-quality materials and state-of-the-art techniques to ensure the durability and stunning appearance of your epoxy flooring.
Competitive Pricing
American Poly offers competitive pricing without compromising on quality. We believe that exceptional epoxy flooring should be accessible to all event venues in Hartford, CT.
Unmatched Customer Service
Our commitment to your satisfaction doesn't end with the installation. We provide ongoing support and maintenance to ensure your epoxy flooring remains in pristine condition.
Our Comprehensive Process
Consultation: We will work with you to understand your event venue requirements and vision. Our team of experts will guide you through the available design and material options.
Preparation: We prepare the existing surface, ensuring it is clean and free from imperfections that might affect the quality of the epoxy flooring.
Application: Our skilled technicians meticulously apply the epoxy flooring, paying attention to every detail to create a flawless finish.
Curing and Quality Check: After applying epoxy, we thoroughly check for proper curing and adherence to high standards.
Handover: Once we're satisfied with the results, we hand over your event venue with a stunning epoxy floor that's ready to impress your guests.
The Versatility of Epoxy Flooring for Event Venues
Event venues are diverse spaces, each with its own unique requirements and purposes. Epoxy flooring is exceptionally versatile, making it the ideal choice for a wide range of event venues in Hartford, CT. Let's delve into the various types of event venues where our epoxy flooring solutions excel:
1. Wedding Venues
Epoxy flooring can add a touch of sophistication and elegance to wedding venues. With customizable designs, you can create a romantic atmosphere that complements any wedding theme. Plus, easy maintenance ensures that your venue remains picture-perfect for every bride and groom.
2. Conference Centers
Conference centers often host large-scale events and gatherings. Epoxy flooring's durability is a perfect match for the high foot traffic and heavy equipment used in these spaces. Its sleek, professional appearance enhances the overall ambiance, making it an excellent choice for corporate events.
3. Banquet Halls
Banquet halls are where people come together to celebrate life's most significant moments. Our epoxy flooring can be customized to match the aesthetic preferences of your clients, whether they're hosting a birthday party, anniversary celebration, or a grand reception.
4. Trade Show Venues
For venues that frequently host trade shows and expos, epoxy flooring offers a clean and attractive surface that stands up to the wear and tear of numerous exhibitors and visitors. Its versatility allows you to create various sections within the venue with distinct designs or colors.
5. Art Galleries
Art galleries require flooring that not only complements the artwork but also provides a durable surface to accommodate heavy foot traffic. Epoxy flooring is an excellent choice, allowing you to create a visually pleasing backdrop for artistic displays.
6. Sports Arenas and Stadiums
Epoxy flooring isn't limited to indoor venues. It's also suitable for outdoor spaces like sports arenas and stadiums. Its resilience against weather conditions and ability to withstand heavy loads make it a popular choice for these venues.
7. Concert Halls and Theaters
Epoxy flooring's excellent acoustic properties are an advantage for concert halls and theaters. Its seamless, low-maintenance surface enhances sound quality and provides a sleek appearance for audiences to enjoy.
8. Nightclubs and Entertainment Venues
The vibrant and energetic atmosphere of nightclubs and entertainment venues requires flooring that can keep up. Epoxy flooring's range of customizable colors and designs can set the perfect mood for your patrons.
9. Educational and Training Centers
Epoxy flooring is not just about aesthetics; it's also about functionality. Educational and training centers benefit from its durability and easy cleaning, ensuring a conducive learning environment.
10. Religious and Community Centers
Whether hosting religious ceremonies, community events, or cultural gatherings, epoxy flooring provides a welcoming and easy-to-maintain surface that can be tailored to reflect the values and culture of your center.
Request a Custom Epoxy Flooring Quote
Are you ready to invest in high-quality epoxy flooring for your event venue? Request a custom quote from American Poly today. We'll provide you with a competitive pricing proposal tailored to your venue's needs and budget. Unlock the potential of a durable and visually stunning space.
Affordable and Eco-Friendly Options
American Poly offers cost-effective and eco-friendly epoxy flooring solutions to meet the diverse needs of event venues. We understand the importance of sustainability and can help you make environmentally conscious choices without compromising on quality or aesthetics.
Epoxy Flooring: A Wise Investment for Event Venues
Investing in high-quality epoxy flooring for your event venue is not just about aesthetics; it's a strategic business decision. Here, we explore why epoxy flooring is a wise investment for event venues in Hartford, CT: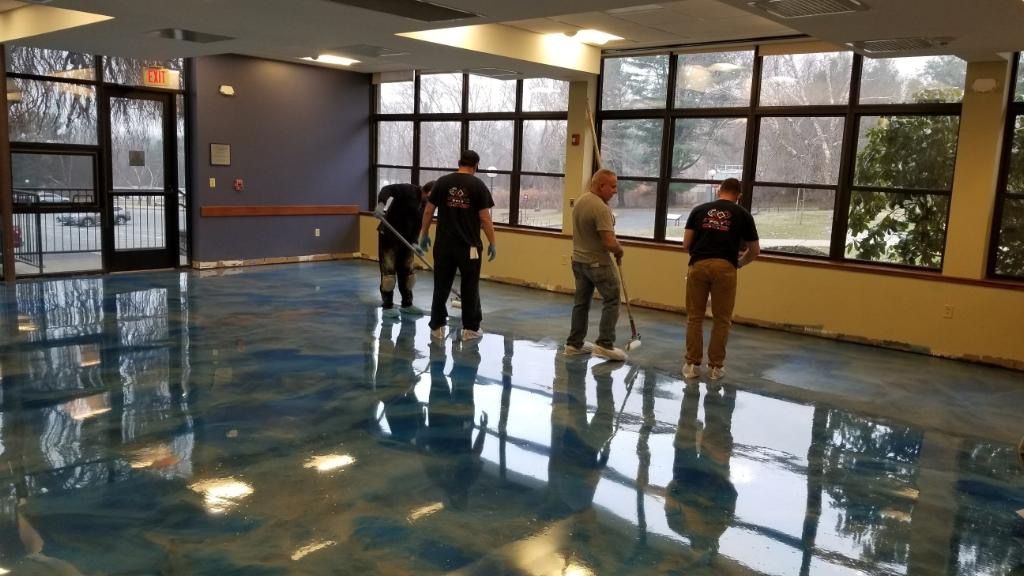 1. Durability and Longevity
Epoxy flooring is renowned for its remarkable durability. In high-traffic event venues, where countless guests and heavy equipment constantly move across the floor, durability is paramount. Epoxy floors can withstand this wear and tear, ensuring that your investment lasts for years to come. This longevity translates into significant cost savings over time, as you won't need to replace your flooring frequently.
2. Easy Maintenance
Maintaining a clean and attractive event venue is crucial for success. Epoxy flooring makes this task a breeze. Its smooth, non-porous surface resists stains, making spills easy to clean up. Regular sweeping and occasional mopping are all that's needed to keep your venue looking its best, reducing maintenance costs and downtime between events.
3. Cost-Effective
Compared to other flooring options, epoxy flooring is a cost-effective choice for event venues. Its competitive pricing, combined with its long lifespan and minimal maintenance requirements, means you get a high return on your investment. This makes epoxy flooring an economical choice that doesn't sacrifice quality or visual appeal.
4. Customization
Epoxy flooring offers a wide array of customization options. You can choose from various colors, patterns, and designs to create a unique atmosphere in your event venue. Whether you want a sleek and modern appearance or a more rustic, textured look, epoxy flooring can be tailored to match your vision and branding.
5. Safety and Comfort
The safety of your guests is of utmost importance. Epoxy flooring can be customized with slip-resistant coatings to reduce the risk of accidents, especially in areas prone to spills or water exposure. Furthermore, epoxy flooring provides a comfortable and cushioned surface, making it ideal for venues where guests may be on their feet for extended periods.
6. Eco-Friendly Options
If environmental sustainability is a priority for your event venue, epoxy flooring offers eco-friendly choices. Low-VOC (volatile organic compounds) options are available, reducing the environmental impact of your flooring installation. This commitment to sustainability can enhance your venue's reputation and appeal to eco-conscious clients.
7. Versatility
Epoxy flooring's versatility extends beyond design options. It can be used in various areas of your event venue, from entryways to bathrooms, to provide a cohesive look and functional consistency. Its seamless installation also allows for a streamlined transition between different sections of your venue.
8. Improved Air Quality
Epoxy flooring has a non-porous surface, which means it doesn't harbor allergens, dust, or mold. This feature can lead to improved indoor air quality in your event venue, creating a more comfortable and healthy environment for your guests and staff.
9. Aesthetic Appeal
Epoxy flooring's glossy finish enhances the overall aesthetic of your event venue. Its reflective surface can play with lighting and contribute to the ambiance of your space, creating a more inviting and visually stunning environment.
10. Increased Property Value
Investing in high-quality epoxy flooring not only benefits your immediate needs but also adds value to your property. Should you decide to sell or rent your event venue in the future, the attractive, durable, and low-maintenance flooring can be a selling point that increases the property's value.
By choosing American Poly for your epoxy flooring needs, you're making a strategic investment that promises an impressive return for your event venue in Hartford, CT. Let us help you transform your venue into a remarkable space that leaves a lasting impression on your guests.
Commercial and Industrial Benefits
In commercial and industrial settings, high gloss epoxy flooring offers distinct advantages:
Get Started on Your Event Venue Transformation
At American Poly, we understand that each event venue is unique and has its own set of requirements. Our experienced team will work closely with you to create a tailored epoxy flooring solution that aligns with your vision and purpose.
Elevate the appeal and functionality of your event venue in Hartford, CT, with American Poly's epoxy flooring expertise. Contact us today for a consultation, and let's embark on a journey to transform your space into a captivating, durable, and visually stunning environment that will leave a lasting impression on your guests. Don't wait – your event venue's transformation starts here!
For a free consultation and custom quote, reach out to American Poly today. Your event venue's transformation is just a call or click away. Let us help you create a remarkable space that stands out in Hartford, CT and sets you apart from the competition. Your journey to exceptional epoxy flooring begins here!
ASK US ABOUT 0% FINANCING FOR UP TO 18 MONTHS!