Garage Epoxy Flooring Hartford, CT
At American Poly Concrete Floor Refinishing, we are your premier destination for top-tier garage epoxy flooring solutions in Hartford, CT. With a commitment to excellence and a passion for transforming ordinary spaces into extraordinary showcases, we bring you seamless, durable, and visually stunning epoxy flooring that stands the test of time.
Elevate Your Garage with Epoxy Flooring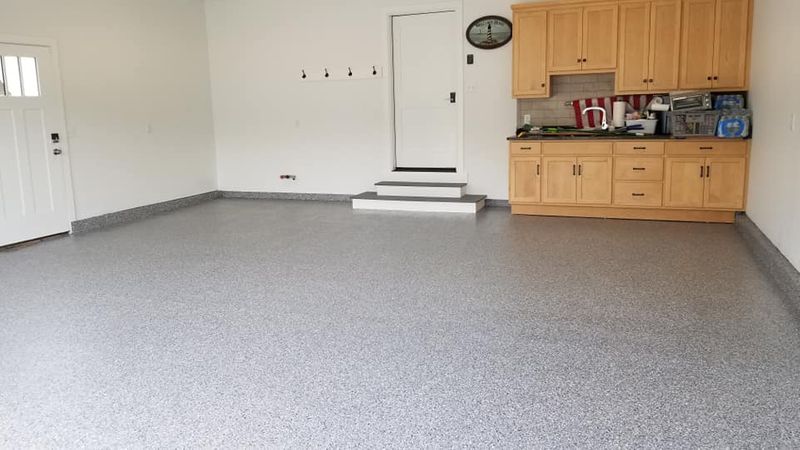 Your garage is more than just a place to park your vehicle; it's an extension of your home where possibilities unfold. Our garage epoxy flooring services in Hartford, CT, offer a remarkable transformation, elevating your garage from a mundane utility area to a captivating space that exudes style and functionality.
Expert Epoxy Garage Floor Installers Near You
When it comes to garage epoxy floor installation, precision matters, our team of skilled and experienced epoxy garage floor installers is at your service, ensuring a flawless application that results in a stunning finish. With an emphasis on attention to detail, we create a surface that not only looks remarkable but also performs exceptionally.
Unveiling the Epitome of Excellence
The Best Garage Epoxy Flooring Company in Hartford
As the leading garage epoxy flooring company in Hartford, CT, our reputation speaks for itself. We take pride in being your trusted partner for delivering remarkable garage transformations. Our epoxy garage solutions are designed to exceed your expectations with a strong emphasis on quality, durability, and customer satisfaction.
Affordable Garage Epoxy Coatings Without Compromise
At American Poly, we believe excellence doesn't have to come with a high price tag. Our commitment to affordability means that you can achieve stunning garage epoxy coatings without compromising on quality. Experience the perfect blend of cost-effectiveness and aesthetics as we bring your garage dreams to life.
Crafting Elegance, One Garage at a Time
Seamless Epoxy Application for Impeccable Results
Seamlessness is the hallmark of our garage epoxy flooring services. Our seamless epoxy application technique ensures a uniform, flawless finish that is not only visually striking but also easy to clean and maintain. Say goodbye to uneven surfaces and hello to a garage floor that boasts perfection in every square inch.
Epoxy Resin Floors: A Symphony of Durability and Beauty
Our high-gloss epoxy finishes redefine elegance while providing unmatched durability. The epoxy resin floors we create are more than just surfaces; they are a masterpiece of artistry and engineering. With a captivating sheen that reflects light and adds depth to your space, our epoxy resin floors are a testament to our commitment to excellence.
Defending Against Wear and Tear
Chemical Resistant Flooring: Shielding Your Garage
Garages are prone to spills, stains, and chemicals that can mar the beauty of your floor. Our chemical-resistant flooring offers a robust defense, safeguarding your garage against corrosive substances and ensuring that your epoxy floor remains pristine for years.
Epoxy Floor Maintenance: Preserving Brilliance
Maintaining the brilliance of your epoxy garage floor is a breeze with our expert guidance. Our epoxy floor maintenance tips empower you to keep your garage floor looking its best, prolonging its lifespan and ensuring that it continues to shine bright.

Let us help you find the best epoxy flooring solution for your home and budget. From your basement and garage to your patio and pool decks, our team is committed to the highest quality custom finish.

We offer high-performance and high-quality, durable commercial flooring for an array of industries. Our flooring solutions stand up to your high traffic and heavy machinery areas and is chemical and impact resistant.
Power and Performance, Together
Heavy-Duty Epoxy Garage Floors: Built to Endure
When your garage takes on heavy loads, you need a flooring solution to meet the challenge. Our heavy-duty epoxy garage floors are engineered to withstand the rigors of daily use, making them the perfect choice for busy garages, workshops, and storage spaces.
Garage Floor Resurfacing: A Renewed Beginning
Is your existing garage floor showing signs of wear and tear? Our garage floor resurfacing service breathes new life into tired surfaces, revitalizing your garage and giving it a fresh, modern look. Experience the magic of a garage floor that looks brand new once again.
A Spectrum of Possibilities
Metallic Epoxy Garage Floor Installers: Unleash Creativity
Embrace the extraordinary with our metallic epoxy garage floors. Our skilled installers bring an artistic touch to your garage, creating stunning metallic effects that add depth and dimension to your space. Elevate your garage from ordinary to exceptional with our metallic epoxy creations.
Garage Epoxy Color Options: Your Palette of Choices
Customization is at the heart of our service. Choose from various garage epoxy color options to match your style and preferences. Whether you prefer bold and vibrant or subtle and sophisticated, our color choices allow you to create a garage floor that is uniquely yours.
Request a Free Quote
Elevate your garage with our exceptional epoxy flooring solutions. Request a free quote today and take the first step towards a garage transformation that will redefine your space.
Your Vision, Our Expertise
Achieve the Ultimate Garage Transformation
At American Poly, we take your garage transformation seriously. Our dedicated experts collaborate with you to turn your garage vision into a stunning reality. From design to installation, we ensure that every step of the process reflects your taste, personality, and aspirations.
Your Trusted Garage Epoxy Contractors
When you choose us as your garage epoxy contractors, you're choosing a team that is passionate about delivering excellence. With a keen eye for detail, a commitment to quality, and a dedication to customer satisfaction, we bring you a garage floor that becomes a source of pride.
Elevate Your Garage Experience Today
Contact Us for Expert Consultation
Ready to transform your garage into a space of elegance and functionality? Contact our knowledgeable team for expert consultation and personalized recommendations tailored to your needs.
Curious about the possibilities? Explore our gallery to witness the magic of our previous garage epoxy flooring projects. Let inspiration guide your journey to a remarkable garage transformation. With American Poly Concrete Floor Refinishing, your garage's potential is unlimited. Let us be your partners in creating a garage floor that blends style, durability, and functionality seamlessly.
Enduring Against Time and Usage
The Importance of Chemical-Resistant Flooring

Spills, oil stains, and chemicals can damage traditional garage flooring. Our chemical-resistant epoxy flooring protects against damage and keeps your garage floor beautiful for years.

Tough Garage, Chemical-Proof

Our chemical-resistant epoxy flooring can withstand harsh substances like gasoline, oil, and cleaning agents. Your garage floor maintains its luster and integrity even in challenging conditions.

Epoxy Floor Maintenance Made Easy

Worried about the upkeep of your epoxy garage floor? Fear not – our epoxy floor maintenance tips make it a breeze to keep your garage looking flawless. We provide simple yet effective strategies to ensure your epoxy floor retains its shine and resilience over time.

Guide to Achieving Timeless Elegance

Our maintenance guide equips you with the knowledge to protect your investment. From routine cleaning to preventive measures, you'll discover how easy it is to maintain the brilliance of your epoxy garage floor, ensuring that it continues to impress for years.
Your Garage, Your Expression
Garage Epoxy Color Options: From Classic to Creative

With an extensive palette of garage epoxy color options, your creativity knows no bounds. Choose from a spectrum of colors to match your personal style and the ambiance you want to create in your garage. Whether you prefer timeless neutrals or vibrant hues, we have the perfect color to reflect your vision.

Personalize Your Space

Your garage is an extension of your identity. Our color options allow you to create a space that reflects your unique personality and taste.

Metallic Epoxy Garage Floor: Elevate Your Aesthetic

For those who crave something extraordinary, our metallic epoxy garage floors are a revelation. These floors incorporate metallic pigments to produce dazzling visual effects that catch the eye and captivate the imagination. Elevate your garage from ordinary to extraordinary with the mesmerizing allure of metallic epoxy.

A Touch of Opulence

The unique interplay of light and metallic hues creates a sense of opulence and depth. Our metallic epoxy floors make a bold statement, turning your garage into a showcase of sophistication and luxury.
Your Garage Transformation Starts Here
Your Dream Garage Awaits – Contact Us Today
Elevate your garage experience with the experts at American Poly Concrete Floor Refinishing. Contact us today to transform your garage into a stunning and functional space with our expert guidance.
Request a Free Consultation
Ready to turn your garage into a work of art? Request a free consultation and embark on a journey to a garage that exceeds your expectations.
Witness the magic of our previous garage epoxy flooring projects. Explore our portfolio to see how we've elevated garages into realms of beauty and functionality. Transform your garage into a masterpiece with American Poly. Let us help you create an innovative and high-quality garage floor that reflects your unique vision.