Gym Epoxy Flooring Hartford CT
Welcome to American Poly Concrete Floor Refinishing, the leading name in gym epoxy flooring solutions in Hartford, CT. Elevate your fitness space with our exceptional epoxy floor coatings that combine durability, aesthetics, and performance. As the premier epoxy flooring provider, we understand the unique demands of gym environments and offer tailored solutions to meet your specific needs.
Enhance Your Gym Space with Epoxy Flooring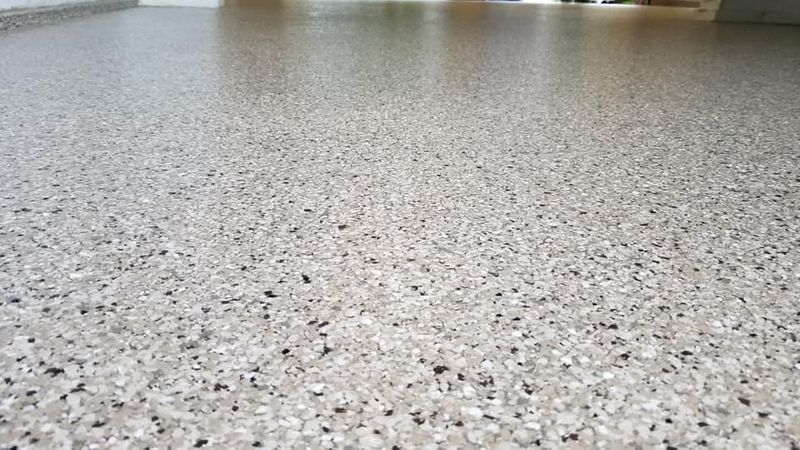 Unparalleled Durability for High-Traffic Areas
Gyms are bustling hubs of activity, with heavy foot traffic, weight equipment, and constant movement. Our industrial-grade epoxy floor coatings are engineered to withstand the rigorous demands of gym settings, providing a robust and long-lasting flooring solution that can handle the toughest workouts and activities.
Aesthetic Appeal and Customization
We recognize that a well-designed gym space contributes to a motivating atmosphere. Our seamless epoxy application ensures a sleek and smooth surface that not only enhances the aesthetics of your gym but also offers a range of customization options. Choose from a variety of vibrant gym floor colors and designs to create a unique environment that reflects your gym's brand and personality.
Safety and Comfort
Safety is paramount in any gym. Our epoxy flooring solutions include non-slip gym epoxy coatings that provide a secure footing, reducing the risk of slips and falls even during intense workouts. Additionally, the inherent cushioning of epoxy flooring offers comfort underfoot, making it an ideal choice for exercises that involve impact and repetitive motions.
The Benefits of Gym Epoxy Flooring
Seamless and Hygienic Surface
Our epoxy flooring offers a seamless surface with no joints or seams, minimizing the accumulation of dust, dirt, and germs. This easy-to-clean and hygienic surface contributes to a healthier and safer gym environment, ensuring the well-being of both patrons and staff.
Superior Chemical Resistance
Epoxy flooring is inherently chemical resistant, providing protection against spills from cleaning agents, sweat, and other chemicals commonly found in gym settings. This durability ensures that your gym's flooring remains in excellent condition even after exposure to various substances.
Low Maintenance, Longevity, and Cost Savings
Epoxy flooring is known for its low maintenance requirements, making it an economical choice for gym owners. Its resilience against wear and tear means less frequent replacements, resulting in long-term cost savings and a solid return on investment.

We are committed to providing the highest quality custom epoxy flooring solutions for your home and budget, whether it's for your basement, garage.

We provide durable and chemical/impact-resistant commercial flooring for high traffic and heavy machinery areas across various industries.
Your Partner in Gym Flooring Solutions
Expert Gym Epoxy Flooring Installation
Our team of skilled technicians has extensive experience in the precise installation of epoxy gym floors. With attention to detail and a commitment to excellence, we ensure that your gym flooring is flawlessly applied, meeting the highest industry standards.
Custom Gym Epoxy Design
We understand that each gym is unique. Whether you're updating an existing space or creating a new fitness facility, our expertise in custom gym epoxy design allows us to tailor the flooring to your specific vision and requirements.
Elevate Your Gym with American Poly Concrete Floor Refinishing
When it comes to gym epoxy flooring in Hartford, CT, American Poly Concrete Floor Refinishing stands as your trusted partner. Our dedication to quality, durability, and customer satisfaction makes us the best choice for transforming your gym space.
Contact Us for a Consultation
Ready to enhance your gym's functionality, aesthetics, and safety with our top-tier epoxy flooring solutions? Contact us today for a consultation and let our experts guide you through the process of achieving the ideal gym epoxy flooring for your Hartford, CT fitness facility.
The Process of Choosing Gym Epoxy Flooring
Assessing Your Gym's Needs
Choosing the right epoxy flooring for your gym begins with a thorough assessment of your facility's unique requirements. Our experts work closely with you to understand your gym's usage patterns, design preferences, and budget constraints.
Design and Customization
Elevate your gym's aesthetics with our extensive design options. Select from a wide range of vibrant gym floor colors and patterns that align with your brand identity and create an inviting atmosphere that motivates gym-goers.
Installation Process
Our seamless epoxy application process ensures a smooth and uniform surface. Our experienced technicians meticulously prepare the substrate, apply the epoxy coating, and finish with a protective top coat to create a high-performance gym floor that's both functional and visually appealing.
Post-Installation Care and Maintenance
Maintaining your gym's epoxy flooring is straightforward. Regular cleaning with mild detergents and routine inspections ensure that your gym floor retains its luster and longevity. Our epoxy floor maintenance tips for fitness facilities guide you in preserving the beauty and performance of your gym flooring investment.
Experience the American Poly Difference
Trusted Gym Epoxy Flooring Experts in Hartford, CT
As the premier epoxy flooring provider in Hartford, CT, American Poly Concrete Floor Refinishing is committed to delivering unmatched quality, expertise, and customer satisfaction. Our reputation as gym flooring experts extends from our meticulous craftsmanship to our dedication to understanding your gym's unique needs.
Your Partner in Gym Transformation
Whether you're running a bustling fitness center, a school gymnasium, or a community workout space, we have the experience and know-how to transform your gym into a functional, safe, and visually appealing environment.
Why Choose Us for Gym Epoxy Flooring in Hartford, CT?
When it comes to gym epoxy flooring in Hartford, CT, we stand out for several reasons:
Experienced Professionals
Our experienced professionals bring knowledge to every gym flooring project.
Customization Expertise
We excel in creating customized epoxy flooring solutions that align with your gym's unique requirements and design preferences.
Quality Materials
We ensure that your gym flooring is both visually stunning and durable by sourcing the best quality epoxy materials.
Efficient Installation
Our installation process is efficient and designed to minimize disruption to your gym's operations, getting you back in business quickly.
Ready to Elevate Your Gym? Contact Us Today!
Upgrade your gym's aesthetics, safety, and durability with our top-tier epoxy flooring solutions. Our team of experts is prepared to discuss your specific requirements, provide personalized recommendations, and offer a complimentary quote for your gym located in Hartford, CT. Contact us today to take the first step towards transforming your gym space.
Ready to embark on a gym flooring transformation journey? Contact us today to schedule a consultation with our gym epoxy flooring experts. Let us guide you through the process of creating an exceptional gym flooring solution that enhances both your gym's performance and its aesthetics.