Kitchen Epoxy Flooring Hartford CT
Welcome to American Poly Concrete Floor Refinishing, the leading name in exceptional kitchen epoxy flooring services in Hartford, CT. Elevate your kitchen's aesthetics and functionality with our top-tier epoxy solutions. As the ultimate choice for quality and expertise, we transform ordinary kitchens into extraordinary spaces that radiate elegance and durability.
Revitalizing Spaces for Retail, Restaurants, Bars, and Offices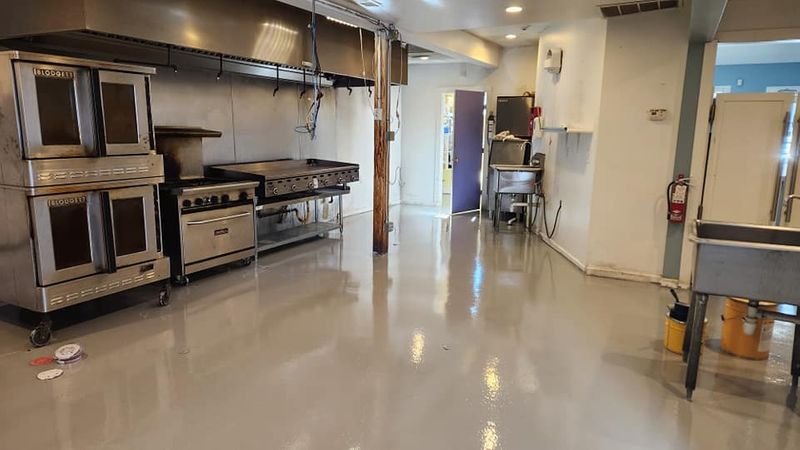 At American Poly, we specialize in rejuvenating kitchen spaces for various commercial establishments. Whether you run a retail outlet, a bustling restaurant, a vibrant bar, or a dynamic office, our kitchen epoxy flooring solutions offer an unparalleled combination of style and resilience. Our epoxy coatings are engineered to withstand heavy foot traffic, spills, and the daily hustle and bustle, ensuring your commercial kitchen maintains its allure.
Seamless and Waterproof Kitchen Epoxy Coating
Experience kitchen flooring innovation with our seamless and waterproof epoxy coating. Our kitchen epoxy solutions provide more than just a surface upgrade; they create a protective barrier against moisture, spills, and stains. Bid farewell to worries about water damage or unsightly stains, and embrace a pristine and functional kitchen environment that stands the test of time.
Unveiling the Best Kitchen Epoxy Solutions
Experience the best in kitchen flooring with our high-quality epoxy coatings. Our solutions offer exceptional resistance to scratches, chemicals, and wear, ensuring long-lasting beauty with minimal maintenance, all while fitting your budget.
Embark on a Journey of Kitchen Epoxy Artistry
Your kitchen floor is a canvas waiting to be transformed into a masterpiece. With our artistic approach to kitchen epoxy flooring, your options are limitless. Choose from a spectrum of colors, patterns, and designs to create a kitchen that not only serves as a culinary haven but also makes a stunning visual statement.
The Affordable Kitchen Epoxy Solution You Deserve
Quality doesn't have to come at a premium. Our commitment to affordability ensures that our kitchen epoxy flooring services remain accessible without compromising excellence. Revel in the luxury of a high-quality epoxy floor that fits your budget, allowing you to enhance your kitchen's allure without breaking the bank.
The Expertise of Experienced Kitchen Epoxy Installers
Entrust your kitchen's transformation to our team of seasoned kitchen epoxy installers. With years of hands-on experience, our professionals possess the knowledge and skills to deliver flawlessly executed epoxy flooring. From meticulous surface preparation to the final coat, we infuse every process step with precision and care.
Elevating Durability with Kitchen Epoxy Solutions
Experience the epitome of durability with our kitchen epoxy solutions. Whether your kitchen hosts family gatherings, cooking extravaganzas, or gourmet experiments, our epoxy coatings are engineered to endure. Say goodbye to concerns about stains, impacts, or wear and tear, and embrace a kitchen floor that stands strong and beautiful.
Tailored Professional Epoxy Coating Services
Our professional epoxy coating services go beyond mere installation. We collaborate with you to select the ideal colors, patterns, and styles that harmonize with your kitchen's design. Our experts provide insights into maintenance, ensuring that your kitchen epoxy floor continues to exude magnificence long after installation.
Swift Kitchen Epoxy Transformation
Minimize disruptions and maximize delight with our swift kitchen epoxy installation. Our efficient process ensures that your kitchen reimagining takes center stage promptly. Experience the transformation and relish the allure of your revitalized kitchen space sooner than you think.

Let us help you find the best epoxy flooring solution for your home and budget. From your basement and garage to your patio and pool decks, our team is committed to the highest quality custom finish.

We offer high-performance and high-quality, durable commercial flooring for an array of industries. Our flooring solutions stand up to your high traffic and heavy machinery areas and is chemical and impact resistant.
Your Kitchen's Unveiling
Your kitchen is more than a culinary sanctuary; it reflects your taste and style. With American Poly Concrete Floor Refinishing, your kitchen's unveiling is a symphony of elegance, resilience, and functionality. Discover the difference our kitchen epoxy flooring can make and redefine the heart of your home or business.
Envision the Future of Your Kitchen
Visualize the possibilities of a kitchen floor that defies convention. Our kitchen epoxy flooring services breathe life into your design aspirations, creating a floor that's as unique as you are. Contact us to explore the endless possibilities of kitchen epoxy flooring in Hartford, CT.
Transform Your Kitchen Today
Contact Us: Reach out today for a complimentary consultation and let us guide you through kitchen epoxy flooring.
Customized Solutions: Our experts tailor epoxy flooring solutions to your kitchen's dimensions, style, and needs.
Expert Installation: Our skilled installers bring your vision to life with meticulous precision and unrivaled expertise.
Experience the Magic: Witness the enchantment of your kitchen's metamorphosis and bask in the allure of your newly transformed space.
Unlock Kitchen Elegance
At American Poly, we're not just a service provider; we're your partners in kitchen transformation. Your journey to kitchen elegance begins here. Contact us now to unleash the full potential of your kitchen with our superior epoxy flooring solutions.
Elevating Spaces for Retail, Restaurants, Bars, and Offices
At American Poly Concrete Floor Refinishing, we understand the importance of a well-designed and functional commercial kitchen. Our tailored kitchen epoxy flooring solutions suit retail, restaurant, bar, and office industries.
A Culinary Canvas for Retail Spaces
In retail, aesthetics play a vital role in captivating customers. Our epoxy kitchen flooring serves as a striking backdrop for your merchandise, enhancing the visual appeal of your space. Elevate the shopping experience with a kitchen floor that blends seamlessly with your branding and showcases your products in a sophisticated light.
A Flavorful Feast for Restaurants and Bars
Restaurants and bars are not just about food and drinks; they create an ambiance that leaves a lasting impression. Our kitchen epoxy coatings add a touch of elegance and durability to your culinary haven. With resistance to spills, stains, and heavy foot traffic, our epoxy solutions ensure your kitchen floor remains pristine, even during the busiest hours.
The Pulse of Productivity in Office Kitchens
In the fast-paced world of offices, the kitchen is a sanctuary where employees refuel and recharge. Our kitchen epoxy flooring offers a seamless and hygienic solution contributing to a positive work environment. Create a space that fosters collaboration and creativity, with a kitchen floor that's as functional as it is inviting.
A Showroom of Possibilities
Your showroom is a reflection of your brand's identity and innovation. Our epoxy kitchen floor solutions provide the perfect foundation for showcasing your products. From modern minimalism to intricate designs, our versatile epoxy coatings can be customized to align with your showroom's theme, creating a cohesive and captivating space.
The Drive for Excellence in Automotive Kitchens
In the automotive industry, precision and durability are paramount. Our epoxy kitchen floor solutions extend their excellence to automotive spaces, providing a resilient foundation that can withstand the demands of grease, oil, and heavy tools. Elevate your automotive kitchen with a floor that supports your commitment to quality and precision.
Elevate Your Kitchen with Epoxy Artistry
Unleash Creativity: Our epoxy kitchen flooring offers a blank canvas for creativity, allowing you to design a kitchen that resonates with your style.
Custom Color Palette: Choose from a broad spectrum of colors to create a kitchen floor that complements your décor and branding.
Pattern Possibilities: Opt for patterns that range from classic elegance to modern chic, creating a floor that's truly one of a kind.
Branded Elegance: Incorporate your logo or branding elements into the floor design for a seamless and visually striking touch.
Affordability Meets Epoxy Excellence
We believe that exceptional quality shouldn't come with a steep price tag. Our affordable epoxy flooring solutions enhance your kitchen's beauty and functionality without straining your budget. Experience the luxury of a kitchen floor that marries affordability with excellence, offering you the best of both worlds.
Your Kitchen's Transformation Awaits
Schedule a Consultation Contact us today to schedule a consultation and discuss your kitchen epoxy flooring project.
Personalized Solution: Our experts will collaborate with you to understand your vision and customize a solution that aligns with your needs.
Expert Installation: Our skilled team ensures a seamless installation process, transforming your kitchen efficiently and precisely.
Experience the Transformation: Witness the magic unfold as your kitchen undergoes a remarkable transformation, leaving you in awe of its new allure.
Embrace Kitchen Brilliance
Your kitchen is more than just a functional space; it's a testament to your style and taste. With American Poly Concrete Floor Refinishing, embrace the brilliance of a kitchen floor that radiates elegance, resilience, and artistry. Contact us now and embark on a journey of kitchen transformation that will redefine the heart of your home or business.