Metallic Epoxy Flooring Hartford, CT
Welcome to American Poly Concrete Floor Refinishing - Your Premier Choice for Stunning Metallic Epoxy Flooring Solutions in Hartford, CT!
Elevate Your Space with Mesmerizing Metallic Epoxy Floors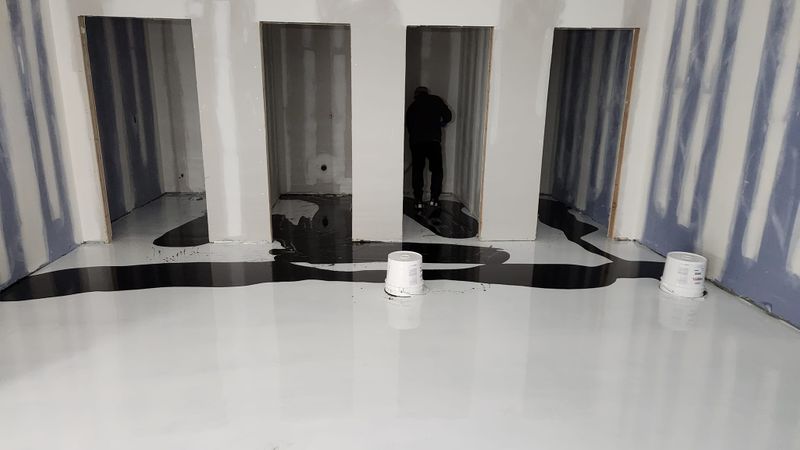 At American Poly Concrete Floor Refinishing, we specialize in transforming ordinary floors into extraordinary works of art with our top-of-the-line metallic epoxy flooring solutions. Whether you're a retail store owner, a restaurateur, an automotive enthusiast, or a business owner looking to revamp your office space, our team of skilled metallic epoxy floor installers is here to bring your vision to life.
Unleash Creativity in Retail, Restaurants, Bars, and More
Unlocking Aesthetic Wonders: Retail Flooring Indulge your customers with an unforgettable shopping experience. Our metallic epoxy solutions create a captivating atmosphere that complements your merchandise while adding an air of sophistication.
Delightful Dining Ambiance: Restaurants and Bars Impress diners and patrons with luxurious metallic epoxy finishes that set the perfect tone for your establishment. From elegant swirls to metallic pigments, our expert metallic epoxy coating experts will craft floors that leave a lasting impression.
Revamp Automotive Spaces and Energize Offices and Shops
Drive-In Style: Automotive Shops and Showrooms Enhance your auto shop or showroom with durable metallic epoxy floor coatings that withstand the rigors of automotive work while exuding an upscale vibe that resonates with car enthusiasts.
Dynamic Work Environments: Office Spaces and Shops Fuel productivity and creativity in your workspace with our innovative metallic epoxy designs. From sleek metallic hues to 3D patterns, our metallic epoxy contractors will create a seamless, high-gloss finish that breathes life into your office or shop.
Resilient Metallic Epoxy Solutions for Every Setting
Residential Marvels: Homes and Basements Transform your living spaces with the allure of metallic epoxy flooring. Imagine stepping into your kitchen, bathroom, or basement and being greeted by stunning, high-shine floors that are as durable as they are stylish.
Commercial Brilliance: Restaurants to Warehouses For commercial and industrial spaces, our metallic epoxy floors provide unmatched resilience. From restaurant floors to warehouse surfaces, our metallic epoxy solutions offer chemical resistance, slip resistance, and UV protection.
Aesthetic Excellence and Functional Versatility
Tailored Designs: Custom Metallic Epoxy Creations Unleash your imagination with our custom metallic epoxy design options. Whether you're seeking intricate patterns, unique color combinations, or even 3D effects, our team will bring your vision to life.
Beyond Beauty: Advantages of Metallic Epoxy Flooring
Captivating Aesthetics with Unparalleled Durability Our metallic epoxy finishes don't just look stunning – they're built to last. Experience the marriage of artistic flair and robust durability with floors that can handle high-traffic areas without losing their shine.
Elevated Safety: Slip and Chemical Resistance Safety is paramount, which is why our metallic epoxy coatings provide excellent slip resistance, even in wet conditions. Additionally, our floors are chemically resistant, ensuring they can withstand spills and cleaning agents.
Longevity That Shines: UV and Wear Resistance With UV-resistant properties, our metallic epoxy floors won't fade or dull over time due to sunlight exposure. Your floors will stay shiny for years thanks to their exceptional wear resistance.
Seamless Elegance: Easy Maintenance and Repair Maintaining your metallic epoxy floors is a breeze. Their seamless application means no grout lines to trap dirt, and if repairs are ever needed, our experts can seamlessly restore their original beauty.
Experience Affordable Luxury with Metallic Epoxy Flooring
Cost-Effective Beauty: Metallic Epoxy Floor Pricing You might be surprised by the affordability of our metallic epoxy solutions. With competitive pricing and lasting value, our floors offer an affordable way to elevate your space's aesthetics.
DIY Dream: Metallic Epoxy Kits for the Adventurous For those who love to roll up their sleeves, we offer DIY metallic epoxy kits. Unleash your inner artist and create a masterpiece under your feet with our user-friendly kits.
Let's Make Your Metallic Epoxy Flooring Dreams a Reality
Ready to transform your space with mesmerizing metallic epoxy floors? Don't wait! Contact us today to schedule a consultation with our metallic epoxy experts. Let's discuss your vision, explore design possibilities, and provide a free estimate tailored to your needs.
Get Your Free Estimate Today
Transform your space with our captivating metallic epoxy flooring. Contact us now for a free consultation and personalized estimate.

Let us help you find the best epoxy flooring solution for your home and budget. From your basement and garage to your patio and pool decks, our team is committed to the highest quality custom finish.

We offer high-performance and high-quality, durable commercial flooring for an array of industries. Our flooring solutions stand up to your high traffic and heavy machinery areas and is chemical and impact resistant.
Bringing Elegance to Every Corner
Garage Glamour:

Metallic Epoxy Garage Floors Turn your garage into a showroom for your prized vehicles. Our metallic epoxy garage floor installers will create a high-gloss, durable surface that's easy to clean and resistant to automotive fluids.

Kitchen Couture:

Metallic Epoxy Kitchen Floors Elevate your kitchen's style with metallic epoxy hues that complement your décor. Say goodbye to traditional flooring and embrace the modern, sleek look of metallic epoxy.

Basement Brilliance:

Metallic Epoxy Basement Floors Revitalize your basement with luxury. Our metallic epoxy solutions are perfect for creating an inviting space that's both functional and visually stunning.

Bathroom Beauty:

Metallic Epoxy Bathroom Floors Transform your bathroom into a spa-like oasis with our metallic epoxy finishes. Their seamless application and resistance to moisture make them a perfect choice for bathrooms.
Versatility for Commercial and Industrial Spaces
Commercial Grandeur
Metallic Epoxy Retail Floors Capture attention and create a memorable shopping experience with our metallic epoxy retail flooring. From boutiques to department stores, our designs are as unique as your merchandise.
Office Opulence
Metallic Epoxy Office Floors Make a statement in your office space with our creative metallic epoxy designs. Inspire employees and impress clients with a workspace that reflects your brand's personality.
Automotive Excellence
Metallic Epoxy Automotive Shop Floors Elevate your automotive shop's aesthetics and functionality with metallic epoxy coatings that are as tough as the vehicles you work on.
Outdoor Elegance with Metallic Epoxy
Poolside Perfection:

Metallic Epoxy Pool Decks Extend your style to the outdoors with metallic epoxy pool deck coatings. Enjoy slip-resistant, UV-resistant, and dazzlingly beautiful surfaces for your pool area.

Patio Pizzazz:

Metallic Epoxy Patio Flooring Turn your patio into an entertainment hotspot with our high-gloss metallic epoxy finishes. Create a welcoming atmosphere for outdoor gatherings.
Beauty That Lasts: Advantages of Metallic Epoxy Flooring
Unparalleled Aesthetics with Enduring Strength Experience the best of both worlds with metallic epoxy floors that combine stunning visuals and remarkable durability, making them perfect for high-traffic areas.
Built to Endure: Chemical and Impact Resistance Our metallic epoxy coatings provide exceptional resistance to chemicals, impacts, and abrasions, ensuring your floors remain stunning even in the most demanding environments.
Graceful Aging: UV Resistance and Longevity Bask in the knowledge that your metallic epoxy floors won't lose their shine over time. With UV resistance, they remain vibrant, adding value and appeal to your space for years.
Seamless Maintenance: Ease and Elegance Combined Cleaning and maintaining your metallic epoxy floors is effortless. The seamless application prevents dirt buildup, and any minor damage can be easily repaired to restore their splendor.
Your Metallic Epoxy Flooring Journey Begins Here
Embrace Affordable Luxury: Metallic Epoxy Cost Per Square Foot Our competitive pricing ensures you can indulge in the opulence of metallic epoxy floors without breaking the bank. Experience the allure of high-end flooring at a budget-friendly cost.
The Artistic Adventure: Metallic Epoxy DIY Kits For those with a creative spirit, our metallic epoxy DIY kits are a gateway to making your flooring dreams come true. Discover the joy of crafting a unique masterpiece underfoot.
Your Vision, Our Expertise: Let's Create Together
Unveil the Possibilities: Custom Metallic Epoxy Designs Partner with our talented team to bring your creative ideas to life. With custom metallic epoxy design options, your imagination is the only limit.
Contact Us for Your Metallic Epoxy Flooring Transformation
Schedule Your Consultation Today! Ready to add brilliance to your space? Contact us now to schedule a consultation and take the first step toward turning your flooring dreams into reality.
Schedule Your Consultation Now
Ready to add brilliance to your space? Contact us now to schedule a consultation and take the first step toward turning your flooring dreams into reality.