Office Epoxy Flooring Hartford CT
Welcome to American Poly Concrete Floor Refinishing, your trusted partner for transforming office spaces through innovative epoxy flooring solutions in Hartford, CT. As the leading authority in epoxy floor coatings, we take pride in enhancing your corporate environment with captivating, durable, and stylish floors that leave a lasting impression on clients, employees, and partners alike.
Elevating Your Office Environment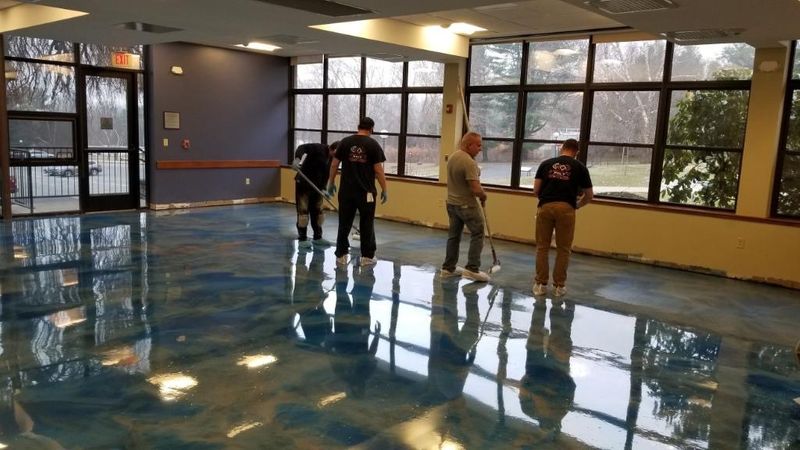 Your office isn't just a workspace; it reflects your company's culture and identity. At American Poly, we understand the significance of well-designed and functional office space. Our extensive range of office-focused epoxy solutions is tailored to enhance the aesthetics, durability, and functionality of your workspace.
Seamless Epoxy Application for Professionalism
Experience the magic of seamless epoxy application, ensuring your office floor boasts a flawlessly smooth and uniform surface. Say goodbye to the uneven joints and transitions that can mar the appearance of traditional flooring. With seamless epoxy, you're not just enhancing aesthetics – you're making a statement about your commitment to professionalism.
High-Gloss Office Flooring that Impresses
Imagine a high-gloss floor that adds sophistication to your office space. Our high-gloss office flooring solution isn't just about aesthetics; it's about making an impact. The reflective finish not only elevates the visual appeal of your workspace but also underscores your dedication to excellence.
Durability and Style with Epoxy Coatings
We understand your office floor endures daily foot traffic, rolling chairs, and more. Our durable epoxy coatings are designed to withstand the demands of a bustling office environment. You'll have an impeccable floor, even under the rigors of your business operations.
Customized Office Flooring Design
Your office is unique, and your flooring should reflect that. Our office floor design solutions allow you to customize your flooring to match your brand's personality and create a welcoming atmosphere. From modern minimalism to classic elegance, we offer design options that align with your vision.
Office Floor Resurfacing for a Fresh Start
Is your office floor showing signs of wear and tear? Our office floor resurfacing service provides a cost-effective solution to breathe new life into your workspace. Revive the appearance of your office, enhance safety, and create an environment that invigorates both productivity and creativity.

Let us help you find the best epoxy flooring solution for your home and budget. From your basement and garage to your patio and pool decks, our team is committed to the highest quality custom finish.

We offer high-performance and high-quality, durable commercial flooring for an array of industries. Our flooring solutions stand up to your high traffic and heavy machinery areas and is chemical and impact resistant.
Crafting Excellence, One Office at a Time
Expert Epoxy Floor Installation
Our skilled technicians excel in the art of epoxy floor installation for offices. With meticulous attention to detail, we ensure that every square inch of your office space is coated with precision, resulting in a visually striking and durable flooring solution that meets the demands of a corporate setting.
Seamlessness in Design and Application
Embrace the elegance of seamless epoxy application that eliminates unsightly seams and joints. This approach delivers a consistent, inviting look that enhances your office's ambiance, fosters a professional atmosphere, and sets the stage for a seamless work experience.
Navigating Your Office Flooring Decision
Pros and Cons of Epoxy Flooring for Offices
Understanding the advantages and considerations of epoxy flooring empowers you to make an informed choice for your office space.
Pros of Epoxy Flooring
Durability: Epoxy flooring is renowned for its exceptional durability, perfect for high-traffic office areas.
Customization: Choose various design options to match your office's aesthetics and brand image.
Easy Maintenance: Epoxy floors are easy to clean and maintain, ensuring your office looks its best.
Chemical Resistance: Epoxy coatings resist chemicals, spills, and stains, adding an extra layer of protection.
Longevity: With proper care, epoxy flooring can last many years, providing outstanding value for your investment.
Cons of Epoxy Flooring
Initial Investment:While epoxy flooring offers long-term benefits, the initial installation cost may be higher than other options
Preparation Time:Proper surface preparation is essential, which may require temporary office closure for installation.
Slippery When Wet:Epoxy floors can be slippery when wet, especially in areas prone to spills. Proper precautions are necessary.
Expert Guidance: Best Office Epoxy Flooring Company in Hartford
As the best office epoxy flooring company in Hartford, we take pride in being your trusted partner for office transformations. Our experienced team provides expert guidance, tailored solutions, and exceptional service, ensuring your office flooring project is seamless and rewarding.
Your Office's Flooring Transformation Partner
At American Poly Concrete Floor Refinishing, we're not just upgrading floors; we're enhancing your office experience. Your workspace speaks volumes about your brand's values and aspirations. Let us be the catalyst that transforms your office's environment.
Schedule Your Office Flooring Consultation
Ready to elevate your office space with cutting-edge epoxy flooring? Contact us today to schedule a consultation. Our experts will assess your needs, discuss design options, and provide a personalized solution to invigorate your office atmosphere.
Unleash the Potential of Your Office Space
Your office space is more than just a workplace; it's a hub of productivity, creativity, and collaboration. American Poly Concrete Floor Refinishing understands the significance of a well-designed and functional office environment. Our range of office epoxy flooring solutions is meticulously crafted to enhance the aesthetics, durability, and functionality of your workspace, giving your business a competitive edge.
Elevate Your Workspace with Commercial Epoxy Flooring
Imagine walking into an office that exudes an air of modern professionalism and sophistication. Our industrial epoxy flooring solution offers a seamless blend of style and strength, making your workspace not just functional, but inspiring. Say goodbye to mundane floors and hello to a dynamic work atmosphere.
Unparalleled Epoxy Floor Coatings for Offices
At American Poly, we take pride in delivering epoxy floor coatings that stand the test of time. Our coatings are not just an enhancement; they are a shield of protection for your office floor. With exceptional resistance to chemicals, stains, and wear, your office floor remains impeccable even in the face of daily hustle and bustle.
Experience Seamless Application
Step into a world of sleek elegance with our seamless epoxy application technique. The absence of joints and seams doesn't just enhance the visual appeal; it also makes cleaning a breeze. No more worrying about dirt accumulating in crevices – your office floor will be as smooth as your business operations.
Embrace High-Gloss Splendor
Create an atmosphere of grandeur with our high-gloss office flooring solution. The reflective finish adds a touch of class to your office space, making it an environment where clients are wowed and employees are inspired. Let your office floor reflect the professionalism your business embodies.
Personalize with Custom Design
Your office deserves a floor that aligns with your brand's identity. Our office floor design solutions empower you to personalize your space with unique patterns, colors, and designs. From minimalist elegance to bold statements, we offer design options that resonate with your company culture.
Elevating Office Efficiency and Aesthetics
Reinvent Your Workspace with Office Epoxy Coatings
Our commercial office epoxy coatings are engineered to redefine your workspace's aesthetics and functionality. With a focus on durability and style, these coatings transform ordinary office floors into exceptional canvases of creativity and productivity.
The Essence of Corporate Epoxy Flooring
Experience the essence of sophistication with our corporate epoxy flooring solution. Your office floor becomes a canvas that captures your company's values and aspirations, creating an environment where success and innovation thrive.
Enduring Elegance with Durable Epoxy Coatings
In the fast-paced world of business, durability is paramount. Our durable epoxy coatings for workspaces are designed to withstand the demands of your office environment. From heavy foot traffic to rolling chairs, your floor remains resilient and elegant.
Your Partner in Office Transformation
At American Poly Concrete Floor Refinishing, we're not just improving floors; we're enhancing your entire office experience. Your workspace embodies your business values, and we're here to ensure it reflects excellence.
Schedule a Consultation Today
Ready to elevate your office with innovative epoxy flooring? Contact us today to schedule a consultation. Let our experts assess your needs, discuss design possibilities, and provide a tailored solution that transforms your workspace.
Request Your Custom Office Epoxy Quote
Unlock the potential of your office space with epoxy flooring. Connect with us for a personalized quote that caters to your unique requirements and budget. Elevate your office with American Poly's cutting-edge epoxy solutions.
In the business world, your office speaks volumes about your brand's identity and professionalism. Let American Poly Concrete Floor Refinishing be the foundation that elevates your office to new heights.