Restaurant Dining Area Epoxy Flooring Hartford CT
Welcome to American Poly Concrete Floor Refinishing, your ultimate partner for exquisite restaurant dining area epoxy solutions in Hartford, CT. Elevate your establishment's ambiance, safety, and durability with our cutting-edge expertise in commercial epoxy flooring and seamless epoxy application.
Transforming Restaurant Spaces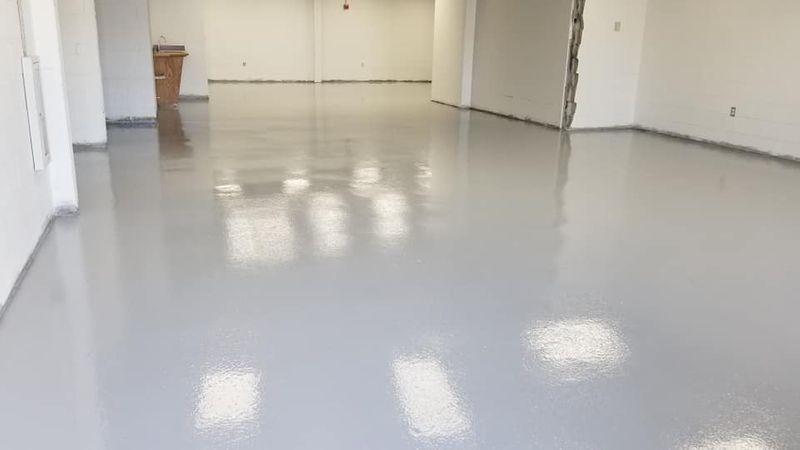 Revolutionizing the Dining Experience
Are you ready to redefine your restaurant's interior? Our commercial epoxy flooring solutions offer more than just aesthetic appeal; they encompass durability, hygiene, and versatility. With our diverse range of epoxy options, your dining area will be a testament to sophistication and functionality.
Crafted for Excellence
Our epoxy floor coatings are meticulously designed to withstand heavy foot traffic, spills, and the daily hustle and bustle of a restaurant environment. From the bustling entrance to the tranquil dining spaces, our solutions provide superior performance, ensuring that your floors remain pristine for years to come.
Unveiling the Elegance
Immerse your customers in an environment of elegance and luxury. Our high-gloss epoxy finishes reflect light, creating an inviting and upscale atmosphere. From high-end retail boutiques to bustling bars, we specialize in crafting exquisite epoxy flooring that complements your establishment's character.
Innovative Solutions for Every Space
Culinary Creativity Meets Functionality
Your restaurant's kitchen and food service areas demand a flooring solution to handle the heat. Our chemical-resistant epoxy flooring ensures that your kitchen remains hygienic and safe while being easy to clean, creating the perfect canvas for culinary creativity..
Durable Dining Areas
The durability of our epoxy solutions is unmatched. With heavy-duty epoxy floors that stand up to the rigors of constant use, your dining areas will maintain their allure while withstanding the test of time.
Safety and Style Combined
We understand that safety is paramount in restaurant settings. Our non-slip dining area coatings prioritize the well-being of your patrons and staff, seamlessly blending safety with style to create a welcoming environment that puts everyone at ease.
Seamless Transformation Process
The American Poly Difference
Our team of expert epoxy installers is dedicated to providing impeccable service from start to finish. With years of experience in commercial concrete resurfacing and epoxy floor repair certified Professionals, we deliver results that leave a lasting impression.
Customization at its Finest
From elegant designs to functional layouts, our epoxy solutions can be tailored to suit your restaurant's unique character. Let your creativity flow as we collaborate to create a space that genuinely resonates with your vision.
Beyond Floors: Comprehensive Service
We don't just offer epoxy flooring – we offer comprehensive solutions. From initial assessment and design to the final coat, our dedicated professionals ensure your restaurant's transformation is seamless and hassle-free.
Elevating Excellence in Hartford
Hartford's Premier Epoxy Experts
As Hartford's leading restaurant flooring specialist, American Poly Concrete Floor Refinishing is committed to delivering unmatched expertise, quality, and customer satisfaction. Our premium epoxy coatings provide not just flooring but a statement of excellence.
Your Vision, Our Expertise
Your vision drives our team. We work closely with you to understand your goals and needs, offering expert epoxy recommendations that bring your ideas to life. Your restaurant's dining area will embody creativity, functionality, and beauty.
Your Journey Starts Here
Ready to Take the Leap?
Transform your restaurant space with American Poly's state-of-the-art dining area epoxy solutions. From seamless epoxy application techniques to innovative designs, we are your partner in creating a safe, elegant, and functional dining environment.

Let us help you find the best epoxy flooring solution for your home and budget. From your basement and garage to your patio and pool decks, our team is committed to the highest quality custom finish.

We offer high-performance and high-quality, durable commercial flooring for an array of industries. Our flooring solutions stand up to your high traffic and heavy machinery areas and is chemical and impact resistant.
Expertise in Every Venue
Versatile Solutions for Varied Spaces
Whether you run a cozy café, a bustling bar, or an elegant restaurant, our epoxy solutions suit venues of all sizes and styles. From the intimate charm of a boutique café to the grandeur of a showroom, our epoxy floor coatings enhance the overall aesthetic while maintaining the highest durability standards.
Crafting Showroom Elegance
In showrooms, every detail matters. Our high-gloss commercial floors not only create an inviting atmosphere but also serve as a backdrop that highlights your products' quality and craftsmanship. Impress your customers with a sophisticated showroom that matches the excellence of your offerings.
Automotive Aesthetics and Functionality
Automotive spaces demand flooring that can withstand the demands of heavy machinery and oils. Our heavy-duty epoxy floors provide the durability required for auto shops and service centers while maintaining a clean and professional appearance.
Elevate Office Environments
From boardrooms to breakrooms, our epoxy solutions are ideal for office spaces seeking a balance of aesthetics and functionality. Create a modern, seamless look that complements the professionalism of your office while providing a comfortable, durable foundation for daily operations.
Excellence Meets Affordability
Affordable Epoxy Solutions
At American Poly, quality shouldn't break the bank. Our epoxy solutions are priced competitively to offer you the best value for your investment. Enhance your dining area's appeal without compromising on the quality and longevity of the flooring.
Savings in the Long Run
Investing in our epoxy floor coatings means investing in the longevity of your restaurant's space. With minimal maintenance requirements and resistance to wear and tear, our epoxy solutions save you money by reducing the need for frequent repairs and replacements.
Client-Centric Approach
Your Vision, Our Mission
We pride ourselves on being attentive to our client's needs. Our approach is centered around understanding your unique vision and requirements. From the color palette to the seamless epoxy application techniques, we work closely with you to bring your dream dining area to life.
Expertise Beyond Epoxy
Our expertise goes beyond epoxy flooring. We offer comprehensive guidance and support throughout the process, ensuring your restaurant's flooring transformation is smooth, efficient, and exceeds your expectations.
Your Ideal Partner in Hartford
Seize the Opportunity
American Poly Concrete Floor Refinishing is more than a service provider; we are your partner in restaurant space transformation. Our team of dedicated professionals is committed to delivering excellence and creating dining areas that resonate with your brand's identity.
Contact Us
Elevate your restaurant's dining area with the power of commercial epoxy flooring. At American Poly Concrete Floor Refinishing, we are not just flooring experts – we are partners in creating remarkable spaces that leave a lasting impression.
Seamless Transformation Process
The American Poly Difference
At American Poly Concrete Floor Refinishing, we take pride in delivering results that exceed expectations. Our commitment to quality and expertise sets us apart as leaders in the industry. When you choose us for your restaurant dining area epoxy needs in Hartford, CT, you select a partner dedicated to your restaurant's success.
Initial Assessment and Consultation
Our process begins with a thorough assessment of your restaurant's dining area. We take the time to understand your specific requirements, design preferences, and the unique challenges your space may present. This assessment lays the foundation for a tailored epoxy solution that perfectly aligns with your vision.
Design and Customization
Once we have a clear understanding of your needs, our expert team collaborates with you to design a customized epoxy flooring plan. From color choices to patterns and finishes, we ensure that every design reflects your restaurant's character and ambiance.
Professional Installation
Our skilled epoxy installers bring your vision to life with precision and expertise. We utilize state-of-the-art techniques and equipment to ensure a seamless application that guarantees a flawless finish. The result is a stunning dining area that is a testament to our dedication to excellence.
Finishing Touches and Inspection
After applying the epoxy, our team meticulously inspects the flooring to ensure every detail meets our stringent quality standards. We believe in delivering nothing less than perfection, and our thorough inspection process ensures that your restaurant's dining area is ready to welcome patrons confidently.
Unveiling Your Transformed Space
Once our inspection is complete, we will proudly unveil your transformed restaurant dining area. From the high-gloss finish to the durable protection, you'll witness the remarkable difference our epoxy solutions make. Your restaurant's dining area will radiate sophistication, safety, and a touch of your establishment's unique identity.
Exceeding Industry Standards
Certified Professionals
Our epoxy floor installer team comprises certified professionals well-versed in the latest industry techniques and best practices. You can trust that your restaurant's flooring project is in the hands of experts who bring knowledge and skill to every job.
Quality Materials, Lasting Results
Quality starts with the materials we use. That's why we source top-tier epoxy coatings and materials proven to deliver outstanding results. Our commitment to excellence ensures that your restaurant's dining area remains pristine and impressive for years.
Your Vision, Our Priority
Collaboration at Every Step
Your restaurant's success is our primary goal, so we make collaboration a cornerstone of our process. We value your input and vision from the initial consultation to the final inspection. Your ideas drive our efforts, and together, we create a dining area that exceeds your expectations.
Customer-Centric Approach
At American Poly, we are dedicated to your satisfaction. We listen to your needs, answer your questions, and address any concerns you may have. Our team is here to provide expert guidance and support, ensuring that you're comfortable and confident throughout the entire process.
Ready to Transform Your Restaurant's Dining Area?
Take the First Step
Embark on a journey of innovation and transformation with American Poly Concrete Floor Refinishing. Your restaurant's dining area has the potential to become an iconic space that captivates patrons and enhances your brand's image. Contact us today to schedule a free consultation, and let's discuss how our epoxy solutions can elevate your dining experience.