Restaurant Epoxy Flooring Hartford, CT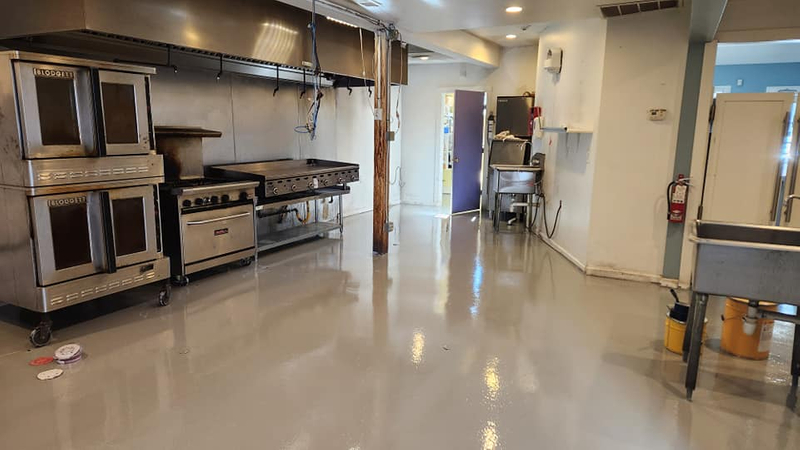 Your Premier Choice for Restaurant Epoxy Flooring
Welcome to American Poly, your trusted partner for top-notch restaurant epoxy flooring solutions in Hartford, CT. With years of experience and a commitment to excellence, we are your go-to experts in enhancing the aesthetics, durability, and safety of your restaurant's flooring. Our epoxy flooring services are customized for restaurants, providing a durable, visually appealing surface that withstands the demands of busy establishments.
Why Choose American Poly for Your Restaurant Epoxy Flooring Needs
At American Poly, we understand the importance of restaurant flooring. It creates a welcoming atmosphere for customers and ensures staff safety and ease of maintenance. That's why we offer a comprehensive range of restaurant epoxy flooring solutions, backed by our expertise and a commitment to delivering exceptional results. Here's why you should choose us:
Expertise in Restaurant Flooring
Our team of experienced professionals specializes in restaurant flooring solutions. We know the unique challenges and requirements of the food service industry, and we tailor our epoxy flooring services to meet these needs precisely.
Durable and Long-Lasting Solutions
Our epoxy flooring is known for its durability against heavy foot traffic, spills, and daily wear and tear. This ensures that your restaurant's flooring looks great and functions flawlessly for years to come.
Aesthetic Appeal
We understand the importance of aesthetics in the restaurant industry. You have the option to personalize your restaurant's epoxy flooring design by choosing from a wide range of colors, styles, and finishes that match your decor and branding.
Safety First
Safety is a top priority in any restaurant. Our epoxy flooring solutions are slip-resistant, making them a safe choice for your staff and customers. Say goodbye to slippery surfaces and potential accidents.
Easy Maintenance
Maintaining a clean and sanitary restaurant environment is crucial. Our epoxy flooring is stain-resistant and easy to clean, making it effortless to keep your restaurant spotless.
Customized Solutions
We work closely with you to create a customized epoxy flooring solution that meets your unique needs because we believe that one size does not fit all.
Ready to Elevate Your Space? Schedule Your Service Today!
Whether it's epoxy flooring, renovation, or maintenance, take the first step toward transforming your space. Book our expert services now and experience the difference!
Our Comprehensive Range of Restaurant Epoxy Flooring Services
At American Poly, we offer various restaurant epoxy flooring services to cater to different styles, preferences, and functional requirements. Our services include: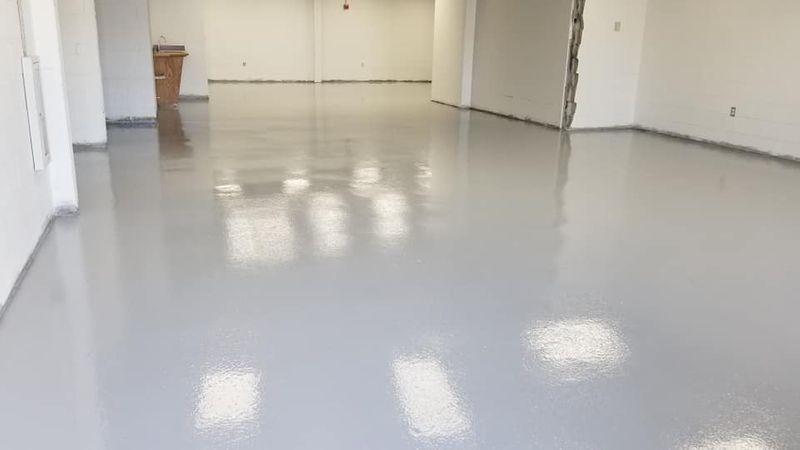 Solid Color Epoxy Flooring - Achieve a clean and modern look with our reliable color epoxy flooring options. Choose from various colors to match your restaurant's theme and branding.
Metallic Epoxy Flooring - Add sophistication and elegance to your restaurant with our metallic epoxy flooring, featuring stunning 3D effects.
Quartz Epoxy Flooring - Our quartz epoxy flooring is an excellent choice for a combination of durability and aesthetics. It's highly resistant to abrasion and comes in various color blends to suit your design preferences.
Decorative Flake Epoxy Flooring - Enhance the visual appeal of your restaurant with decorative flake epoxy flooring. These floors incorporate colored flakes for a speckled, textured finish that hides imperfections and adds character.
Custom Logo and Design Integration - Promote your brand and make a lasting impact on customers by integrating custom logos and designs into your epoxy flooring. We can incorporate your restaurant's logo or unique patterns into the floor's design.
The American Poly Advantage: Your Satisfaction Guaranteed
When you choose American Poly for your restaurant's epoxy flooring project in Hartford, CT, you can rest assured that you're partnering with a company that values your satisfaction above all else. We strive for excellence in every aspect of our service: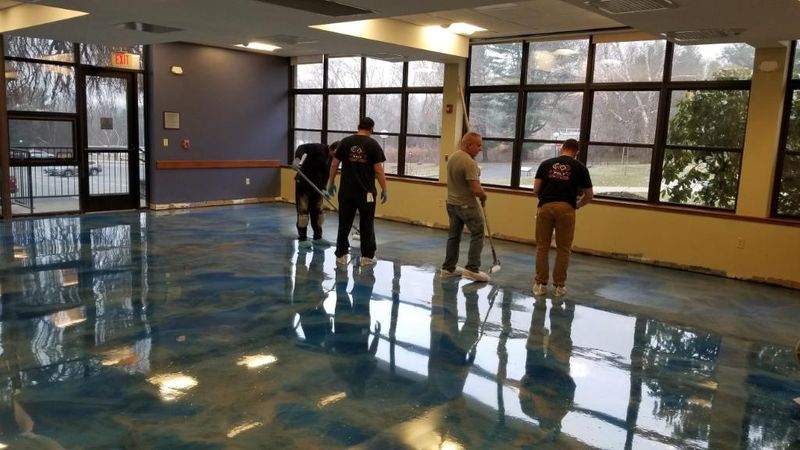 Expert Installation: Our skilled technicians are well-trained and experienced in installing epoxy flooring systems with precision and attention to detail.
High-Quality Materials: Our high-quality epoxy materials ensure long-lasting and durable flooring.
Customer-Centric Approach: We prioritize your needs and preferences from design consultation to project completion.
Competitive Pricing: Our pricing is competitive, but we never compromise on the quality of our materials or workmanship.
Satisfaction Guarantee: We stand behind our work. If you're not completely satisfied with the results, we'll work to make it right.
The American Poly Process: Turning Your Restaurant Flooring Vision into Reality
The American Poly Process: Turning Your Restaurant Flooring Vision into Reality
At American Poly, we take pride in our systematic approach to delivering top-quality restaurant epoxy flooring solutions. Our process ensures that your vision becomes a reality with minimal disruption to your restaurant's daily operations. Here's a closer look at how we transform your flooring dreams into a tangible, long-lasting asset:
1. Initial Consultation
Our journey together begins with an initial consultation. We'll sit down with you to discuss your specific requirements, preferences, and design ideas. During this stage, we'll assess the condition of your existing flooring and provide expert recommendations based on your needs.
2. Customized Design
Once we clearly understand your goals, our design experts will work with you to create a customized epoxy flooring design. Whether you prefer a sleek, modern look or a more intricate pattern, we'll ensure that the design aligns perfectly with your restaurant's ambiance and branding.
3. Surface Preparation
Preparation is key to the success of any epoxy flooring project. We'll carefully prepare the existing surface, ensuring it is clean, smooth, and free from any imperfections. This step is critical to achieving a flawless finish and optimal adhesion of the epoxy coating.
4. Epoxy Installation
Our skilled technicians will begin the epoxy installation with the surface properly prepped. We use premium epoxy materials and state-of-the-art equipment to create seamless, durable flooring that enhances your restaurant's overall look.
5. Quality Assurance
At American Poly, we take quality seriously. Our team conducts rigorous quality checks throughout the installation process to ensure that every square inch of your epoxy flooring meets our high standards. We pay close attention to detail, ensuring that your flooring is visually stunning but also robust and long-lasting.
6. Quick Curing and Minimal Downtime
We understand that minimizing downtime is crucial for your restaurant's operations. Our epoxy flooring systems are designed for quick curing, allowing you to return to business as soon as possible. You won't have to worry about extended closures or disruptions to your daily routines.
7. Final Inspection and Client Approval
Before we consider the project complete, we'll conduct a final inspection with you. We want to ensure you're 100% satisfied with the results. Your approval is our ultimate goal, and we won't rest until you're thrilled with your new restaurant epoxy flooring.
8. Ongoing Maintenance and Support
Our commitment to your satisfaction at American Poly doesn't end with the installation. We provide ongoing maintenance guidance to help you keep your epoxy flooring in pristine condition. Should you ever require repairs or additional services, our team is just a phone call away, ready to assist you promptly.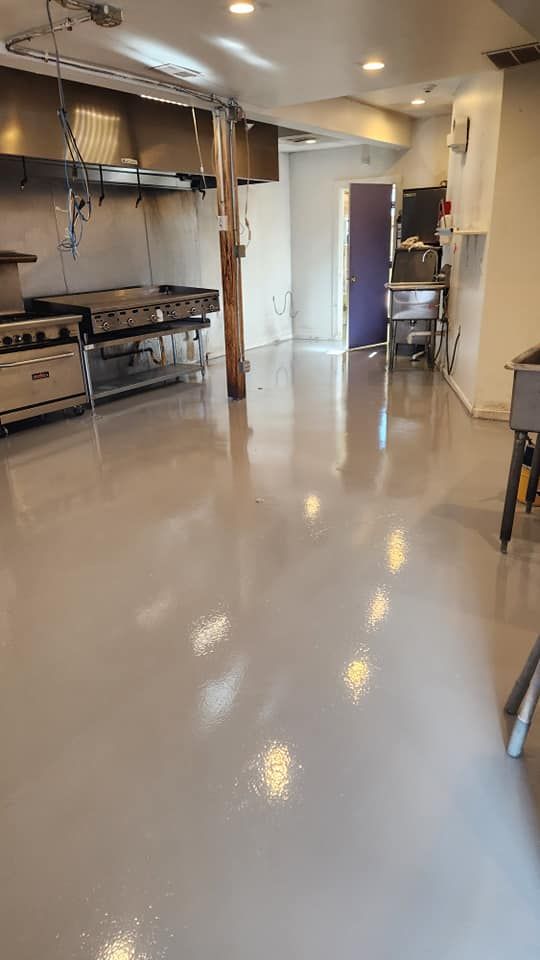 Enhancing Safety with Restaurant Epoxy Flooring
Safety is a paramount concern in the restaurant industry, and choosing the right flooring solution can significantly contribute to a safer dining environment. Here's how our restaurant epoxy flooring solutions prioritize safety:
Slip-Resistance: Our epoxy flooring systems are designed with slip-resistant properties, reducing the risk of accidents due to spills or wet surfaces. Your staff can move quickly and confidently, even in high-traffic areas.
Hygienic Surface: Epoxy flooring is seamless, which means there are no grout lines or seams where dirt and bacteria can accumulate. This makes it easier to maintain a clean and sanitary environment, crucial for food safety.
Chemical Resistance: Restaurants often use various cleaning agents and chemicals to maintain cleanliness. Epoxy flooring is highly resistant to chemicals, ensuring that your flooring won't deteriorate or become compromised due to frequent cleaning.
Durability: A durable floor is a safer floor. Our epoxy flooring can withstand the heavy demands of a restaurant, including the movement of furniture, kitchen equipment, and high foot traffic, without showing signs of wear and tear.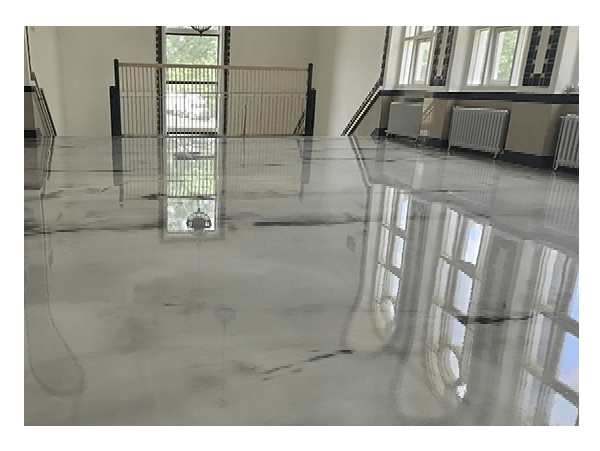 Creating an Inviting Atmosphere
The ambiance of your restaurant is a significant factor in attracting and retaining customers. Your flooring choice plays a crucial role in setting the mood and style of your establishment. Here's how our restaurant epoxy flooring solutions can contribute to creating an inviting atmosphere:
Customization: We offer a wide range of colors, finishes, and design options, allowing you to tailor your flooring to match your restaurant's theme and brand identity. Whether you're aiming for a classic, rustic, or modern look, we can help you achieve it.
Elegance and Aesthetics: Metallic epoxy flooring, for example, can add an element of elegance and sophistication to your restaurant. The unique, reflective surface creates a visually stunning effect that can enhance the overall dining experience.
Visual Impact: Decorative flake epoxy flooring is perfect for adding a touch of creativity to your restaurant. The speckled finish not only conceals imperfections but also adds character and visual interest to your space.
Branding: Custom logo and design integration into your epoxy flooring can help reinforce your restaurant's branding. It's a subtle yet effective way to leave a lasting impression on your customers.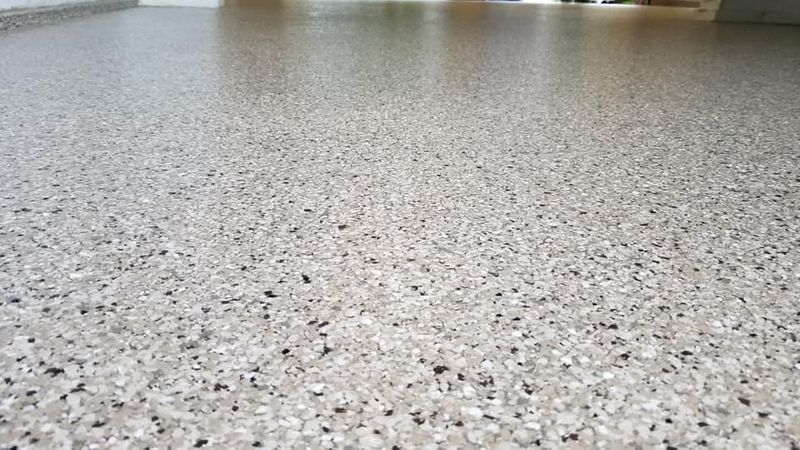 Low Maintenance, High Savings
Restaurant owners understand the importance of cost-effective maintenance. Our epoxy flooring solutions are not only visually appealing but also easy to maintain, which can lead to significant savings over time:
Stain Resistance: Epoxy flooring is naturally resistant to stains, making it easy to clean up spills and food-related messes. This reduces the time and effort required for routine maintenance.
Longevity: The durability of epoxy flooring means that it can last for many years with minimal maintenance. This eliminates the need for frequent repairs or replacements, ultimately saving you money.
Minimal Disruption: The quick curing time of our epoxy flooring allows for minimal downtime during installation, reducing the potential revenue loss associated with extended closures.
Exceptional Value for Your Restaurant
American Poly's restaurant epoxy flooring solutions in Hartford, CT, offer exceptional value to restaurant owners. Our commitment to safety, aesthetics, low maintenance, and longevity ensures that you get the best return on your investment. Elevate your restaurant's image, create a safer environment, and enjoy long-term cost savings with American Poly's top-tier epoxy flooring solutions.
Ready to get started? Contact us today for your free consultation and quote. Let's work together to make your restaurant stand out and thrive.
ASK US ABOUT 0% FINANCING FOR UP TO 18 MONTHS!