School Epoxy Flooring Hartford, CT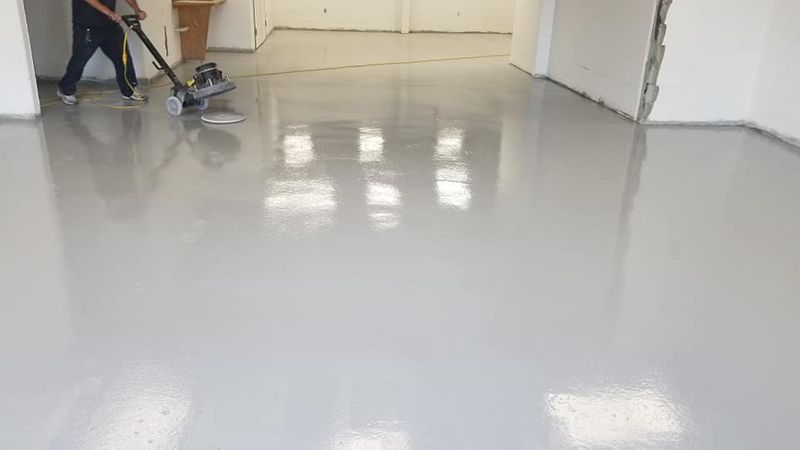 American Poly - Your Top Choice for School Epoxy Flooring in Hartford, CT
Every detail matters in creating a conducive learning environment in schools. Quality education and physical surroundings play a pivotal role in shaping young minds. One often overlooked aspect of a school's infrastructure is the flooring. At American Poly, we understand the importance of having durable, safe, and aesthetically pleasing flooring in educational institutions. That's why we offer top-notch School Epoxy Flooring services in Hartford, CT, designed to meet the unique needs of educational spaces.

Our experts will assist you in identifying the perfect epoxy flooring solution to suit both your residential space and financial constraints. Trust in American Poly to be your dependable partner in achieving the highest quality, customized finish you desire.

We deliver top-tier, premium-grade commercial flooring solutions tailored to a diverse range of industries. Our exceptional flooring options excel in durability, ensuring they can withstand the rigors of high-traffic environments and heavy machinery operations.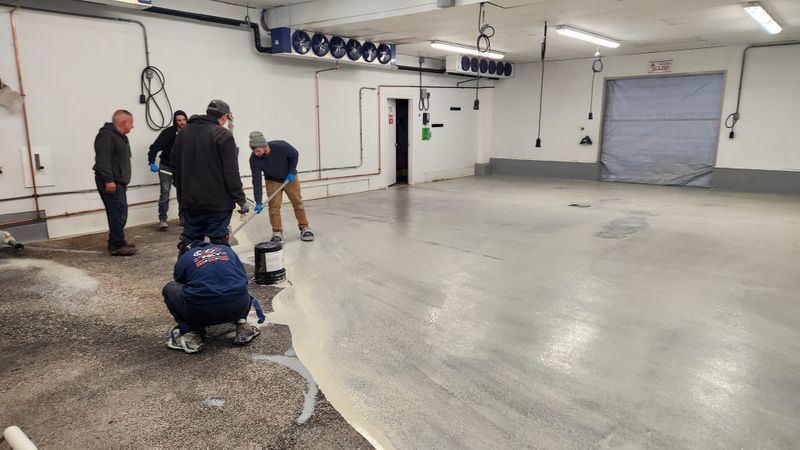 Why Choose American Poly for School Epoxy Flooring in Hartford, CT
At American Poly, we are the preferred choice for school epoxy flooring in Hartford, CT. Our unwavering dedication to outstanding service and meticulous attention to detail make us stand out from our competitors. You are selecting a partner committed to improving students' learning environment by choosing us.
1. Expertise in School Epoxy Flooring
Our team is made up of experienced professionals with specialized skills in the installation of epoxy flooring in educational institutions. We recognize the distinct challenges that schools encounter when it comes to flooring, and we possess the knowledge to handle them with proficiency.
2. Durable and Long-Lasting Solutions
Schools experience heavy foot traffic, and the flooring needs to withstand constant use. Our epoxy flooring solutions are not only aesthetically pleasing but also incredibly durable. They are designed to last for years, saving you the hassle and cost of frequent replacements.
3. Safety First Approach
The safety of students and staff is paramount. Our epoxy flooring options are slip-resistant, easy to clean, and maintain, ensuring a safe environment for everyone in the school.
4. Customized Designs
We understand that each school is unique, and so are its requirements. That's why we offer customized epoxy flooring designs to suit your school's specific needs and aesthetics. Whether you want vibrant colors or a more subdued look, we can create a design that complements your school's style. Our epoxy flooring solutions are cost-effective, ensuring that you get the best value for your investment.
Our School Epoxy Flooring Services in Hartford, CT
At American Poly, we offer a wide range of epoxy flooring services tailored to meet the diverse needs of schools in Hartford, CT. Our services include:
Classroom Epoxy Flooring
Create a conducive learning environment with our classroom epoxy flooring solutions. We offer a variety of colors and designs to enhance the overall atmosphere of the classroom.
Gymnasium Epoxy Flooring
In high-traffic areas like gymnasiums, durability is key. Our gymnasium epoxy flooring is designed to withstand the rigors of sports activities while providing a safe surface for students.
Cafeteria Epoxy Flooring
The school cafeteria is a hub of activity. Our epoxy flooring in cafeteria spaces is visually appealing and easy to clean and maintain, making it the perfect choice for this area.
Hallway and Corridor Epoxy Flooring
Hallways and corridors experience constant foot traffic. Our epoxy flooring solutions ensure these areas remain durable, safe, and attractive.
Library Epoxy Flooring
Libraries are places of quiet study and reflection. Our epoxy flooring options for libraries are designed to create a serene and inviting atmosphere for students.
Administrative Office Epoxy Flooring
Create a professional and welcoming atmosphere in your administrative offices with our epoxy flooring solutions. They are not only functional but also aesthetically pleasing.
Laboratory Epoxy Flooring
Science laboratories in schools require flooring that is not only durable but also resistant to chemicals and spills. Our laboratory epoxy flooring is designed to meet these needs, ensuring a safe and functional environment for experiments and research.
Restroom Epoxy Flooring
Restrooms in schools are subjected to heavy use and moisture. Our epoxy flooring solutions for restrooms are waterproof and easy to clean and maintain, contributing to better hygiene standards in your school.
Auditorium Epoxy Flooring
Auditoriums host various school events, including assemblies, performances, and presentations. Our epoxy flooring options for auditoriums are designed to enhance acoustics and provide a visually appealing backdrop for these activities.
Outdoor Sports Courts
For schools that have outdoor sports facilities, such as basketball courts and tennis courts, we offer epoxy coatings that can withstand the elements. These coatings provide a smooth, safe surface for students to enjoy outdoor sports.
Multipurpose Rooms
Many schools have multipurpose rooms that serve various functions. Our epoxy flooring solutions for multipurpose rooms are versatile and can adapt to different activities, from meetings to physical education classes.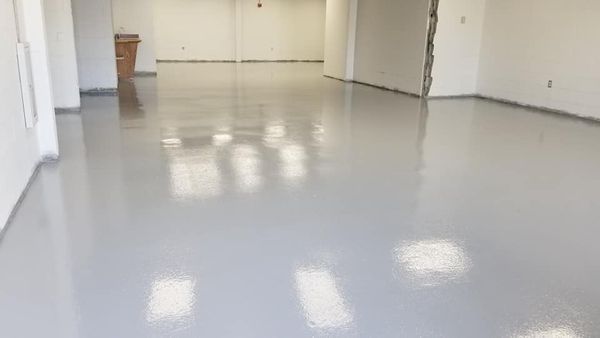 Epoxy Flooring Benefits for Schools
Epoxy flooring offers a multitude of benefits for schools beyond its durability and safety features:
Enhanced Aesthetics: Epoxy flooring can transform the look of your school, creating a welcoming and visually appealing environment for students, staff, and visitors.

Easy Maintenance: Epoxy flooring is effortless to clean and maintain, reducing the time and resources needed for upkeep.

Customization: With a wide range of colors, patterns, and designs available, you can personalize the flooring to reflect your school's identity and culture.

Cost-Effective: While initially an investment, epoxy flooring proves cost-effective over time due to its long lifespan and low maintenance requirements.

Improved Safety: The slip-resistant nature of epoxy flooring reduces the risk of accidents, contributing to a safer learning environment.

Sound Absorption: Epoxy flooring can help reduce noise levels in busy school environments, creating a more conducive atmosphere for learning.

Allergen Control: Epoxy flooring doesn't harbor allergens like dust mites, making it a suitable choice for schools where indoor air quality is a concern.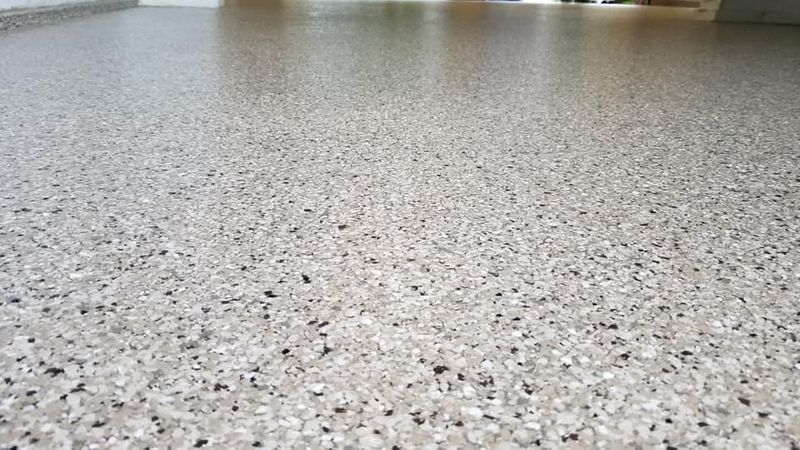 Health Benefits of Epoxy Flooring
Epoxy flooring not only enhances your school's physical environment but also contributes to the health and well-being of students and staff. Here are some health benefits of epoxy flooring:
Reduced Allergen Accumulation: Unlike carpeted floors, epoxy flooring doesn't trap allergens like dust and pollen, which can lead to allergies and respiratory issues. This promotes better indoor air quality in your school.

Mold and Mildew Resistance: Epoxy flooring is inherently resistant to mold and mildew growth. This resistance helps prevent health hazards associated with these microorganisms, especially in areas prone to moisture.

Easy to Clean: Epoxy flooring's smooth, non-porous surface makes it easy to clean and disinfect. This is crucial for maintaining a hygienic environment, particularly in restrooms and cafeterias.

Chemical Resistance: Epoxy flooring can withstand exposure to a variety of chemicals without deteriorating. This is essential for chemistry labs and other areas where chemical spills may occur.
Sustainability and Green Building Practices
As schools increasingly embrace sustainability and green building practices, epoxy flooring can play a significant role. Many epoxy flooring options are environmentally friendly and contribute to LEED (Leadership in Energy and Environmental Design) certification points. Choosing eco-friendly epoxy flooring benefits the environment and aligns with your school's commitment to sustainability.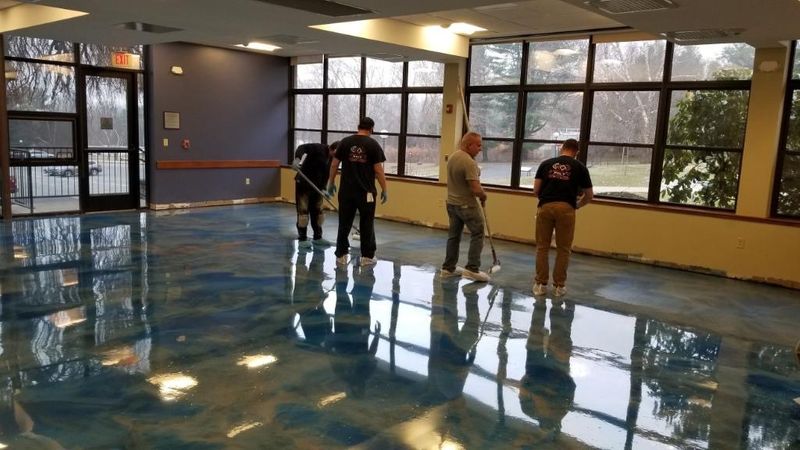 Epoxy Flooring Maintenance Tips for Schools
While epoxy flooring is low-maintenance, a few simple practices can help extend its lifespan and keep it looking pristine:
Regular Cleaning: Sweeping and mopping regularly to remove dirt and debris helps prevent scratches and maintain the floor's appearance.

Prompt Spill Cleanup: Quickly clean up spills to prevent staining and avoid potential slip hazards.

Periodic Re-Coating: Depending on usage, consider applying a new epoxy coating every few years to refresh the floor's appearance and protective qualities.

Furniture Protectors: Place protective pads under furniture legs to prevent scratching when moving chairs and tables.

Avoid Harsh Chemicals: While epoxy flooring is chemical-resistant, using harsh chemicals for cleaning can degrade the epoxy surface over time. Stick to mild, pH-neutral cleaners.
The Installation Process
At American Poly, we understand that minimal disruption to school activities is crucial during installation. Our experienced team works efficiently and professionally to ensure a smooth installation process. We prioritize safety and cleanliness, and we communicate closely with school administrators to schedule work during non-disruptive hours whenever possible.
Long-Term Cost Savings
Investing in high-quality epoxy flooring for your school may seem like a significant upfront cost, but it offers substantial long-term savings. Unlike traditional flooring materials that require frequent replacement and maintenance, epoxy flooring can last for decades with minimal upkeep. This reduces lifetime costs and fewer interruptions to your school's operations.
Testimonials and Success Stories
Don't just take our word for it; hear what other schools in Hartford, CT, have to say about our school epoxy flooring services. Read our testimonials and success stories to learn how American Poly has transformed educational environments, enhanced safety, and improved aesthetics for schools in the area.
Transform Your School's Flooring Today
Epoxy flooring is a wise investment for Hartford, CT schools seeking to provide a safe, durable, and aesthetically pleasing learning environment. American Poly is your trusted partner for all your school epoxy flooring needs. Contact us today to discuss your project, request a quote, and take the first step toward enhancing your school's flooring.
Get in touch with American Poly now and let us bring lasting improvements to your school's environment with our exceptional epoxy flooring solutions.
Join the satisfied educational institutions that have chosen American Poly as their preferred provider for school epoxy flooring in Hartford, CT. Create a more conducive and attractive learning environment for your students and staff today!
ASK US ABOUT 0% FINANCING FOR UP TO 18 MONTHS!