Hotel Resort Epoxy Flooring Hartford, CT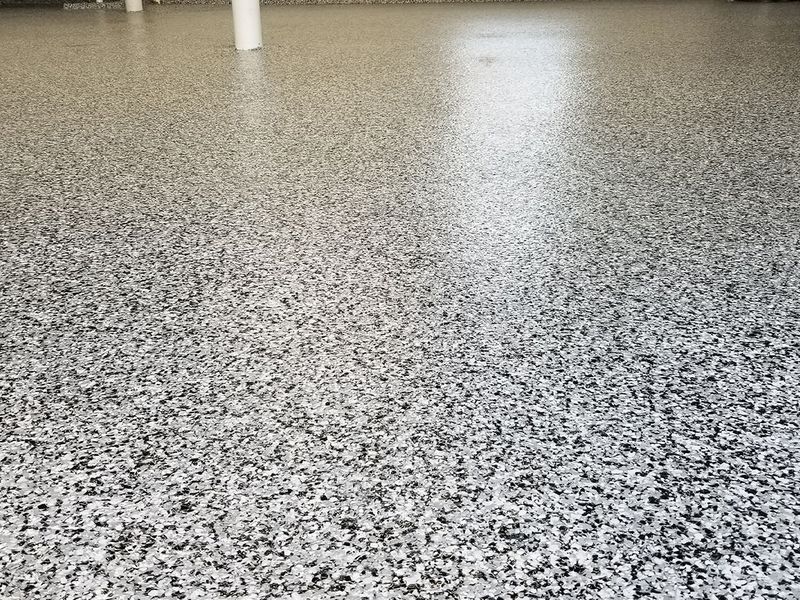 Welcome to American Poly, your trusted partner for premium Hotel Resort Epoxy Flooring in Hartford, CT. Elevate your hotel's or resort's aesthetics and functionality with our top-tier epoxy flooring solutions. Our team is committed to delivering superior flooring services customized to your needs.

At American Poly, our team of experts excels in discerning the ideal epoxy flooring solution that seamlessly aligns with the unique characteristics of your residential area and respects your budgetary limitations. Count on American Poly as your steadfast ally in realizing the utmost in personalized, top-tier finishes that precisely meet your specifications.

We are the premier providers of superior-quality commercial flooring solutions, meticulously crafted to meet the specific needs of a wide spectrum of industries. Our remarkable selection of flooring solutions stands out due to its unmatched durability, making it exceptionally well-suited for high-traffic settings and demanding heavy machinery operations.
Advantages of Epoxy Flooring for Hotel Resorts
Enhancing the guest experience is paramount in the hospitality industry. American Poly understands this and offers a range of benefits when you choose our epoxy flooring services for your Hartford, CT hotel resort: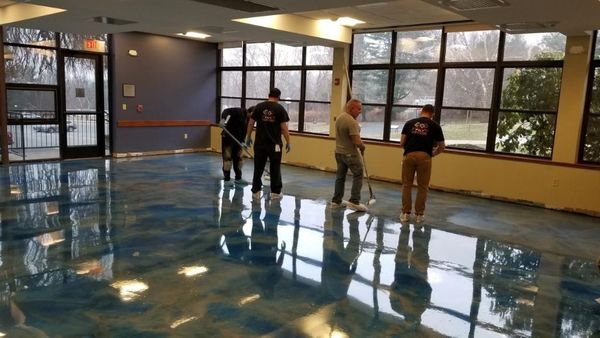 Durability: Our epoxy flooring is built to withstand heavy foot traffic, making it perfect for hotel lobbies, corridors, and restaurants. It's resistant to stains, scratches, and chemical spills, ensuring a long-lasting, pristine appearance.

Safety: The non-slip surface of epoxy flooring improves safety, providing peace of mind for both guests and staff and reducing the risk of accidents.

Aesthetics: Elevate your hotel resort's ambiance with many design options. Select from a diverse palette of colors, patterns, and finishes to craft a distinctive atmosphere that reflects your brand identity.

Easy Maintenance: American Poly's epoxy flooring is easy to clean and maintain, saving time and money on upkeep.

Cost-Effective: Our epoxy flooring is a cost-effective solution that delivers exceptional value over time due to its longevity and minimal maintenance requirements.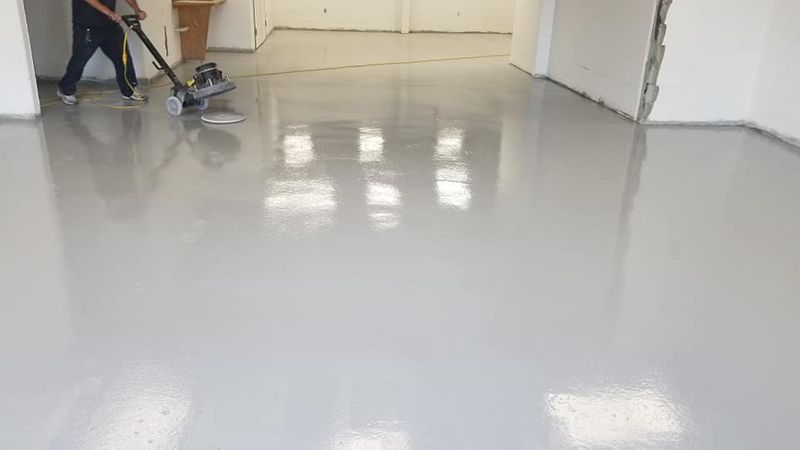 Hartford's Premier Epoxy Flooring Experts
When you partner with American Poly for your hotel resort epoxy flooring needs in Hartford, CT, you gain access to:
Experienced Professionals: Our team comprises seasoned professionals with extensive experience in the epoxy flooring industry.

Cutting-Edge Technology: Our team uses the most up-to-date epoxy flooring technology and materials to ensure high-quality outcomes.

Customization: We collaborate with you to comprehend your distinct needs and deliver personalized epoxy flooring solutions that match your vision.
The Epoxy Flooring Process
At American Poly, we follow a meticulous process to ensure the successful installation of epoxy flooring in your Hartford, CT hotel resort:
1. Assessment and Consultation
Our experts begin by conducting a thorough assessment of your hotel or resort space. We discuss your design preferences, color choices, and specific requirements during a comprehensive consultation.
2. Surface Preparation
Proper surface preparation is crucial for a flawless epoxy flooring installation. We remove any existing flooring and ensure the substrate is clean, dry, and free from imperfections.
3. Installation
Our skilled technicians apply the epoxy resin and any desired decorative elements, such as flakes or metallic pigments, to create the customized look you desire.
4. Curing
The epoxy needs time to cure and bond to the substrate fully. We carefully monitor this process to ensure a durable and long-lasting result.
5. Quality Assurance
Before handing over your hotel resort space, we conduct a rigorous quality check to ensure every detail meets our high standards.
Applications for Hotel Resort Epoxy Flooring
Epoxy flooring is a versatile choice for various areas within your Hartford, CT hotel resort:
Lobby: Impress your guests from the moment they enter with a stunning epoxy lobby floor that sets the tone for their stay.

Corridors: Epoxy flooring in corridors ensures both durability and elegance, making it easy for guests to navigate.

Restaurants and Dining Areas: Create a hygienic and visually appealing dining experience with epoxy flooring that resists spills and stains.

Pool Decks and Outdoor Areas: Our epoxy solutions can be applied to outdoor spaces, providing a slip-resistant surface around pools and other recreational areas.

Conference and Event Spaces: Enhance the versatility of your event spaces with customizable epoxy flooring that complements any theme or decor.
Why Choose American Poly for Your Epoxy Flooring Needs
American Poly is your go-to partner for hotel resort epoxy flooring in Hartford, CT. Here's why you should choose us:
Unparalleled Expertise: With years of experience in the epoxy flooring industry, we have the expertise to handle projects of all sizes and complexities.

Quality Materials: We ensure the highest quality of our epoxy flooring products by sourcing materials from reputable suppliers.

Customer-Centric Approach: Our customer satisfaction is our top priority. We work closely with you throughout the entire process to ensure your vision becomes a reality.

Competitive Pricing: We provide high-quality epoxy flooring at competitive prices, ensuring long-term value for your investment.
Epoxy Flooring for Specific Areas within Your Hotel Resort
When considering epoxy flooring for your Hartford, CT hotel resort, it's essential to understand how this versatile flooring solution can be tailored to specific areas to maximize its benefits:
i. Hotel Rooms and Suites
Enhance the comfort and aesthetics of your guest rooms with epoxy flooring. Its smooth, seamless surface adds a touch of luxury while making maintenance a breeze. Plus, it's an excellent choice for those with allergies as it doesn't harbor dust or allergens.
ii. Pool Decks and Spa Areas
For areas near the pool and spa, safety and slip resistance are paramount. Epoxy flooring with anti-slip additives provides a secure surface, even when wet. It's also highly resistant to chlorine and other chemicals commonly used in pool areas, ensuring long-lasting beauty.
iii. Dining and Restaurant Spaces
Epoxy flooring in dining areas not only elevates the ambiance but also offers easy clean-up for spills and stains. Customize the color and design to match your restaurant's theme, creating a welcoming and memorable atmosphere for your guests.
iv. Conference and Event Spaces
Whether it's a wedding reception or a corporate conference, epoxy flooring can set the stage for a successful event. Its durability ensures it can withstand the heavy foot traffic and equipment placement often associated with these spaces.
v. Outdoor Terraces and Patios
Extend your hotel resort's amenities to outdoor spaces with epoxy flooring. Its UV resistance ensures it won't fade or deteriorate under the sun's harsh rays, providing a beautiful and functional outdoor area for guests to enjoy.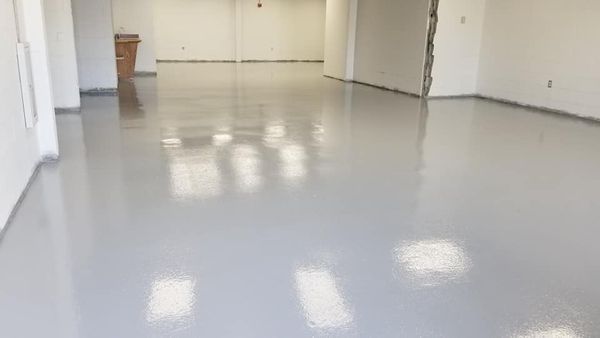 Maintenance Tips for Hotel Resort Epoxy Flooring
While epoxy flooring is known for its low maintenance requirements, a few proactive measures can help extend its lifespan and preserve its beauty:
Regular Cleaning: Sweep or vacuum daily to remove debris and prevent scratches. Mop with a mild detergent and water as needed to maintain a pristine look.

Avoid Harsh Chemicals: While epoxy flooring is resistant to most chemicals, it's best to avoid using harsh or abrasive cleaners that can damage the surface.

Furniture Pads: Use furniture pads under heavy items to prevent scratching or denting the epoxy surface when moving furniture.

Yearly Inspections: Consider scheduling yearly inspections with American Poly to identify any minor issues before they become significant problems.
Epoxy Flooring Maintenance Services
To ensure your Hartford, CT hotel resort's epoxy flooring remains in optimal condition, American Poly offers comprehensive maintenance services:
Cleaning and Sealing: Our professionals can deep clean and reseal your epoxy flooring, restoring its shine and protective properties.

Repairs and Touch-ups: In the event of minor damage or wear, our experts can repair and touch up the affected areas, extending the lifespan of your epoxy floors.

Routine Inspections: We offer routine inspections to catch potential issues early, saving you time and money on extensive repairs.
The American Poly Advantage
Choose American Poly for your hotel resort epoxy flooring in Hartford, CT, and benefit from our commitment to excellence:
Unmatched Expertise: With years of experience, our team is well-versed in the intricacies of epoxy flooring, ensuring a successful installation and maintenance process.

Cutting-Edge Technology: We stay at the forefront of epoxy flooring technology, utilizing the latest materials and techniques to provide superior results.

Customer-Centric Approach: Your satisfaction is our priority. We collaborate closely with you to understand your vision and deliver tailored solutions.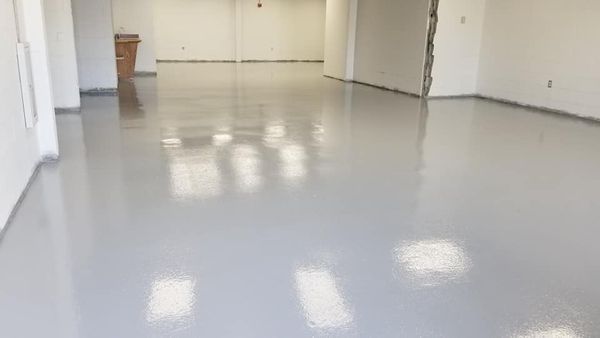 Sustainability and Eco-Friendly Solutions
In an era of environmental consciousness, American Poly is committed to offering sustainable and eco-friendly epoxy flooring options for your Hartford, CT hotel resort:
Low VOC Epoxy: Our low VOC (Volatile Organic Compounds) epoxy formulations minimize harmful emissions, ensuring a healthy indoor air quality for your guests and staff.

Energy Efficiency: Epoxy flooring can help improve energy efficiency by enhancing the reflective properties of your floors, reducing the need for excessive lighting and HVAC usage.

Longevity and Reduced Waste: Epoxy flooring's long lifespan means fewer replacements, reducing the overall waste generated by your hotel or resort.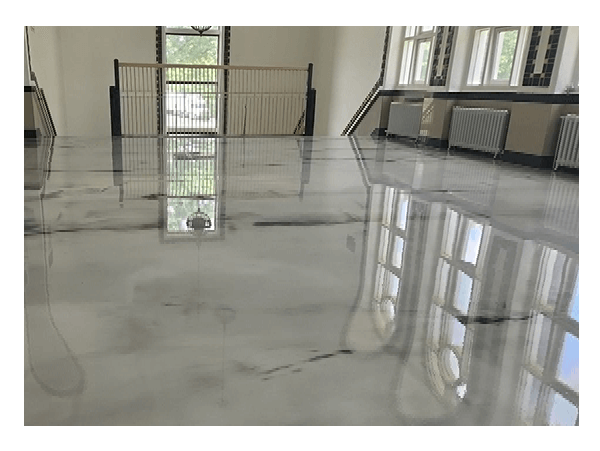 Customization and Design Options
Elevate the ambiance of your hotel or resort by taking advantage of the extensive customization options available with American Poly's epoxy flooring:
Color Choices: Choose from a vast array of colors to match your hotel's branding or create a unique atmosphere in each area of your resort.

Patterns and Textures: Our epoxy flooring can be customized with various patterns and textures, from sleek and modern to rustic and inviting.

Logo and Branding Integration: Incorporate your hotel's logo or branding elements directly into the epoxy flooring for a seamless and professional look.

Multiple Finishes: Select the finish that best suits your aesthetic goals, whether it's a glossy, matte, or satin finish.
Get Started Today with American Poly
Ready to transform your Hartford, CT, hotel resort with our exceptional epoxy flooring solutions? Contact American Poly today to schedule a consultation and receive a personalized quote. Elevate your guest experience, improve safety, and enhance your hotel's or resort's aesthetics with the industry-leading epoxy flooring services provided by American Poly.
Don't miss out on the opportunity to upgrade your hotel or resort with the finest epoxy flooring in Hartford, CT. Contact American Poly now and take the first step toward enhancing your space. Our team is ready to make your vision a reality. Elevate your hotel resort with American Poly today!
ASK US ABOUT 0% FINANCING FOR UP TO 18 MONTHS!